Avis de décès
Kathryn "Joan" Wagner Mc Gonigle
3 septembre 1922

–

26 juin 2011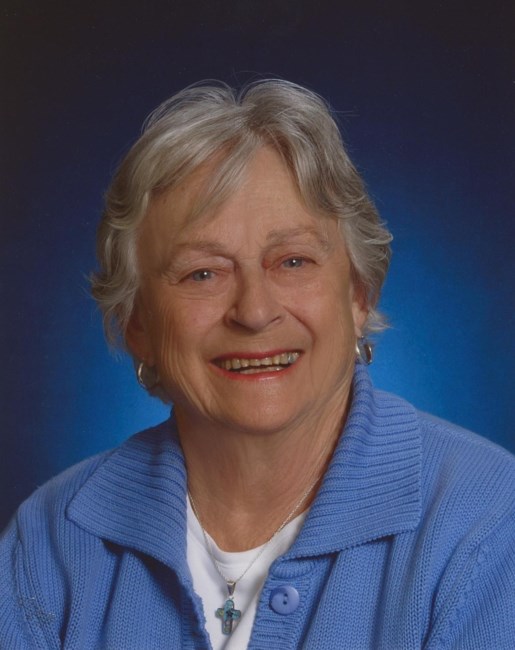 Kathryn "Joan" McGonigle, nee Wagner September 3, 1922 – June 26, 2011 Surrounded by the love of her family, Joan McGonigle, Kansas City, MO, 88 years old, returned to God on June 26, 2011. A prayer service followed by visitation will be held Thursday, June 30, 5:00 to 7:30 at St. Peter's Catholic Church. Mass of Christian Burial will be at St. Peter's Catholic Church, 6415 Holmes, Kansas City, MO, 10am on Friday July 1st. Interment will be at Calvary cemetery, 68th and Troost, Kansas City, MO. Joan was born on September 3, 1922 to Frank Joseph and Mildred Elizabeth Wagner in Kansas City, MO, as the third of five children. She was a lifelong member of St. Peter's Catholic Church. Joan attended J.C. Nichols Elementary School, St. Teresa's High School, and St. Teresa's College (now Avila University). During her school years, Joan was known as a leader and outstanding student. She was elected class president and president of her sorority. Her ability to organize and get things done came to the fore when her father suffered an untimely death in 1943, and at the age of 21 she helped resolve his many properties and business affairs. Joan married Bill McGonigle, the love of her life, on November 24, 1945 and raised a happy, rambunctious family of nine children, 26 grandchildren, and 19 great grandchildren. Family was first and foremost to Joan. Raising nine children was a Herculean task, with daily diaper loads for 18 straight years, approximately 13,500 family dinners, 21,600 school sack lunches, 50 family Christmases, 500 birthday parties and innumerable sleepless nights of worry. She attended every baptism, confirmation, graduation, wedding, musical or dance recital, theatrical production, or other special occasion offered to her. Favorite family memories include adventurous camping trips, an open door policy to children's friends (who magically seemed to appear right before dinner), and large gatherings on New Year's Eve for a very competitive night of bingo. Her serious and emotional nature was the perfect counterpoint to her husband's irreverent humor. Her house, her table, and her heart were always open to her children, her children's friends, and her extended family. Meyer Boulevard and Walnut Street rocked to the laughter of her children and their friends, and there was always room for an extra few at the dinner table. As life progressed and her children moved on, she was endlessly curious and interested in the accomplishments and challenges of all. Joan made a lifelong habit of establishing, nurturing, and renewing friendships. As her children vacated the nest, new groups came to find a place of nurture and nutrition. Joan loved being in a group of friends, whether it was a bridge club, a faith sharing group, or a group of progressive peaceniks resisting militarism. She found herself sitting among a group of friends every Sunday morning for nine o'clock mass, and enjoyed the fare at a local restaurant with devoted friends afterwards. Joan's strong moral compass turned her into a fierce protagonist in the peace and justice movement within the Catholic Community of both Kansas City and the nation. She and her husband Bill were the founding members of the Peace and Justice Committee at their beloved St. Peter's Catholic Church parish. They led the way in the 1980's for St. Peter's to adopt a sister parish, San Francisco de Asis, in war torn El Salvador. Along with her husband Bill and a host of friends, she took her views "to the street." They hosted members of the Plowshares Eight who were being tried in Federal Court in Kansas City for their non-violent resistance to nuclear proliferation. She and Bill were arrested for civil disobedience when they joined a protest at Whiteman Air Force Base, ironic in that Bill was a decorated WWII Army Air Force pilot. Joan always had a soft spot in her heart and a strong protective instinct for the poor, disadvantaged, and the weak among our society. She hosted Fernando, a Guatemalan refugee, in the 1980's while he was awaiting immigration into Canada. Her most profound act of service was to lovingly care for and release her best friend and husband Bill as he went before her in spring of 2002. She lived her principles and was an exemplar to her children and friends of a true Christian attitude and how to live out the twelve beatitudes. She suffers no more and is reunited with her beloved husband and others that have passed before her. If the only possessions we leave this world with are our deeds, then God will have to widen the gates of heaven to allow her passage. Joan is preceded in death by her parents, her husband Bill McGonigle, her son Frank McGonigle, her grandson Justin Linn, her granddaughter Claire McGonigle, her sister Mary Nelson, and her brothers Vincent Wagner and Frank Wagner, Jr. She is survived by her sister Frances Huber. She is survived by her daughter Katie Daniels and husband Rick Daniels, daughter Maureen Linn and husband John Linn, daughter Joan Weber and husband Mark Weber, son Billy McGonigle, Jr. and wife Denise McGonigle, daughter Mena Granatino and husband Mike Granatino, son Jerry McGonigle and wife Teresa McGonigle, son Mark McGonigle and wife Peggy McGonigle, son Mike McGonigle and wife Jennifer McGonigle. Grandchildren are Christopher (Nicole) Griffin, Paul (Rebecca) Griffin, Rosamund (Scott) Truelove, Aaron (Nicole) Linn, Aimee (Matt) Kaplan, Michael Wiltrout, Emily (Sean) Redmond, Katie Wiltrout, Laura (Justin) Enders, Rita McGonigle, Cottia (Ben) Paschal, Jacob (Molly) Granatino, Frank (Rachel) Granatino, John Granatino, Vincent Granatino, William McGonigle, Emma McGonigle, Clara McGonigle, Rose McGonigle, Dylan McGonigle, Lilly McGonigle, Miles McGonigle, Molly McGonigle, and Kelsey McGonigle. Great grandchildren are Isabelle Griffin, Zephyr Bartlett, Raven Bartlett, Sophia Griffin, Patrick Griffin, Jacob Griffin, Isaac Truelove, Adam Truelove, Caden Linn, Eli Linn, William Linn, Alexander Linn, Faith De La Cruz, Scarlett Kaplan, Evan Kaplan, Iris Kaplan, Mckenna Orton, Frank Redmond, and Miles Redmond. Memorial contributions may be made to Catholic Charities of Kansas or Missouri.
VOIR PLUS
VOIR MOINS
Services Précédents
vendredi,
01 juillet, 2011
Mass of Christian Burial
En mémoire de
Kathryn "Joan" Wagner Mc Gonigle
Aidez à raconter l'histoire de la vie unique de votre bien-aimé. Laissez un souvenir ou partagez une photo ou une vidéo ci-dessous pour montrer votre soutien.