Avis de décès
Paul Saverio Giordano
1 novembre 1962

–

1 octobre 2022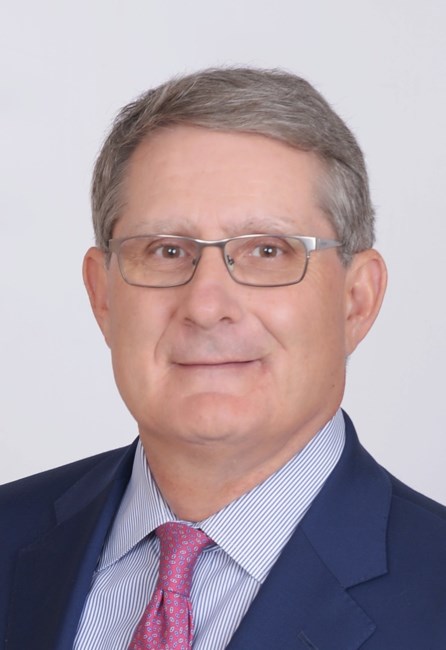 Paul Saverio Giordano, beloved son, brother, husband, father and friend, died peacefully October 1 at the MD Anderson Cancer Center in Houston with his wife, children and parents gathered by his side as he entered eternal rest. He was 59. A Wake Service is scheduled from 5 p.m. to 7 p.m., Sunday, October 9 at McGilley State Line Chapel, 12301 State Line Road, Kansas City, Missouri. The Rosary will be prayed at 6 p.m. A Mass of Christian Burial will be celebrated at 10 a.m. Monday, October 10 at St. Peter's Catholic Church, 701 E. Meyer Blvd., Kansas City, Missouri. Rev. Paul N. Check, director of the Shrine of Our Lady of Guadalupe in LaCrosse, Wisconsin, will serve as the principal celebrant with Rev. Matthew Rotert, pastor of St. Peter's Catholic Church, serving as the concelebrant. A procession to the graveside service will follow immediately after Mass to Mt. Olivet Catholic Cemetery, 7601 Blue Ridge Blvd., in Raytown, Missouri. At the time of his death, Paul was the managing principal of Euclid Surety, with more than 20 years' experience in executive leadership roles for public and private global insurance organizations. Paul's life was filled with the highest academic and business accolades. He was a Rhodes Scholar and a graduate of Harvard Law School who had lived and worked in New York, Boston, London, Bermuda and Connecticut and served on numerous corporate boards around the world. He excelled at numerous sports throughout his life, particularly golf, recording three holes-in-one in his lifetime and winning several club championships in Connecticut and Kansas. Yet, whether in academics, athletics or business, Paul remained as humble as he was kind, as courageous as he was generous. He reflected over the past few months that the greatest gifts bestowed upon him were his love of Christ and his Catholic faith; his wife, Mary; his children Peter and Anne, and the continued love and support of his parents, family, and friends. Paul was diagnosed with osteosarcoma in January 2022 and sought the best treatment at the premier cancer centers in the country. It was at MD Anderson Cancer Center, where he went for his last and final treatment consultation, that he died from complications of cancer. In the last few months of his life, rather than lament what he had lost, Paul embraced his Catholic faith and the joy of loved ones with the same vigor as his academic studies and athletic competitions. He willfully accepted the opportunity to walk with Christ and the mission to bring others closer to Him. Paul was born on November 1, 1962, in Kansas City, Missouri, to Saverio Paul and Barbara (Merli) Giordano. He grew up in an extended Italian American Catholic family that also included his sister, grandparents, numerous aunts, uncles and cousins on both sides who frequently gathered on Sundays and other days to celebrate special events. Paul attended Trailwood Elementary School and Indian Creek Junior High in Overland Park, Kansas. In 1981, his senior year at Shawnee Mission South High School, he was the catcher on the baseball team that won the state championship. That fall he enrolled at the University of Missouri-Columbia where he met his future wife and was a member of the Beta Theta Pi fraternity, where he made many lifelong friends. He was also a member of Phi Beta Kappa and was student body president of the Arts & Sciences College his senior year. He graduated summa cum laude in 1985 with a bachelor's degree in Political Science. That same year he was accepted into Harvard Law School and simultaneously awarded the Rhodes Scholarship, one of only 32 U.S. residents to receive the prestigious award that year. He deferred his Harvard acceptance for two years and put his Rhodes study at Oxford University on the fast-track, completing three years of courses in two years. On August 16, 1986, he married Mary Margaret Sterner in Kansas City, Missouri, and she joined him in Oxford. In 1987, Paul graduated from Oxford University with a master's degree. That autumn the young couple returned to the U.S. and Paul entered Harvard Law School in Cambridge, Massachusetts. In 1990, Paul received his jurisprudence doctorate cum laude and then began a career in law, banking and insurance that spanned more than three decades. Paul was in private practice in New York and London from 1990-1996 with Cleary, Gottlieb, Steen & Hamilton (1990-1993) and Clifford Chance (1993-1996) where he focused on international banking, corporate finance, securities offerings and mergers and acquisitions. He served as Executive Vice President, General Counsel & Secretary of XL Capital from 1997 until 2004 and Chief Executive Officer for XL Financial Products & Services, a division of XL Capital Ltd., from 2004 through 2006. From 2006 to 2008, Paul was CEO and President of Security Capital Assurance Ltd., a NYSE-listed financial guaranty insurer and reinsurer which he took public in an IPO. Paul also served as EVP, General Counsel & Secretary of Ironshore Inc., a global specialty insurance company, from 2009 until 2017. Paul also was the CEO of Ironshore Surety Holdings, Inc., and Chairman for Ironshore's Political Risk, Special Risk & Surety businesses from 2011 through 2017. Paul also served as a director on public and private company boards, including Maiden Holdings, Ltd., a Nasdaq-listed property & casualty reinsurance company; Primus Guaranty, a NYSE-listed credit default swap company; Security Capital Assurance; Lexon Surety Group; Sovereign Risk Insurance, and Posillico, Inc., a privately held engineering and construction firm. Paul was a Principal at Enfinite Capital LLC, a real estate advisory and finance firm, and provided strategic consulting services to private equity firms and property & casualty insurance companies from 2017 through 2021. Paul used his business background and leadership roles to assist in Catholic parishes where his family lived, including as chairman of the Finance Committee at St. Mary's Catholic Church in Norwalk, Connecticut. Paul traveled far and wide during his life, whether for work or for pleasure with his family and friends. He and Mary made pilgrimages to the holy sites of the Holy Land, Our Lady of Fatima in Portugal, and to Our Lady of Lourdes in France. A heritage trip to Sicily with family and golfing 36 holes a day in Scotland with friends also were among his favorite memories. If you ask most people about Paul Giordano, the topic of golf quickly emerges. Learning as a child from his grandfathers and caddying in his youth, his love of the sport consistently brought him meaningful experiences and wonderful friendships. In 2019, after more than 30 years away from home, Paul and Mary returned to the Kansas City area, settling in Mission Hills, Kansas, becoming members of Milburn Country Club and parishioners at St. Peter's Catholic Church. Earlier this year, after being diagnosed with cancer, Paul traveled to the Mayo Clinic in Rochester, Minnesota to receive proton radiation treatment. While in Minnesota, he was able to make a pilgrimage to the Shrine of Our Lady of Guadalupe in LaCrosse, Wisconsin, where he received great peace and many special blessings. Over the past several months, Paul was comforted by the numerous prayers that enveloped his family, and by the many acts of love and kindness they received. Even through his illness, Paul never lost his wit or sense of humor and he continued to impact strangers and friends alike and found the richness of his commonalities with those with different backgrounds and viewpoints. To the end, Paul ensured that his family and friends knew how much he loved them. He continued to reaffirm his trust in God, knowing that he was in His hands. And he would often quote St. Paul's letter to the Philippians: "Rejoice, rejoice in the Lord, always!" Paul was preceded in death by his paternal grandparents, Paul Giordano and Ann E. Giordano and by his maternal grandparents, Cesare and Bette Merli. Survivors include his wife Mary of Mission Hills; son Peter Giordano of Kansas City, Missouri; Anne Giordano of Mission Hills; his mother, Barbara Merli of Overland Park; his father and stepmother, Saverio Paul and Tudy Giordano of Carrollton, Texas; his sister, Lisa Mechnig-Giordano of Shawnee; and numerous aunts, uncles, cousins, nieces and nephews. Pallbearers will be Jeff Anthony, Michael Hughes Jr., Dan Jensen, Ted Kennedy, Felix Mechnig-Giordano, Noah Mechnig-Giordano, Brian Raspberry, David Sedeño, David Joseph Sedeño, Patrick Sedeño and Mark Spence. In lieu of flowers, the family requests donations in memory of Paul S. Giordano be made to the Seton Center, 2816 E. 23rd, Kansas City, Missouri 64127 or www.setonkc.org or to the Shrine of Our Lady of Guadalupe, 5250 Justin Road, LaCrosse, Wisconsin 54601 or www.guadalupeshrine.org/give.
VOIR PLUS
VOIR MOINS
Services Précédents
dimanche,
09 octobre, 2022
Visitation
dimanche,
09 octobre, 2022
Rosary Service
En mémoire de
Paul Saverio Giordano
Aidez à raconter l'histoire de la vie unique de votre bien-aimé. Laissez un souvenir ou partagez une photo ou une vidéo ci-dessous pour montrer votre soutien.