Avis de décès
Ruth Jean Galligan
31 mars 1926

–

2 août 2022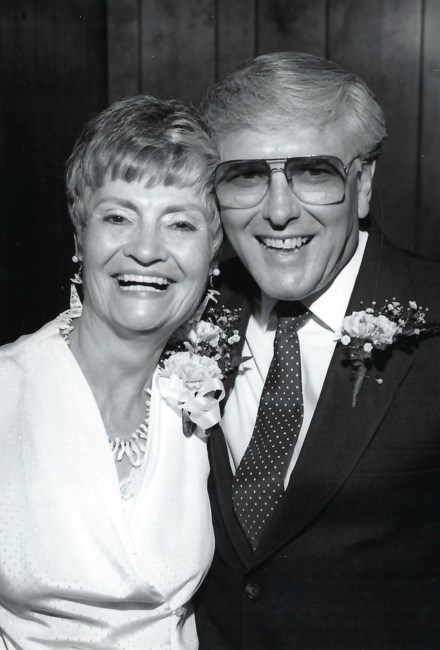 Ruth Jean Galligan (Rector) was a thoughtful and devout daughter, wife, mother, grandmother, sister, and friend. When her almost Century-long journey on this world ended on August 2, 2022, she left behind many who will miss her infectious and easily attainable laughter, her quick yet often quiet wit, her self-reliant attitude, and her ability to make those around her feel special just for being in her presence. Born on March 31, 1926, to Beatrice and John "Herb" Rector in Lansing, Michigan, she was the first-born child and big sister to her brother, Eugene "Yud" Rector, until his passing in 2016. Growing up in South Lansing during The Great Depression required perseverance and adaptability and it was those acquired and intrinsic traits that saw her through her 96 years of life with grace, strength, and good humor. Her assets also included her stunning beauty. Petite in stature with large brown eyes and a mane of luxurious brown hair, her beauty matched her fine character, and she was well sought-after as a friend. One friend, in particular, was a dark haired, gap-toothed rascal of a young man from down the street named Jimmy whom she first met when they were both just 11 years old. It was this same young man who would become her loving husband upon his return from serving in the U.S. Navy during World War II and remain at her side to celebrate their 63rd wedding anniversary together in July of 2010 before his succumbing to Alzheimer's just 4 weeks later. Before Ruth and Jimmy could celebrate their first anniversary, tragedy struck in the untimely death of his mother leaving his young sister, Aletha, in their loving care. Parenthood suited them and they welcomed their first child, Roxanne Joy, in 1952, their only son, James Robert Jr., in 1954, and their youngest, Juanita Rae, in 1959. Making ends meet in a growing family was met with determination and versatility as she proved herself to be an accomplished seamstress, and an overall frugal and ingenious homemaker. Entering the workforce in the mid 1960's she eventually acquired the position of Records Clerk at J.W. Sexton High School until her retirement in 1986. Ruth was a well-respected, very hard-working asset to the school and her reputation lived on for many years to come. Renowned for her many positive attributes including her work-ethic and affable personality, Ruth was also an avid trophy-winning golfer and bowler and an experienced pillion or backseat motorcyclist with her dear Jimmy upfront. Their biking adventures began in the early 1960's and culminated in a cross-country excursion from Michigan to Colorado upon the occasion of their mutual retirements in 1986. In her later years, especially those when she was caregiver to her husband, she would reflect upon those carefree times on the open road with her adventurous and gregarious Jimmy as some of the best times of her life. Her travels, with Jimmy and alone, also took her to Hawaii, the Bahamas, and Europe and her collection of photo albums and coffee mugs as souvenirs grew to an almost unmanageable size. One of her favorite destinations throughout the years was the small family cottage, built by her mother and father, on the southeast shore of Houghton Lake in northern Michigan. Although visits usually required a good deal of physical labor, the work was worth it and she and Jimmy enjoyed water-skiing and boating with her brother and his wife Madeline. In later years, the cottage would become a playground for her four grandchildren, Sommer, Michael (Roxanne), Phillip (James Jr.) and Jackson (Juanita) and a fun, relaxing respite for her adult children. Leaving Lansing behind after the passing of her father and the birth of their last grandchild, Ruth and Jimmy made the cottage their permanent residence where they enjoyed many years together watching gorgeous sunsets and enduring harsh yet beautiful winters with their cadre of ever-present feline companions. Cats have always been a part of Ruth's life, and she is survived by 14-year-old Lucky Buckie, the last pet that Jimmy and Ruth had together. Due to her savvy investments and good health Ruth was able to enjoy 30 plus years of retirement, but it wasn't until 2015 that she experienced life in paradise. Her relocation to Florida in that year was a liberating experience for her and she soon became a popular resident at Westminster Manor in Bradenton, the same city where her eldest daughter resides with her husband David. The friendships she established while living at the Manor meant so very much to her and her cheerful presence at the card table and the dining room will be sorely missed. Although she aged quite gracefully, she remained stubborn and head strong to the very end. Never one to "take it easy", Ruth was always busy with some project or planning a future one. When her physical limitations may have made others take to the rocking chair, Ruth would simply improvise. Even into her 80s she would insist on performing her own home repairs and even used her weed whacker as a cane so she could "trim those weeds" while going out to enjoy the firepit with her family. Ruth derived joy from doing so many things, but it was time spent with her family and friends that made her truly shine, and it is that warmth and brilliance of her radiant personality that will leave the world a little bit duller after her passing. Ruth was preceded in death by her husband, James Robert Galligan, her brother, Herbert Eugene Rector and her brother-in-law, Ronald Prince. She is survived by her sister-in-law, Aletha Prince, sister-in-law Madeline Rector, her daughter and son-in-law, Roxanne and David Johncox and her grandchildren Sommer and her husband Michael Schlachtenhaufen, and Michael DiSante, her son and grandson, James Galligan Jr. and Phillip Galligan, her daughter and son-in-law, Juanita and Jeffrey Kennedy and grandchild Jackson and his wife Abigail Kennedy and niece Wendy and her husband Tom Ayres. In lieu of a service the family is encouraging those who knew Ruth to take a moment and post their memories of this extraordinary woman. Donations in her name can be made to the Alzheimer's Association as it was that horrendous disease that took my father (James Galligan), her husband of 63 years, away from us in 2010.
VOIR PLUS
VOIR MOINS
Prestations de Service
Aucun service public n'est prévu en ce moment. Recevez un avis lorsque des services sont mis à jour.
recevoir des avis
En mémoire de
Ruth Jean Galligan
Aidez à raconter l'histoire de la vie unique de votre bien-aimé. Laissez un souvenir ou partagez une photo ou une vidéo ci-dessous pour montrer votre soutien.