Avis de décès
Beckham A. Lewis
20 décembre 1924

–

19 novembre 2020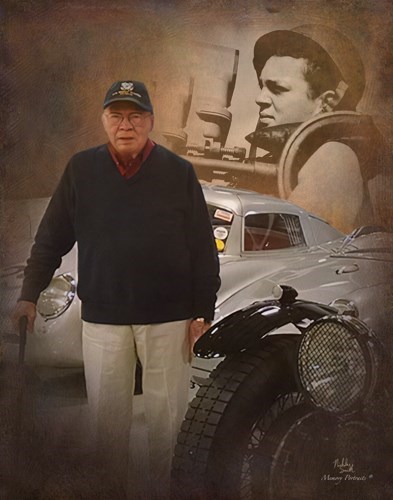 Beckham Lewis was born December 20, 1924 in the small farming community of Lucas, Kentucky on Barren River. He was raised in a 3-room log house on a tobacco farm. When not helping around the farm, he was usually rambling through the woods with his Stevens Whippet C rifle searching for some type of game to bring home. Being the oldest, he would often have to run errands, and he would often tell about riding on the running boards of trucks and cars when going to Lucas to trade a chicken or two for something his mother needed. After attending elementary school in a one-room schoolhouse with outhouses for bathrooms, and a bucket and ladle for a water fountain, he went on to Austin-Tracy High School. During his senior year, he received his draft notice and reported to Louisville for enlistment and boot camp. After enlisting in the U.S. Coast Guard, he went on to boot camp in New York. Once his training was completed and he had earned an Expert Marksman badge, Beckham began service on shore-patrol in Cape Elizabeth, Maine. His daily patrols took him along the rocky Atlantic coast armed with a shotgun or M50 sub-machine gun, side arm, and his trained attack dog, a German Shepherd named "King." Always on the lookout for German saboteurs and U-boats lurking near shore or attempting to land personnel, he settled into the daily routine and was thankful to still be state side. Unbeknownst to Beckham, his friend and fellow serviceman, Frank Janowiecki was intent on going out to sea to fight. Frank worked diligently to secure a spot on a ship and was successful, however two men were needed so he recommended Beckham. When told about this new adventure, Beckham was not particularly excited given that the ship they were going on was a disguised gunship that was to be used to lure German U-boats into striking range in the North Atlantic. Once the U-boat had surfaced, the ship would unveil its own armament and attack the subs. The USS Bighorn was a tanker previously and had had its oil holds filled with racks of 55-gallon drums of air which were then welded together to make it like a cork that should not sink if torpedoed. Behind doors and under canvas covers were 5-inch guns, 20 mm surface and anti-aircraft guns, water-cooled .50 caliber machine guns, and anti-submarine weapons like K-guns, Hedgehogs, and depth charges. The ship was the flagship of a five-ship group of sub-hunters which were one of the Navy's deterrents in the North Atlantic to protect the shipping lanes for the Allies. He was always likely to mention the fact that at times they flew the Jolly Roger, and they were told that if captured that they were afforded no quarter under the rules of war and would be executed as spies. Beckham was a radar operator on the ship and utilized some of the most advanced listening equipment being used in the war at that time to listen for submarine contacts in the open ocean. This equipment was so advanced that it had thermite to destroy it in case the ship was taken by the Germans. In addition to this role, he was also a gunner on a 20 mm gun, a lookout, and at times piloted the 442-foot-long ship. He always liked to remind us of how rough, unpredictable, and cold the North Atlantic can be. Big waves, iced over cat-walks, and time in the crow's nest where one minute when the ship rolled you felt like you could touch the water, and the next you were looking at nothing but sky. Between the rough seas they patrolled and running with no lights on at night, he supposed this is why they earned the nickname "The Rolling Ghost of the Arctic Coast." After contacts in the Atlantic against German U-boats from the North Atlantic to the Azores, the ship was torpedoed one night and sustained significant damage. The ship's buoyancy system of holds full of barrels of air worked and it was able to make it Iceland for repairs. The Germans were catching on, and at the same time had become wearier of attacking ships in Atlantic since they did not know which ones were disguised gun ships and which were normal Merchant Marine. The Navy refitted the ship mid-war in Boston and sent it back out, this time as an oiler to support operations in the South Pacific. Sailing to the combat area in the South Pacific, the USS Bighorn joined the fleet there and took position outside the picket lines. Participating in the liberation of the Philippines and the occupation of Japan once the war finished, Beckham took in the freedom given back to many islanders in the Pacific as well as the total destruction of Hiroshima. In 1945 the ship sailed home, and Beckham made a pass through the Panama Canal before leaving the ship for good as it moored in the Gulf of Mexico off the coast of Mobile, Alabama. Beckham always said to others that he did what he was asked to do when it came to his service in World War 2. He did not want to fight, but when Pearl Harbor happened, the War came home for his generation. He said the prospect of other countries invading the U.S.A. and harming your family and the ones you loved most, quickly provided a fire to do "what was necessary" to make sure that those things didn't happen. After the war, Beckham went to college at Western Kentucky University, was a cheerleader (he did it to meet pretty girls he said) and joined the workforce. Boldly walking up to the guard shack at American-Marrietta with his resume and asking for a job, he landed an interview and a few days later a job. After leaving American-Marrietta, he went to work for Reliance Universal and remained there until the mid -1970's. His third and final career move was to a unique and incredibly special place that also held a very special place in his heart. Custom Manufacturing Services was a manufacturing facility for individuals with disabilities, which allowed them to develop skills and roles which provided a sense of purpose and fulfillment to their lives. Not a role that just anyone could perform or even do well, Beckham excelled at it. His patience, love for others, quiet confidence, and gentle guidance were the perfect recipe to develop meaningful relationships with not only the employees he managed, but also their families and caregivers. His work there transcended just a job…the rapport he had with his staff, their families, and the management of the company was truly something that was impossible to describe in words. Beckham often times was not the most talkative person in the room, but when he spoke it meant something. When he spoke, people listened. When he spoke, he fully intended to carry through on his word. You always knew he had your back. Every time we needed him, he was there. Every time anyone needed him, he was there. He could remain calm and even stoic in the most chaotic of situations, he was smooth, he was polite, the was thoughtful. He loved you and you knew it without him ever having to say a word. He was a man's-man, but he also cooked a mean breakfast, was a crack shot, could paint and draw in any number of mediums, was a wonderful carpenter, was a phenomenal mechanic, could fix just about anything, and could handle a car at any speed with the same smoothness and finesse he showed in his everyday life. Sports Car Club of America gymkhana's and events were fun to go to with him as a kid, and whether it was a Triumph or a Porsche he knew how to set one in a corner and make it stick. An old country road was a blast – a rollercoaster, watching the trees fly by in a blur as he puffed on a Vantage cigarette or a pipe, never making a single facial expression, lip pursed but not stressed, eyes constantly reading the road for the next corner, the next apex. He could dance on the pedals, heel and toeing through the downshifts, never missing a beat…growing up on dirt and gravel roads in rural Kentucky had its benefits. Beckham Lewis is a hero to us, and an amazing person that has seen so much and is always able to put things in perspective when it comes to what is most important in life. Perhaps the most amazing thing is how an 18-year-old boy from a one-stop sign town, left home, was trained as a soldier, (he was already a great marksman, growing up with a rifle in his hand most days), traveled around the world, all the while being shot at, torpedoed, and not knowing if he would see tomorrow, and then came home, went to work, raised a family and became the best Dad and grandfather anyone could ever ask for…and then some. He was modest, he was amazing, he was an example to live by, he will be missed. He joins in heaven his parents, J.C.W. Beckham and Nina Pearl, as well as his loving wife Marcia, and his brother Kenneth (Grace). He is survived by his daughters, Brenda, Sharon (Jud), and son Wade (Melissa). His grandchildren, Betsy (Lee), Anne, Madeleine, William, Fox, Emmry, Tessa, and Olivia. Great grandchildren, Ceci, and Wells.
VOIR PLUS
VOIR MOINS
Prestations de Service
Aucun service public n'est prévu en ce moment. Recevez un avis lorsque des services sont mis à jour.
recevoir des avis
En mémoire de
Beckham A. Lewis
Aidez à raconter l'histoire de la vie unique de votre bien-aimé. Laissez un souvenir ou partagez une photo ou une vidéo ci-dessous pour montrer votre soutien.