Avis de décès
Dora Elizabeth McPherson Bingham
20 février 1924

–

20 septembre 2022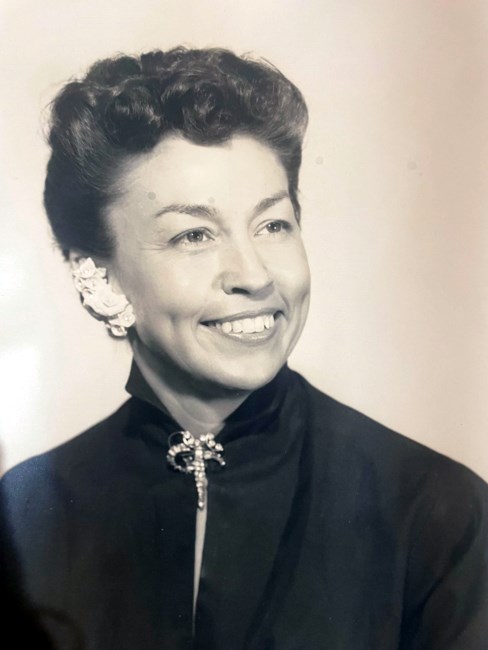 Dora Elizabeth McPherson Bingham, born February 20, 1924, to Edith Minton Spann and John Milton McPherson in Triune, Tennessee. She passed away on September 20, 2022, at 98 1/2. She was a descendant of Richard Hyde Spann, founder of Spann Town. She was a graduate of College Grove High School where she excelled in basketball & was valedictorian. She and her sister, Blanche, were recruited to play professional basketball & work at Vultee during WWII and play for the powerhouse women's basketball team, the Vultee Bomberettes, winning the national championship in St. Joe, Missouri. They also played for Cook's Goldblooms, Nashville Business College, and the TN Highway Patrol Dreamettes. She played guard, was touted to be "fast as lightning", and was named an All-American. They were later recruited to play for the Atlanta Sports Arena Blues, who played before Georgia Tech men's games. They also played softball for the Convacs, winning the city championship. Dora was a part of Nashville Sports Royalty and is a member of the Tennessee Women's Basketball Hall of Fame. She was an Arthur Murray dancer and studio manager, opening the 1st studio in Clarksville. She danced at Medal Balls in New York City and Miami, being named Jitterbug Queen for the United States. She worked as the head cashier for General Sessions Court for 25 years & retired in 1990. In 1956, she married Robert (Bob) Bingham, a former All-NIL Isaac Litton football star and Nashville Constable. They had one daughter, Rhonda Marie, were the best parents in the world, and were married for 48 years before his death in 2004. They were a beautiful couple that completed each other so perfectly with him being the life of the party and very funny and her being so gracious and sweet. They poured into their daughter all the love and encouragement anyone could ever give. Dora was the family caregiver, caring for her mother and brother, her husband and being the best grandmother to her two grandsons. Dora's bright smile, with her deep dimples and shining eyes, lit up every room she entered and was a constant source of light and beauty to her family. Her sweet disposition, her gratitude and kindness extended to everyone she encountered. She was gracious and beautiful, and love was her compass, both for God, her family, and her friends. She lived her life devoted to God and His mighty power and His love sustained her for her whole life. She loved His Word & the wisdom He provided from it. She shared her God-given gifts of caregiving, discernment, patience, gentleness, and encouragement with everyone. Words cannot express how much she will be missed and how much she is loved! She is preceded in death by her parents, husband, Robert (Bob) Bingham, sisters, Ruby Jordan and Blanche Malone, brother, Hillary McPherson, niece & namesake, Elizabeth Jean Neal, special cousins, Marie Spann & Marion Spann. She is survived by her daughter, Rhonda Marie Bingham, son-in-law, Willie Guice Smith III, adored & adoring grandsons, W. Guice Smith IV and Robert Bingham (Bing) Smith & many nieces/nephews, great & great-great nieces/nephews & cousins. Also, special friends, Putt Cummings & Donna Merrill. Our family wishes to extend their deepest appreciation to Dr. Stephen Heyman, Dr. Margaret Sanders and Dr. Bridget George, Lisa Nolan and Alive Hospice. Honorary pallbearers are nephews, Gant & Bobby Jordan, Chad & Charles W. Chadwick, Jr., Duffy, Josh, Michael & Zach Schultz, Scott & Jordan Patterson, Randy & Ben Dotson, Chris & Graham Socey, nieces, Debbie Schultz Chadwick & Ann Patterson, Scotty Ellis, Mickey Miller, Joey Montalbano & Gary Hill. Active pallbearers are grandsons, Guice and Bing Smith, nephews, Kristofer, Erich and Phillipe Chadwick and Chase Nolan. A Gathering of family and Friends will be held on Thursday, September 29th from two o'clock in the afternoon until seven thirty in the evening at Woodlawn-Roesch-Patton Funeral Home and at Judson Baptist Church, 4900 Franklin Road, Nashville, TN 37220 on Friday, September 30th, from nine thirty until eleven in the morning, with services beginning at eleven, officiated by Pastor Jeff Mims with burial immediately following at Woodlawn Memorial Park. In lieu of flowers, donations can be made to the Williams Syndrome Association, Gideon's International, Global Focus Missions at Judson Baptist Church or the charity of your choice. Fond memories and expressions of sympathy may be shared at www.Woodlawn-Roesch-PattonFH.com for the Bingham family.
VOIR PLUS
VOIR MOINS
Services Précédents
jeudi,
29 septembre, 2022
Gathering of Family & Friends
vendredi,
30 septembre, 2022
Gathering of Family & Friends
vendredi,
30 septembre, 2022
Celebration of Life
En mémoire de
Dora Elizabeth McPherson Bingham
Aidez à raconter l'histoire de la vie unique de votre bien-aimé. Laissez un souvenir ou partagez une photo ou une vidéo ci-dessous pour montrer votre soutien.