Avis de décès
David Randolph Brown, M.D.
15 juillet 1926

–

2 mars 2022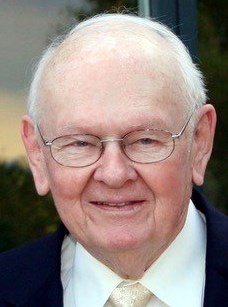 David Randolph Brown was born in Blackwell, Oklahoma. The oldest son of Harry L. Brown and Louise Herbert Brown, he was named for two uncles who were physicians. His father Harry was a drilling superintendent who had worked in the oil fields since having to quit school after 8th grade, when his father died. One cannot overstate how much David admired his father's work ethic, integrity, strength, mechanical skill, self-education, and ability to lead by character and example. David's mother Louise earned her master's degree at Texas Women's University and taught both school and Sunday school. At an early age, David and his two younger brothers received phonics instruction, basic arithmetic, and a clear expectation from her that they excel in school. "She considered A+ possibly adequate," he would say. The family lived mainly on oil leases across Oklahoma, but spent a few years in Oklahoma City and Norman during the depths of the Depression. David attended eight schools in six years, managing to skip a grade. During his high school and college years the family finally settled on a lease in northern Carter County, where David was a proud graduate of Fox High School. He attended college at OU on the Navy V-12 program, then was transferred by the Navy, along with other pre-meds, to TCU to complete his degree. He graduated from OU Medical School in 1949, then completed a 1-year internship at Kansas City General. He reported to the Naval Hospital in Bremerton, Washington, in the summer of 1950. With the onset of war in Korea, he soon shipped out as Medical Officer aboard the USS Washburn, from whose decks he witnessed the Inchon landing. He married Ann Noble in Ardmore, Oklahoma, on November 18, 1951, after returning stateside. Upon finishing out his tour at the Naval Hospital in Corpus Christi, he and Ann moved to Oklahoma City, their home from then on. David did his orthopedics residency at OU, then entered private practice in orthopedic surgery. Early on, he formed an enduring and cherished partnership with Ralph Payne, Charles Monnet, and Dave Flesher, which became Orthopedic Associates. He shared his love of family, fishing, and travel with Ann and their children. The family often visited his parents in Ardmore, and the nearby 3B Ranch he helped his brother start. They toured the American West in a pickup camper and took ski trips to Colorado. Over many happy summers in their Lake City cabin, he and Ann welcomed two more generations. Drawing on a life rich in experience, David was a wonderful storyteller. He loved America and his native Oklahoma. He prized freedom and education. He spoke frankly, tried always to do good. Not merely a great doctor, he was a man of courage, conviction, and wide-ranging intelligence. He hewed to the ideal of a man "bloody, but unbowed." He was a trustee of the Samuel Roberts Noble Foundation, a board member and long-time Chairman of the Heritage Foundation, and a board member and Executive Committee Chairman of the Oklahoma Medical Research Foundation. He founded, and for many years chaired, the Oklahoma Council of Public Affairs. He was preceded in death by his parents, his beloved wife Ann, and his brothers Harry and Alan. He is survived by his 3 children (and their spouses), David R. Brown Jr. (Susan Ross), Susan Brown (Bill McCoy), Marianne Rooney (Pat); his 9 grandchildren, Patrick Rooney (Patterson), Turner Rooney (Gillian), Matthew Rooney (Katie), Clark Ruppert, Ellen Ruppert, William Ruppert, Jake Brown (Anna), Katie Brown, and David Brown; his 9 great-grandchildren, Emily, Caroline, and Brooks Brown; Patrick, Lucy, and Maggie Rooney; Turner and Luke Rooney; and Teddy Rooney. The family wish to thank the devoted caregivers of Kate's Angels, Integris Hospice, and all those who worked with Dad through the years. His funeral will be Friday, March 25, at 10 AM, at Nichols Hills United Methodist Church. Memorials may be made to the Oklahoma Medical Research Foundation, the Oklahoma Council of Public Affairs, the Heritage Foundation, or the Noble Research Institute.
VOIR PLUS
VOIR MOINS
En mémoire de
David Randolph Brown, M.D.
Aidez à raconter l'histoire de la vie unique de votre bien-aimé. Laissez un souvenir ou partagez une photo ou une vidéo ci-dessous pour montrer votre soutien.