Avis de décès
Denis Richard Frank
12 septembre 1941

–

18 novembre 2017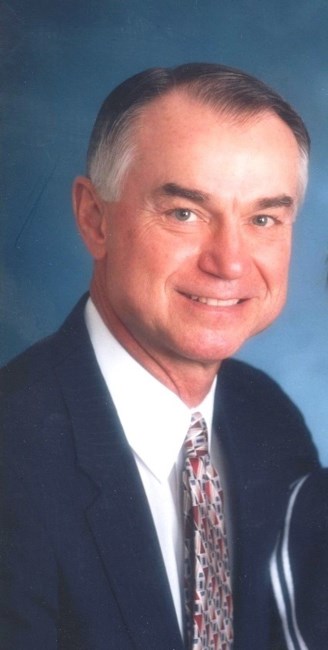 On Saturday, November 18, 2017 at 8:42 P.M., Denis Richard Frank was ushered into Heaven surrounded by his wife, two sons, and daughter. He left this world exactly how he would have wanted – with his family by his side. A Rosary Service will be conducted on Tuesday, November 21, 2017 at 7:00 P.M. with family visitation to follow at Bright Holland Funeral Home. A Mass of Christian Burial will be held on Wednesday, November 22, 2017, at 10:00 A.M. at Our Lady of Victory Catholic Church, with Father Denzil Vithanage officiating. Burial will follow at the Knights of Honor Cemetery in Blossom, TX. Denis was born September 12, 1941, in New Ulm, Minnesota, to Tom and Violet Frank. At the age of 16, Denis lost his mother to a stroke. While he and his father had left for a moment, his mother passed away. Years later, Denis would say "no one should ever die alone" and he ensured no one he loved did. His family ensured he did not either. He left this world loved. Denis attended Paris High School and was a member of the class of 1959. In 1964, he graduated from the University of Houston as a pharmacist. For 45 years he worked. Each day Denis would profess he was "off to save the health and welfare of the nation." He was known to buy medication out of his own pocket for someone who couldn't afford it or even after a long 12 hour day on his legs and feet after closing the store driving prescriptions to someone who was unable to pick them up. His daughter often joked about his initials DR Frank and the fact he didn't have to go to school to be a doctor; he was born one. But to many, he was their doctor; coming to him for advice on ailments they had. Many who worked with him would say he was hard and demanded a lot but they also learned from the best. He was the true definition of a servant leader. On June 12, 1964, he married the love of his life, Joyce Morrison, a little country girl from Blossom, Texas, who got her "big city" boy from Paris. Together they had three children, Brian, Brent, and Alicia. For years they lived in Plano, Texas, until 1982, when the family returned to Paris and he opened a Revco Drug Store. He and Joyce bought 25 acres in Blossom, Texas, where Denis attempted to be a country boy. But his land served him best as a "PawPaw" to his eight grandchildren. In his beloved John Deere Gator, Denis loved driving the grandkids around the land, checking on his cows, picking up sticks, or just smiling having them by his side. When not on the Gator, you would find him at the kitchen table playing Yahtzee. He loved his family deeply but loved his grandchildren to depths unknown. In the last few years, Lewy Body Dementia stole his life but it could not take his love for others or his deep faith in Jesus Christ. Denis loved the Lord and served him faithfully his entire life. He had several dedicated friends who visited him faithfully and loved him until the end. His family will forever be grateful to those who loved him well. He was preceded in death by his parents Tom and Violet Frank and his stepmother Elizabeth Margraves Frank., his beloved sister, Yolaine Borg, his in laws Udell and Eunice Morrison, his brother-in-law Harold Morrison and his niece Abby Morrison. He is survived by his wife of 53 years, Joyce, his three children and their spouses, along with his eight precious grandchildren, Branigan Taylor, Tyler and Takota Frank, Jace and Halle Hutchins, Clayton Roliard, Benjamin, and Wesley Frank, a brother-in-law and sister-in-law, Randy & Jackie Morrison, as well as his special nieces and nephews Vickie Castle, Stacey Byrd, Mike Borg, Paul Glen Morrison, Jeff Morrison and Angie Morrison. Casket bearers will be Koty Frank, Tyler Frank, Jace Hutchins, Clayton Roliard, A.W. Clem, IV, and Randy Morrison. Honorary casket bearers will be the Paris High School Class of '59. In lieu of flowers, please feel free to donate to these special causes in his name: * St. Vincent de Paul o 3300 Clarksville Street, Paris, Texas 75460 * Paris Education Foundation Class of 1959 o P.O. Box 356 Paris, Texas 75461 * 1 Million 4 Anna Foundation (Ewing Sarcoma Cancer Research) o 5301 Dallas Parkway #1100, Addison, Texas 75001 www.1million4anna.org He was known to preach the four P's to his children and those he loved. In the pages of his Bible he has written "Bless me with: persistence, perseverance, patience, peace of mind – Lord hear my prayers." He lived these four P's his entire life and completed them in his death.
VOIR PLUS
VOIR MOINS
Services Précédents
Family Visitation following the Rosary
mercredi,
22 novembre, 2017
A Mass of Christian Burial
mercredi,
22 novembre, 2017
Committal Service
En mémoire de
Denis Richard Frank
Aidez à raconter l'histoire de la vie unique de votre bien-aimé. Laissez un souvenir ou partagez une photo ou une vidéo ci-dessous pour montrer votre soutien.