Avis de décès
Mary Anne McNamara
2 juillet 1947

–

27 novembre 2021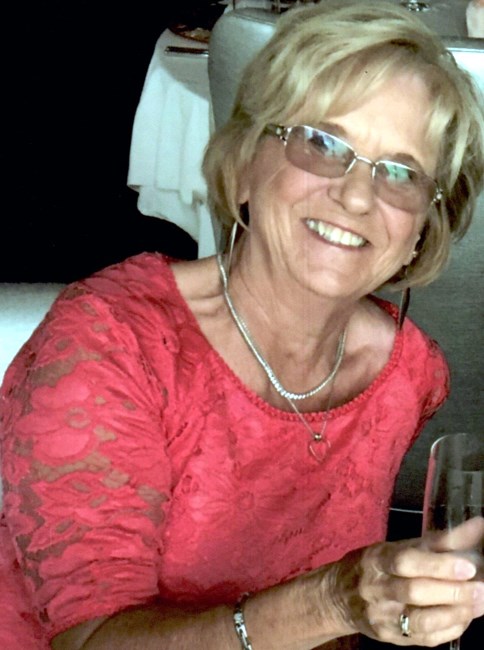 Mary A. (Fontaine) McNamara, 74, of New Smyrna Beach, FL, gracefully passed into the loving hands of God on November 27, 2021, surrounded by her family at home after a fierce and courageous battle with cancer. She was born in Worcester, MA, on July 2, 1947, the daughter of the late Earl P. and Kathleen P. (Liberty) Fontaine of Leicester, MA. In addition to her husband, Paul L. McNamara of New Smyrna Beach, FL she leaves her four children; Scott McNamara and his wife Audra of Holden, MA; Karyn Jones and her husband Ray of Titusville, FL; Sean McNamara and his wife Margaret of Shrewsbury, MA; and Meghan Gelinas and her husband Joseph of New Smyrna Beach, Florida. One of the greatest joys of Mary's life was time spent with her 13 grandchildren. She was "Memere" to Shaye, Cullen & Mary McNamara; Makenna, Devyn, Logan & Brody Jones; Fionna & Gavin McNamara; Faith, Joseph, Matthew & Christopher Gelinas. Her grandchildren, with their immeasurable loving affection, taught her to appreciate the joy that comes from living in the moment and the value of embracing "each day as a gift". Mary also leaves behind five younger brothers; James Fontaine and his wife Pamela of New Smyrna Beach, FL; Paul Fontaine and his wife Karen of Leicester, MA; Joseph Fontaine and his wife Michele of Leicester, MA; Timothy Fontaine and his wife Catherine of Leicester, MA; David Fontaine and his husband Jack of Walpole, MA along with many beloved nieces, nephews and cousins. Mary graduated from Leicester High School, married her high school sweetheart, Paul in 1967 and spent the next two decades raising their family in Leicester, MA. In 1980, with three small children at home, Mary went back to school to pursue her lifelong dream of becoming a nurse. She attended St. Vincent School of Nursing, graduated top of her class and achieved the "Ideal Nurse" award, all while nine months pregnant with her fourth child. Mary always took pride in her work and her passion for nursing. In 1994, she began her career as a Hospice nurse. These were undeniably some of the most impactful years of her life. The friendships she made with other nurses along with the memories and stories from her patients always held a special place in her heart. Mary went on to become the Hospice Volunteer Coordinator managing over 200 volunteers who were able to provide much needed support for families in Hospice. After retiring in 2006, Paul and Mary moved to New Smyrna Beach, Florida. Their lives here blossomed as they were welcomed with open arms by numerous friends and neighbors who became like family to them. Mary became an avid golfer in the ladies group at Hidden Lakes Golf Course, even becoming club champion in 2012. You couldn't miss her on the course with her undoubtedly matching and beautifully colored golf attire. Mary's social calendar would be filled with numerous events that she always looked forward to from Wednesday Night Dinners, Holiday Gatherings, Wine and Appetizer Parties to all kinds of themed outings she was always willing to plan. Mary was a faithful believer in God and enjoyed attending Sunday Mass at Our Lady of Hope where she was a devoted member for over 15 years. Her faith and acceptance of God's plan for her inspired Mary to live a life full of love, happiness and peace which was contagious to all.Throughout her cancer journey, despite many significant challenges, her unbreakable spirit remained intact. Family vacations were especially important to her and she planned for months to make sure everything was perfect. The Outer Banks was one of her favorite spots. She enjoyed the simple beauty of the ocean and getting all 23 family members under one roof. Every morning, without fail, she got up early to see the sunrise with a hot cup of coffee followed by morning talks with family. Mary was a faithful and loyal wife, mother and friend. She was determined, quietly courageous and maybe just a little competitive. She was also patient, forgiving and accepting of others with an open and joyful heart. Mary will perhaps be most remembered for her thoughtfulness, her random acts of kindness (expecting nothing in return) and her positive spirit that made others around her want to be a better person. Funeral services will be held at Our Lady of Hope Church 4675 S. Clyde Morris Blvd Port Orange, FL, on Saturday December 11, 2021. There will be a visitation at 10:00 am followed by a funeral mass at 11:00 am. Services at Our Lady of Hope will be live streamed for all who cannot attend. Additionally, a Funeral Mass will be held at St. Pius X Church 1161 Main St. Leicester, MA on Wednesday December 29, 2021, at 11:00 am. In lieu of flowers and to honor her giving spirit, donations can be made in Mary's memory to Grace House Pregnancy Center, 307 N. Orange St. New Smyrna Beach, FL (www.gracehouse4life.org) or a charity close to your heart. Consider performing a random act of kindness to help preserve her legacy. Fond memories and expressions of sympathy may be shared at www.VolusiaMemorialFuneral.com for the McNamara family.
VOIR PLUS
VOIR MOINS
DONS

Grace House Pregnancy Center

307 N. Orange St. , New Smyrna Beach, Florida www.gracehouse4life.org
Services Précédents
samedi,
11 décembre, 2021
Visitation
samedi,
11 décembre, 2021
Funeral Mass
samedi,
11 décembre, 2021
Reception
En mémoire de
Mary Anne McNamara
Aidez à raconter l'histoire de la vie unique de votre bien-aimé. Laissez un souvenir ou partagez une photo ou une vidéo ci-dessous pour montrer votre soutien.