Avis de décès
Raymond Gene Gressel
14 juin 1931

–

9 octobre 2021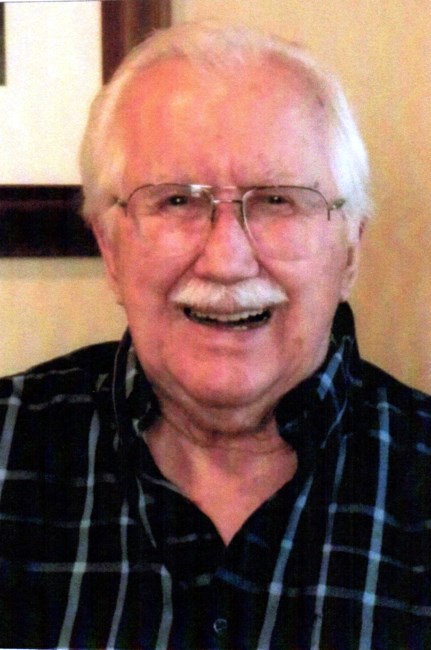 JUNE 14, 1931 – OCTOBER 9, 2021
RAYMOND GENE GRESSEL was born June 14, 1931 in Portland, Oregon, at home on 1932 S.E. Rex St. to parents Louis and Margaret (Maas) Gressel. Ray was the 6th boy born to the family. Three years later a baby sister would join them which completed the family. He spent his childhood years in the Sellwood and Parkrose district. He attended Llewellyn grade school and a Two room school house in Glenwood, Oregon. He enjoyed time with his siblings, friends, and furry critters that had 4 legs, that either barked, meowed or cuddled, including his hamster. He enjoyed riding his bike as long as he stayed upright and didn't get injured, like fracturing or breaking his elbow or injuring his back. His dog Binky, was given to him by his brother Bob and Mother at age 8 years. In 1943, Binky was entered by Ray in the Portland Mutt Dog Show. He received an award for longest tail. He was very proud of his best friend and the friendship lasted many years. Ray also was a boy Scout in 1944, and had a paper route too. In his teen years he lived with his Uncle Al and Aunt May for a short time in Glenwood, Oregon, after the early death of his mother in 1945. They lived in a small cabin in the woods. Ray walked 12 miles every day to and from Forest Grove Union High School. Al taught him the skills of green chain pulling in the logging industry in the Gales Creek area, including a strong upbringing into manhood and the love of nature. He attended Commerce High School, now known as Cleveland High School. He was in the National Honor Society, played various sports, drama and music, graduating from Forest Grove High School on May 26, 1950.
His first job was Ringing the church bells at the Methodist church on Sunday morning in Portland, for room and board. In June of 1950 he was hired for a warehouse position with DuPont which was located in the Sellwood area of Portland, back near his early childhood home. The position included good pay with benefits and a permanent roof over his head. In 1967/68 after working in the warehouse about 16 years he was asked to join the front office as a clerk in sales. This would lead him to a life career of 42 years and being promoted to Branch Supervisor of the Northwest in the Automotive Products and Refinish Division. He received many awards and acclamation. One which he received from Princeton for a seminar he attended. In June and July 1951 his love for nature took him to hike the Southside of Mt. Hood and the Lizard Route on Mt. St. Helens through the Mazamas Club and received a Summit Certificate for each climb. In July 1951 he tried to enter the Selective service like his older brothers, but was declined due to a health issue in his youth.
On 12-31-1992 he retired. Life continued with many hobbies which included looking into his German family history on both sides, of which he was very proud. Playing cards and golfing with his brothers which NEVER was COMPETITIVE ever. LOL! The siblings all had an incredible love and bond for each other. He loved camping, gardening, hiking and traveling to which he followed his lifelong dream to drive the Alaskan Highway to the tundra. He loved working with wood and was a gifted craftsman. He would spend hours designing and picking the right materials for that special person. He made various pieces which he gave to family and friends. Lifelong treasure from him to the ones he loved.
On November 16, 1952 in Portland, Oregon Ray married Jeannine Adel Franz. They were married 15 years before her death July 11, 1968. To this union two daughters were born. Yvonne and Colette.
On October 22, 1977 in Portland, Oregon Ray married Maureen Ann Mason. They were married 43 years. Her previous marriage added to the family two daughters, Shari, Gayle, and son David.
Ray was preceded in death by his Parents, Louis and Margaret, brothers, David Robert, Stanley, Jack, Kevin and sister Bernice. He is survived by his wife Maureen, daughters Yvonne (Tim), Colette Gressel-Moore (Doug). Grandchildren, Ryan, Emily, Candice, Caitlin, Douglas and 20 great grandchildren. Also, Shari Stroup (Chuck) Gayle Cook (Wendall) and David Butler. Grandchildren, Seth, Nathan, Noah and 6 great grandchildren. Including numerous nieces and nephews and cousins.
Dad, Grandpa, you left us peacefully, with your favorite music playing on a beautiful Saturday morning in October full of warmth and color, in the early hours, at home. Family and friends have remembered you, for the BIG bear hugs, your warm smile, the twinkle in your eye, your humor, kindness, patience, and the influence on many of their lives. Your laugh, is a Gressel brother's trait, and your favorite stories about your childhood dog, Binky pronounced "Benkey" as he would correct you. LOL!
Continue your journey Dad. Soar with the eagles, climb the highest mountain, but please don't fall and break or fracture your left elbow again. LOL! And always know that you will be FOREVER missed and loved.
"Auf Wiedersehen Mein Papa" Love, Yvonne and Colette
Graveside services were held on November 20, 2021 at Lincoln Memorial Park in Portland, Oregon.
VOIR PLUS
VOIR MOINS
Prestations de Service
Aucun service public n'est prévu en ce moment. Recevez un avis lorsque des services sont mis à jour.
recevoir des avis
En mémoire de
Raymond Gene Gressel
Aidez à raconter l'histoire de la vie unique de votre être cher. Laissez un souvenir ou partagez une photo ci-dessous pour montrer votre soutien.