Avis de décès
Michael Christopher Ahern
13 novembre 1947

–

25 juillet 2022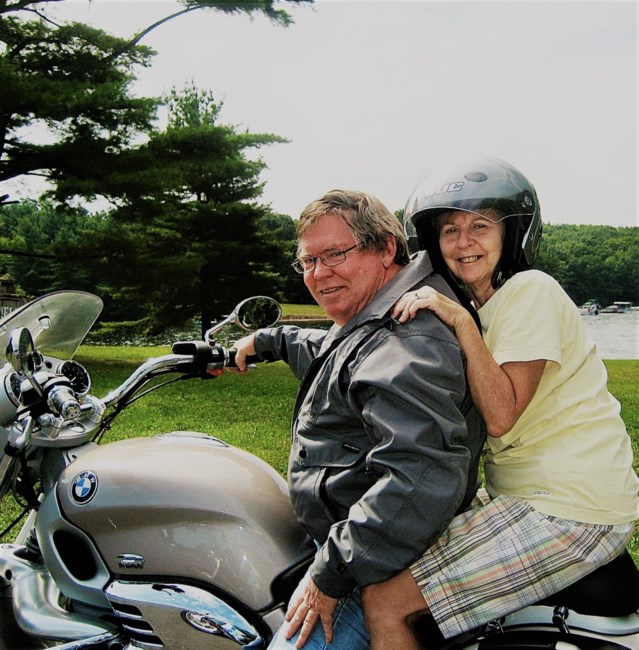 Wonderful father, proud Daideo (grandfather), beloved spouse, and friend of many, Michael Christopher Ahern left us on Monday, July 25, 2022. With his daughter by his side, Michael passed away peacefully after a fierce battle with heart disease, multiple sclerosis, cancer, diabetes, and other ailments connected to Agent Orange—all of which he fought heroically. He had a wonderful life filled with much love, great joy, adventurous international travels, a fulfilling career, and a family who loved him with all their hearts. Michael is now reunited with his beloved wife, Maggie (Zvonik) Ahern, who passed away in 2015. Michael's greatest accomplishment, and that which he was most proud of, was the way he and his wife raised their daughter. Kimberly, a National Honor Society student, magna cum laude graduate of Providence College, editor-in-chief of The Roger Williams University Law Review, devoted wife and mother, and friend and counsel to many, has been the light of his life. The son of Colonel Joseph Ahern and Mary (Dooner) Ahern, Michael was born in Germany and raised all over the globe with his seven siblings. A rebellious teenager, he attended high school off and on in Walden, New York, joined a rock & roll band, and dropped out of school in 1965 to enlist in the Army. He served two tours in the Vietnam War and was awarded the Good Conduct Medal for exemplary behavior, efficiency, and fidelity. He returned home a changed man and joined the movement of the Vietnam Veterans Against the War. He said later in life that he thought it was necessary to volunteer for Vietnam so that someone with a wife and kids would not be drafted and have to go in his place. Later, he held management positions at Shaw Pittman Potts Stowbridge and the Mark Winkler Company before finding his niche in managing international commercial real estate at Global One. He retired in 2002 as executive director for real estate and administration. In retirement, Michael and Maggie moved to Deep Creek Lake in western Maryland's Appalachian Mountains with their dog, Rica. There, Michael was an active member with the Garrett County Democrats and an avid volunteer with the Special Olympics as a skiing coach and member of the management team. Michael, Maggie, and Rica thoroughly enjoyed their relaxing life on the lake. In what would be his last year of life, Michael moved to Providence, Rhode Island to be closer to Kimberly and her family. Although no lake views, he found great joy in Providence with his new neighbors: his granddaughters and granddog, who lived four doors down. Michael is survived by his daughter Kimberly Ahern and her wife Jenna Lafayette, his beautiful granddaughters Quinn and Camden Ahern, his siblings Kathleen Shattuck, Joseph Ahern, Rosemary Grey, and Therese Colby, his sister-in-law Joanne Hrivnak, brother-in-law John Zvonik, dear friends Dave and Patricia Tator and Sue Hanson, and many nieces, nephews, and friends. He was predeceased by his parents and his siblings Richard, Mary Jo, and Caryl. A "Tour de Mike" will take place to celebrate his life. Calling hours are on Wednesday, August 10 from 6 to 8 p.m. at Murphy's Law Irish Pub in Pawtucket, Rhode Island. A funeral Mass and luncheon will be held on Friday, August 19—what would have been his and Maggie's 50th wedding anniversary—at 11 a.m. at St. John Neumann Parish in Reston, Virginia. A final goodbye party at his beloved lake house will take place on Friday, August 26 (rain date: Saturday, August 27). In lieu of flowers, memorial donations may be made to HART for Animals, online at: https://www.hartforanimals.org/donate, or to the Special Olympics of Garrett County, Maryland, PO Box 228, Oakland, MD 21550 and online at: https://support.specialolympics.org/a/maryland. Michael would not want anyone to be saddened by this news. He would tell you to go outside, put on some good tunes, and catch tonight's sunset—and for those who indulge, to enjoy a glass of Irish Whiskey and perhaps a cigar, too.
VOIR PLUS
VOIR MOINS
Prestations de Service
Aucun service public n'est prévu en ce moment. Recevez un avis lorsque des services sont mis à jour.
recevoir des avis
En mémoire de
Michael Christopher Ahern
Aidez à raconter l'histoire de la vie unique de votre bien-aimé. Laissez un souvenir ou partagez une photo ou une vidéo ci-dessous pour montrer votre soutien.