Avis de décès
Conley Winston Ford
26 janvier 1942

–

22 janvier 2023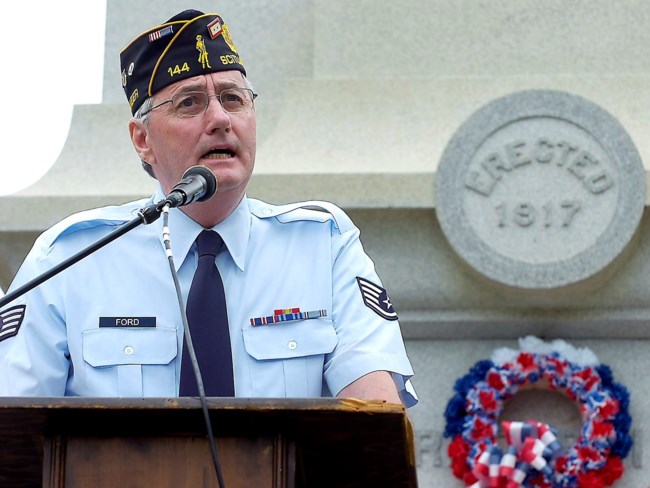 Conley Winston Ford, 80, passed away peacefully at his home in Scituate, Massachusetts, on Sunday, Jan. 22, 2023 after a long and courageous battle with Parkinson's disease. An eight-year-veteran of the United States Air Force, Conley spent two years stationed at Wheelus Air Base in Libya. Always supportive of his fellow veterans, Conley reconstituted Scituate American Legion Post 144 in 2006 that had been abandoned during the Vietnam War and served as its first commander. He encouraged his sons, Jarat L. Ford and James T. Ford, to serve their country which they did proudly as US Army officers. Conley also founded the Sons of Union Veterans of the Civil War chapter in Scituate and is a member of the Sons of the Revolutionary War. His great-grandfather Tillman Ford died fighting for the Union in the Civil War. His ancestor Ralph Ford arrived in Maryland in 1775 from Guilford, England, and later signed the Oath of Fidelity and Allegiance to the State of Maryland. Conley is a member of the First Families of Tennessee, an organization recognizing those with ancestors in the territory before it became a state. Conley had a long career with Western Electric and Bell Communications Research that included transfers across the country and around the world. He was involved in the Spartan Missile Project in Huntington Beach, California; the trans-Pacific telephone project in Yokohama, Japan, and two trans-Atlantic telephone cable projects in Calais, France, and Southampton, England. He and his family also lived in California, Missouri, Minnesota, and Illinois before moving to Massachusetts in 1987. The fifteenth of sixteen children, Conley grew up in East Tennessee. His youthful exploits that included running off at thirteen and living on his own were chronicled in the popular novel "Boy at the Crossroads: From Teenage Runaway to Class President," penned by his wife Mary Ford. At 52 years old, Conley realized his dream of completing his college education when he graduated with honors from Wentworth Institute of Technology in Boston. He was a member of the Halls High Class of 1960, Halls Crossroads, Tennessee. In 2015, he was inducted into the Halls High School Hall of Fame for his advocacy of veterans. Conley was a long-time member and former chairman of the Scituate Republican Town Committee. He also served as a Town election warden and registrar of voters. One of the most difficult aspects of Parkinson's was not being able to work in the yard which he dearly loved. Conley was very handy and enjoyed doing his own home repairs. Whether movies or television series, Conley loved watching Westerns, and especially appreciated the cinematography. The wide-open spaces and sense of adventure appealed to his nature. Conley and Mary met in California and were featured on the Newlywed Game with Bob Eubanks. One of the more entertaining couples, they finished in last place and were invited back for the Newlywed Alumni Game where they came in last again. Their incompatibility lasted fifty years. Conley leaves his wife Mary, sons Jarat (and his wife Christine), James (and his wife Melissa), and his granddaughter Samantha Ford. He also leaves a sister, Ann Ford Bradburn, and brother Henry Ford, and many nieces and nephews, brothers- and sisters-in-law, and their families. A family history buff, Conley's goal was to encourage his sons, granddaughter, nieces, nephews, and their families stay to connected. He created a Ford cousins' group that meets quarterly on Zoom. He also organized a Ford Family Reunion at Cumberland Falls State Park in Kentucky, attended by dozens of Fords. Burial will be private. A celebration of Conley's life will be held at a later date. Donations in his memory can be made to the Scituate Etrusco Associates, One Common Street, Scituate, MA 02066. The Etrusco Associates is a medical equipment lending library providing wheelchairs and walkers, shower chairs, and other devices free of charge.
VOIR PLUS
VOIR MOINS
Prestations de Service
Aucun service public n'est prévu en ce moment. Recevez un avis lorsque des services sont mis à jour.
recevoir des avis
En mémoire de
Conley Winston Ford
Aidez à raconter l'histoire de la vie unique de votre bien-aimé. Laissez un souvenir ou partagez une photo ou une vidéo ci-dessous pour montrer votre soutien.