Avis de décès
Mary Ann Johnson
12 avril 1929

–

21 novembre 2021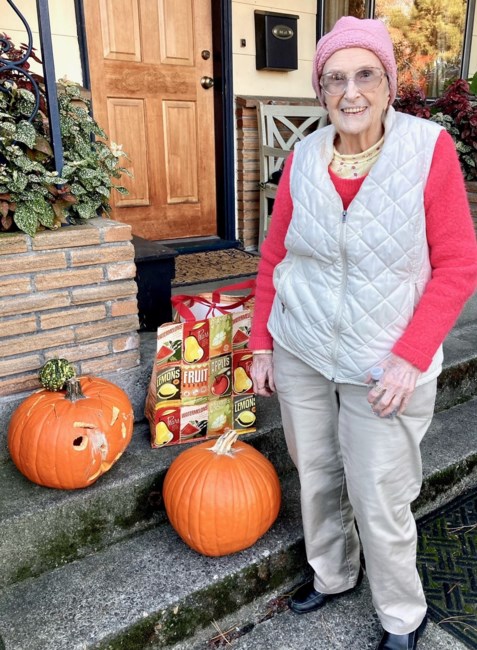 Mary Ann was born Mary Ann Krogstad on April 12, 1929, in Sioux Falls, South Dakota. Her mom and dad, Bergliot and Palmer Krogstad, were happy to have a second daughter and later added two more sisters and a brother to the family. (Her sisters are Ruthie, Hazel and Judi, and her brother, Palmer Junior. Of her siblings, Judi is still living and resides in Stockton, CA).
Some of her fondest memories from her childhood included playing with school classmates, snuggling between her sisters in bed at night and taking accordion lessons. She also loved participating in activities at her childhood church, East Side Lutheran, playing with her dog Jigs, and eating delicious homemade food her mother always had waiting for them in their kitchen.
She decided to become a nurse and moved to Minneapolis, MN to go to Fairview Nursing School where she became a Registered Nurse. She always spoke fondly of her roommates and her studies. She remained in contact with her nursing school by attending many lovely reunions over the years and keeping in touch with nursing classmates. She worked tirelessly using her nursing in many ways: in hospitals, nursing homes, caring for ill family, and later in life she started her own in-home nursing business, "Jills of All Trades", where she touched many lives and enabled seniors to remain in their homes in their aging years. She described herself as a Caregiver and saw it as a mission and an ability she could offer the world.
While in nursing school she met Richard Johnson, who would become her much-loved husband. They attended Bethany Missionary Training Center in Bloomington, MN, together. They always kept world missions and church activities as a most important part of their life together. She adored Richard and spoke lovingly of him almost everyday of her life. He passed away 20+ years before her, but she kept his memory alive and remembered how tall, handsome and kind he was, his sense of humor, and his ability to write beautiful letters and cards to her. They had three daughters, Diana, Janelle and Marlene and many beautiful grandchildren and great-grandchildren, all of whom they cared about dearly.
After Rich's passing, Mary Ann joined Bloomington Covenant Church in Minnesota where she made dear friends and enjoyed so many of their activities and kindnesses. Throughout her spiritual life she believed, as her mother had advised her, there are many ways to be a Christian and she would not criticize others' choices.
Mary Ann also loved sewing, crafting, card-making, entertaining family and friends, creating cozy and lovely home environments, traveling to see family as well as other interesting and fun places, hearing music and concerts, attending plays and watching the local and national news. She always kept busy. As she said: "I'm always trying to solve a problem for someone or myself." Recent advice she gave was to "Count your blessings about what you can do. Stay more positive and don't think about what you can't do." She truly did that, as she faced years of various illnesses that required persistence and strength to overcome. And she did overcome them.
Mary Ann made friends for life. She had dear friends and family from each era of her life who remained dear to her and who kept in touch. In her last 3+ years, she enjoyed a contented and pleasant life in Seattle living with one of her daughters. There she made an impression on everyone she met. She was funny, spirited and became so grateful for the thoughtfulness and care she received from others.
Mom and Grandma, may you rest in peace and know that your life touched many lives and gave strength, care, and inspiration to many.
–With our deepest love, Your Family
Mary Ann will be laid to rest in Bloomington, Minnesota at Washburn-McReavy Dawn Valley Memorial Park.
VOIR PLUS
VOIR MOINS
Prestations de Service
Aucun service public n'est prévu en ce moment. Recevez un avis lorsque des services sont mis à jour.
recevoir des avis
En mémoire de
Mary Ann Johnson
Aidez à raconter l'histoire de la vie unique de votre être cher. Laissez un souvenir ou partagez une photo ci-dessous pour montrer votre soutien.