Avis de décès
Jerry "ga li gi ni" Jones
28 août 1945

–

22 novembre 2021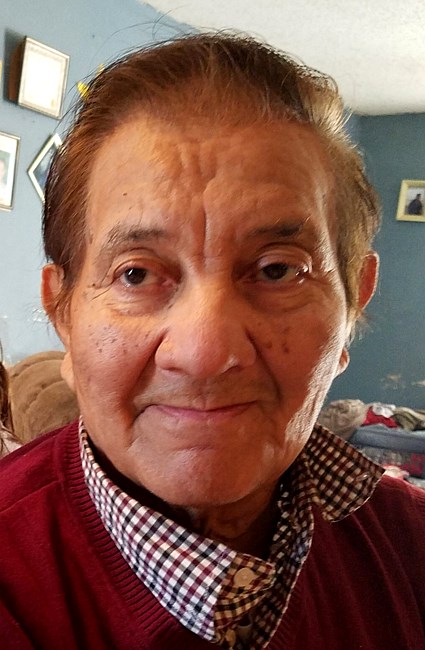 Jerry Jones was born August 28, 1945, in Tahlequah, OK. He is the son of Carrie (Candy) Cochran and Reeder Jones. He was raised in the home by his mother Carrie and stepfather Jess Cochran along with seven brothers and sisters, Deertrack, Leroy, Ronnie, Charlie, Levi, Eliza, and Louella. Jerry was a full blood, fluent Cherokee speaker and was proud of his Cherokee Heritage. He grew up a strong family man and he worked hard all his life. He loved being outside and staying busy. Growing up he had a passion for fastpitch softball. He loved to share his stories from when he pitched. He would talk about striking out many batters, winning tournaments and he had the jackets to prove it. One day he was telling his children about a pitch he threw which, his children were young and didn't believe he could throw a riseball. So, the children went outside and the only one brave enough to catch him was Jonathan. Jerry through a few funny ones and then he asked, are you ready and Jonathan said yeah. Jerry threw his fast riseball and it knocked Jonathan backwards and onto the ground. Everyone laughed and Jerry relived his glory days.
Jerry loved being around family. He enjoyed traveling and watching his children and grandchildren play sports. He loved to visit beaches, historic locations and sightseeing. He spent many hours outside and enjoyed fixing things. Jerry had magical hands and could repair anything. When he was stuck on a part, he would always check his garage and figure out a way. He also, worked on vehicles for many years. He wouldn't mind you barrowing his tools but he made sure you returned it. He always knew when one was out of place.
Jerry had the most welcoming smile. He enjoyed long conversations and always had good positive advice. You never knew what joke he was going to tell. He was always laughing and making people feel happy. He would always brag about his children and grandchildren even when they were wrong. He had the most giving, loving and caring heart and will be deeply missed. Jerry passed from this life on November 22, 2021 at his home surrounded by loved ones. He was 76 years old.
He is preceded in death by his maternal grandparents Peggy Hendricks and John Candy, his mother and father. He joins his son Christopher Jones, a brother Deertrack Jones, a sister Eliza Bluebird, and great grandson Easton Peace. Those left to carry on his family name are his children Meredith Towie and husband Lee of Tahlequah, Jonathan Jones of Tahlequah, Amanda Jones of Glenpool, Laura Jones of Tahlequah, Austin Jones of Tahlequah. His brothers and sister include Leroy Jones of Peggs; Ronnie Jones, Levi Jones, Charlie Jones, and sister Louella Smith all of Tahlequah. His companion, Veronica Millsap of Tahlequah. He lives on in 15 grandchildren, Dillion Towie and wife Jordan, Kristin Towie and companion Rusty Peace, Megan Towie, Maekla Towie, Dakota Jones, Hunter Jones, Zavyn Jones, Summer Jones all of Tahlequah; Kianna Littlebear, Kensley Littlebear both of Glenpool; Alden Jones, Raelynn Martin, Rosslynn Martin, Dean Jones, and Jack Jones all of Tahlequah. He also leaves behind 3 great grandchildren Jensyn Towie, Kaveri Peace, and Ezekiel Jones all of Tahlequah as well as many nieces, nephews, cousins and a host of friends and loved ones too numerous to mention.
Funeral services for Jerry Jones will be held on Monday, November 29, 2021 at 2:00 PM at Reed-Culver Chapel with Reverend Jason Gann and Brother Ed Gourd officiating. His family will receive guests during his visitation on Sunday, November 28th, 2021 beginning at 2:00 PM until 6:00 PM at Reed-Culver Funeral Home. He will be laid to rest at Greenleaf Cemetery alongside his family. Pallbearers for Jerry include Dillion Towie, Gary Jones, Ricky Jones, Chad Jones, Hunter Jones, Alden Jones, Ronnie Jones Jr., and Austin Jones. His honorary pallbearers include Lee Towie, Jonathan Jones, Steve Jones, Justin Smith, Larry Bluebird. David Bluebird, and Matthew Pence. Online condolences for his family may be left at www.reedculver.com.
VOIR PLUS
VOIR MOINS
PORTEURS

Dillion Towie

Gary Jones

Ricky Jones

Chad Jones

Hunter Jones

Alden Jones

Ronnie Jones Jr.

Austin Jones

Lee Towie

Jonathan Jones

Steve Jones

Justin Smith

Larry Bluebird

David Bluebird

Matthew Pence
Services Précédents
dimanche,
28 novembre, 2021
Visitation
En mémoire de
Jerry "ga li gi ni" Jones
Aidez à raconter l'histoire de la vie unique de votre être cher. Laissez un souvenir ou partagez une photo ci-dessous pour montrer votre soutien.