Avis de décès
Anthony Cutaia
8 août 1934

–

15 novembre 2021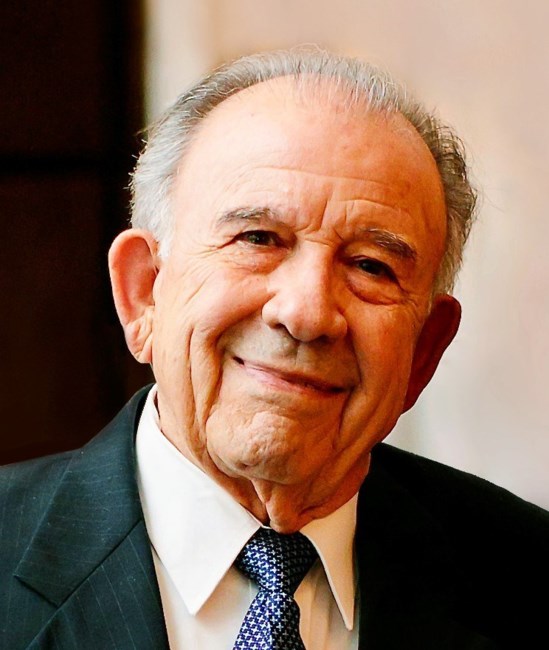 Anthony Cutaia, age 87 of The Woodlands, TX, passed on Monday, November 15, 2021.
Anthony Cutaia was born August 8, 1934, in Houston, TX to Sam and Lena Cutaia. He grew up in Port Arthur, TX, one of 13 siblings. His Mom and Dad's work ethic and love of family were very influential on him. After his father died when he was 9, Anthony felt these lessons guided him throughout the rest of his life.
Anthony loved his country and served in the United States Army in the early fifties. During his enlisted years, he was stationed abroad and loved to travel throughout Europe when on leave. He returned from the service in 1956 and settled in Port Arthur, TX where he began his career in commercial refrigeration.
He met the love of his life, Glinda, who was attending nursing school, and they were married shortly thereafter. Anthony and Glinda settled in nearby Groves, TX, and began their family. They were blessed with a daughter and three sons. Anthony and Glinda's faith was very important to them, and they raised their family in the Catholic Church.
As their children became teenagers, Anthony spent many years helping to develop their faith and character alongside other youth through the Catholic Youth Organization (CYO). Anthony also believed deeply in the Boy Scouts of America and helped his three sons and others reach the rank of Eagle Scout. Through the example he set, today there are a total of 8 Eagle Scouts in the family. He was always devoted to the interests and development of his children.
In retirement, Anthony and Glinda moved to The Woodlands and joined Sts. Simon and Jude Catholic Church where they have been parishioners for 22 years. Anthony was involved in numerous organizations within the church, including the Men's Club and the ACTS Team.
Anthony had the joy of sharing the lives of 13 grandchildren and 3 great-grandchildren. He was encouraging and enjoyed each milestone the children achieved. He enjoyed fishing, hunting, and assisting with endless construction projects for family and friends.
Anthony is survived by his wife of 64 years, Glinda.
Children: Mike Cutaia and wife, Susie; Micki Cutaia Barnett and husband, Trey; Tony Cutaia and wife, Mary Ann; Jay Cutaia and wife, Gayle.
Grandchildren: Anthony J Cutaia; Amanda Barnett; Andrew Cutaia and wife, Courtney; Sara Cutaia Mantzoros and husband, Spiros; Jonathon Cutaia and wife, Hallie; Mattie Milstead and husband, Colby; Emily Barnett Foreman and husband, David; Nicholas Cutaia; Anthony W Cutaia; Grace Barnett; Anna Barnett; Amy Cutaia; and Morgan Cutaia.
Great-Grandchildren: Allie Malcolm, Taylor Malcolm, and Paige Milstead.
Sisters: Katherine Norris and Betty Cutaia
Anthony was a beloved husband, father, grandfather, great-grandfather, brother, and uncle. He will be dearly missed, and his faith will live on in his family and friends.
In lieu of flowers donations may be made to St. Vincent de Paul in memory of Anthony https://giving.parishsoft.com/App/Form/80866260-0001-44b4-b7fb-f81108b6dc3e
Founded in 1833, the Society of St. Vincent de Paul is a worldwide organization of lay Catholics, following Christ's call to serve the poor, the suffering, and the deprived. Our founding activity, still practiced today, is the Home Visit. Through these visits, Vincentian members establish personal relationships with our neighbors in need, not only providing material assistance such as rent, utilities, food, or clothing, but also offering friendship, understanding, and prayer.
Visitation/Vigil will be held at Sts. Simon and Jude Catholic Church in The Woodlands, Texas on Monday, November 22, 2021 from 5:00pm to 8:00pm.
Funeral service/Mass for Anthony Cutaia will be held at Sts. Simon and Jude Catholic Church on Tuesday, November 23, 2021 at 10:00am.
Interment will be held at Houston National Cemetery in Houston, Texas on Wednesday, November 24, 2021 at 11:15am.
Anthony Cutaia's Funeral Mass can be live streamed at the following sites:
Livestream Sts. Simon and Jude home page: https://www.ssjwoodlands.com/media
YouTube: https://www.youtube.com/ssjwoodlands
Facebook: https://www.facebook.com/ssjwoodlands/videos/?ref=page_internal
Fond memories and expressions of sympathy may be shared at www.forestparkthewoodlands.com for the Cutaia family.
VOIR PLUS
VOIR MOINS
Services Précédents
mercredi,
24 novembre, 2021
Graveside Service
En mémoire de
Anthony Cutaia
Aidez à raconter l'histoire de la vie unique de votre être cher. Laissez un souvenir ou partagez une photo ci-dessous pour montrer votre soutien.