Avis de décès
Delores Elaine Ellis
10 août 1929

–

11 novembre 2021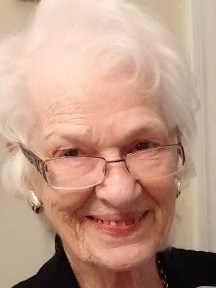 Delores Elaine "Rusty" Ellis, 92, died peacefully on November 11th, 2021 in Tucson, AZ. Born in Fort Wayne, IN to the late Orman Ray Martin and Wilma Bauer Martin, Rusty was a 1947 graduate of South Side High School. Trained in piano and violin from an early age, she attended Manchester College to study music, playing violin in the North Manchester Civic Symphony and singing in the A Cappella Choir. Opting to pursue a career in business instead of music, she left college after a year and became employed at Dana Corporation in Fort Wayne as an administrative assistant. While working for Dana, Rusty was introduced to Charlie Ellis, a Dana engineer, through mutual friends. The couple wed in 1952 and by 1961 they had three children. The family relocated from Indiana to Charlotte, NC in 1964. Over the next 20 years, Rusty supported Charlie in his career while raising the kids and continuing her own employment pursuits at Central Piedmont Community College, First Union National Bank, and within the University of NC System. She became an expert in the use of the new computerized word processing systems that emerged in the late 1970's and often found herself working among younger professionals that relied on her to put their words to paper in this new age. Rusty's own writing bug was met by her publishing a handful of guest columns and opinion pieces in the Charlotte Observer. Rusty's violin re-emerged in the mid-1970's when she was introduced to Appalachian old-time music by acquaintances from UNC Charlotte. Her classical training gave way to the styles of traditional old-time fiddlers and picking parties at home became a weekly tradition. Rusty played fiddle in bands that competed at music festivals across NC, TN, and VA during the 1970's and 1980's. She formed a life-long friendship with fellow band member Marilyn Price and was active in the Charlotte Folk Society that was founded by Marilyn in 1982. Rusty and Charlie moved to Boone, NC in 1984, where they were both employed at Appalachian State University. Rusty continued her musical endeavors with various musicians and bands in western NC, but the highlight of those years was her chance to play with folk legend Doc Watson at an informal gathering at the invitation of fellow musician Ora Watson. Rusty retired from ASU in 1996, and she and Charlie built their dream home on a mountainside overlooking the New River in Boone. An avid walker, she and Charlie competed in Senior Games events in NC and all over the country. Charlie and Rusty moved from Boone back to Charlotte in 2001 to be nearer to their children and grandchildren. In 2008, they embarked on a "second retirement" to Tucson, AZ, where they had competed in the National Senior Games years earlier, and where their son's family now resides. After Charlie's passing in 2012, Rusty continued to live at home for several years, reluctantly accepting (and regularly rejecting) help from various "senior helpers" that were hired to keep tabs on her at home. She enjoyed weekly Scrabble and pizza night at her son's home, regularly attended church at St. Paul's UMC, and favored Sunday brunch at Bistro 44 with a glass of St. Pauli Girl beer. She remained active on her computer into her late 80's, researching genealogy and emailing family and friends. Rusty moved into assisted living in late 2019, where she resided until her passing. Rusty was predeceased by her husband Charlie, and brother Rodger Martin. She is survived by her children Katie Jacks (Dan) of Charlotte, NC, Cindy Lisewski (Ric) of Havelock, NC, and Chip Ellis (Della) of Tucson, AZ; grandchildren Aaron Jacks, Rebekah Jacks, Sarah Jacks, and David Jacks of Charlotte, NC, Anna Jacks Weih (David) of Dallas, GA, Ryan Lisewski of New Bern, NC, and Reed Ellis and Jane Ellis of Tucson, AZ; great-grandchildren Anneliese, Miriam, and Daniel Weih, and Alanna Lisewski; and several nieces and nephews. An interment service will be held June 30th at 9:00 a.m., at East Lawn Palms in Tucson. In lieu of flowers, memorials may be made to the Marilyn Meacham Price Scholarship Fund c/o the Charlotte Folk Society (folksociety.org), or a charity of choice.
VOIR PLUS
VOIR MOINS
Prestations de Service
Aucun service public n'est prévu en ce moment. Recevez un avis lorsque des services sont mis à jour.
recevoir des avis
En mémoire de
Delores Elaine Ellis