Avis de décès
Roman "Roach" Foronda
6 janvier 1952

–

16 janvier 2022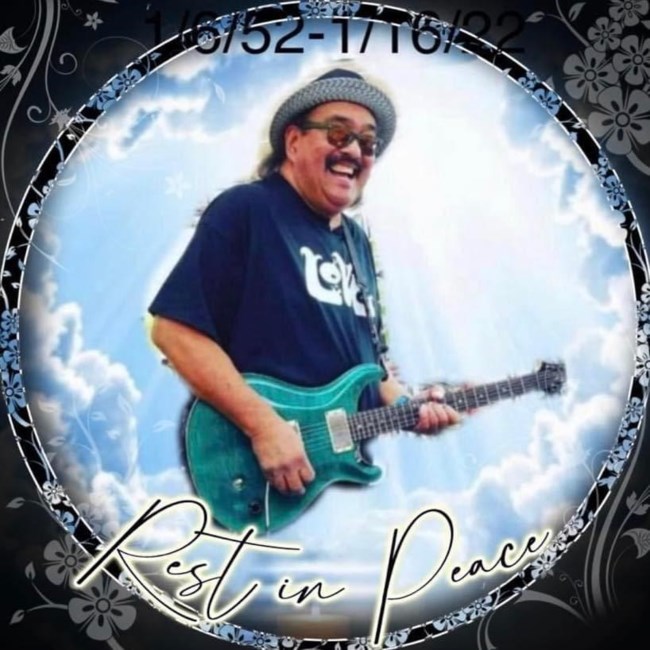 On January 16th, 2022, the world lost a wonderful man, husband, father, grandfather, uncle and brother with the passing of Roman 'Roach' Foronda. He was born 70 years ago while Upland was still primarily a citrus community. He attended local schools and graduated from Upland High School in 1970. Roman was widely loved and will be missed deeply by family, friends and an entire musical community. It's impossible to remember him without remembering the music. Roach began playing guitar when he was eight years old. He was the first student to play electric guitar during events at Sierra Vista Elementary and the first rock-n-roll band to perform at Upland High School. Beginning with his first band, The Golden Tones, he performed with Arty and the Supremes, The Precious Few, and The Blues Endorphins. He was also a member of The Ontario Chaffey Community Show Band. His current bands are Blue Hwy, Soul Project 909, Gene Pool (a father and son band in which his son Dominic is a member) and the one he founded in 1973, his beloved Backstreet. Roach, with his band, often used his talent to give back and celebrate the local community. Some of the highlights include: a fundraiser for the 1969 flood in Rancho Cucamonga, the opening of the extended 210 Freeway (on the freeway itself), multiple years headlining the Upland Lemon & Rancho Cucamonga Grape Harvest Festivals, and countless performances in support of local Veterans of Foreign Wars and American Legion events. In 2017, the Upland City Council gave Roach a proclamation and certificate of recognition which ends with: "Thank you for providing melody and harmony for all to enjoy." Fans refer to Roach as "Upland's Ambassador of Live Music and All Things Cool". Roach's parents settled in Upland after travelling from their home countries of Mexico and the Philippines. His happy, early years were at the first Foronda home on Route 66 (Foothill Blvd). Roach may have been the youngest, but his larger than life personality and kindness made him stand out. Those attributes are what has endeared Roach to everyone who ever met him. Roach was proud of the Citrus (lemon) history of Upland and briefly worked in the fields with his father, a ULG foreman and at the local citrus warehouse. He also gained many friends during his long career at GTE/Verizon, where he performed many jobs including truck driver, warehouse attendant, mailroom clerk and cable maintenance. Roach enjoyed a special bond with his beautiful family: his wife of 30 years Cindy, daughters Renee, Shawna, Stacie, son Dominic, grandchildren Siera, Samantha, Kyla, Skylar, Frankie, Trent, Macy, Tatiyana, Avery, Austin, great grandchildren Emma, Richie, Savannah, Gracelyn, Noella, Sky. He is survived by adopted son Bobby, brother Dan, sister Cristina and nephews and nieces Danny, Marcela, Felipe, Yvonne. He is preceded in death by his father Frank, mother Cruz, brother Martin, grandson Derek & two young siblings, Frank and Gloria. Also, loving aunts, uncles and cousins. Make room Jimi, Stevie, Duane, Albert and countless others. Rock and Roll Heaven has just gotten a little cooler. Services will be held on Wednesday, February 9th at 12noon at Upland Memorial Park 1100 E. Foothill Blvd, Upland, CA, Site A Graveside Services will follow at 1:30pm at Bellevue Memorial Park 1240 West "G" Street, Ontario,CA. Reception will be held at 2:30pm following the Graveside Service at Last Name Brewing 2120 Porterfield Way, Upland, Ca Fond memories and expressions of sympathy may be shared at www.stonefuneralhomeupland.com for the Foronda family.
VOIR PLUS
VOIR MOINS
FAMILLE

Cindy Foronda

Wife

Renee

Daughter

Shawna

Daughter

Stacie

Daughter

Dominic

Son

Siera

Grandchild

Samantha

Grandchild

Kyla

Grandchild

Skylar

Grandchild

Frankie

Grandchild

Trent

Grandchild

Macy

Grandchild

Tatiyana

Grandchild

Avery

Grandchild

Austin

Grandchild

Emma

Great Grandchild

Richie

Great Grandchild

Savannah

Great Grandchild

Gracelyn

Great Grandchild

Noella

Great Grandchild

Sky

Great Grandchild

Bobby

Adopted Son

Dan

Brother

Cristina

Sister

Danny

Nephew

Marcela

Niece

Felipe

Nephew

Yvonne

Niece
Services Précédents
mercredi,
09 février, 2022
Funeral Service
mercredi,
09 février, 2022
Graveside Service
mercredi,
09 février, 2022
Reception
En mémoire de
Roman "Roach" Foronda
Aidez à raconter l'histoire de la vie unique de votre bien-aimé. Laissez un souvenir ou partagez une photo ou une vidéo ci-dessous pour montrer votre soutien.