OBITUARY
Dr Ronald Morton Cresswell
Passed away on April 16, 2021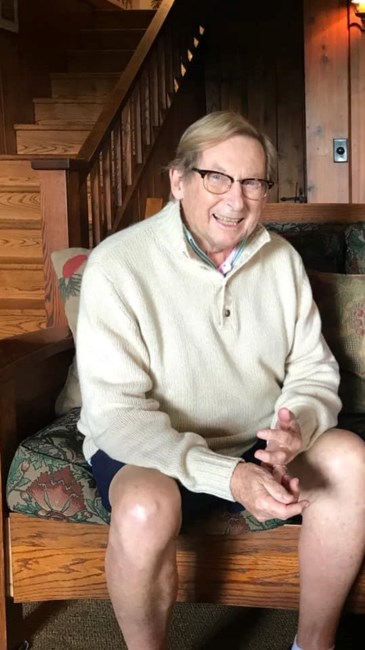 Ronald Morton Cresswell An honest man here lies at rest, 
As e'er God with His image blest:
 The friend of man, the friend of truth;
 The friend of age, and guide of youth:
 Few hearts like his, with virtue warm'd,
 Few heads with knowledge so inform'd: 
If there's another world, he lives in bliss; 
If there is none, he made the best of this. -By Robert Burns Ronald Morton Cresswell, age 86, of Ann Arbor, Michigan passed away on Friday, April 16, 2021 at his home in Key Largo, Florida surrounded by his family. Ronald was born in 1934 in Glasgow, Scotland to Ambrose and Joan Cresswell. Ronnie, as he was fondly called by his family and friends, is survived by his spouse, Margaret Cresswell (known as Sheila to her family and friends), his daughters Ann (Steve), Ellie, Susan (Trey), Jenny (Greg), and Sheena (Doug); his grandchildren Justin (Hillary), Jade, Laurel, Cameron, Rider, Duncan, Hayden, Nate, Ava, Gus and Silas; his great grandchildren Jayce, Eden and Piper; his older brother John Cresswell, sisters-in-law Mamie Campbell and Judy Livingstone; and a number of nieces and nephews and great nieces and nephews who all appreciated their beloved Uncle Ronnie. Ronnie was preceded in death by his parents, his father and mother-in-law John and Mary Livingstone, his great grandson Sawyer Graham Costin, his brothers-in-law Gordon Campbell and John Livingstone and his sister-in-law Betty Cresswell. Ronnie was about as complete a person as one will find on this earth. He was a loving husband, doting father, and loyal friend. He loved nothing more than helping others and this is what he did throughout his personal and professional life. Ronnie was a very proud Glaswegian and overall an incredibly proud Scot. He enjoyed regaling anyone he met with the brilliance of what it means to be Scottish. Ronnie grew up with a strong example of what it means to be a family man. He told amazing stories of his childhood. Being in the presence of Ronnie when telling a story was beautiful. He simply never forgot anything and attention to detail was his specialty. Part of Ronnie's early family life was his commitment to his faith, in particular the Church of Scotland. He attended the family Parish Church of High Carntyne participating in Sunday school, church services and singing in the choir. His strong faith continued throughout his adult life becoming a member of multiple Presbyterian Church congregations depending on where he was living at the time. To each of these, he gave generously of his time, energy and resources. When the First Presbyterian Church of Ann Arbor needed a new organ, he stepped up and made it happen. This was pure Ronnie. Anyone who knows Ronnie also knows Sheila, his beautiful bride. Ronnie fell instantly in love with Sheila when he first set eyes upon her at a dance hall in Glasgow. The year was 1955. The story goes that he and his friends were leaving the dance hall and he spied an incredibly sweet girl in a yellow sweater and decided he'd stay at the dance. The rest is history. They were married in 1959 in Glasgow Cathedral. They were true soul mates and complimented each other's strengths and weaknesses. Their commitment to each other was unwavering. Sheila allowed Ronnie to pursue his dreams and passions and made his home life one of comfort so that he always had a haven to come home to after what often was a long and stressful day's work. When Ronnie and Sheila met, Ronnie was a university man. She loved seeing him in his university scarf. Ronnie profoundly valued education and he took his studies very seriously. Before university, he was a student at the prestigious Whitehills Secondary School in Glasgow. He says that his original interest was history but at the urging of one of his teachers, decided to focus on sciences instead. This is a change of course that benefitted all of mankind. He studied Applied Chemistry at the University of Glasgow and received a Bachelor of Science and subsequently a PhD. Throughout his life and career, Ronnie, continued to demonstrate his belief system in a strong education. Not only was his own education and that of his family important, in 2004 he set up a fellowship in Sheila's name at the School of Pharmacy at the University of Michigan. He wanted to ensure that brilliant minds had the means to pursue their dreams just as he was able to pursue his. As much as Ronnie loved being a Scot, the lure of America was strong. One short year after Ronnie and Sheila married, they set off for the United States. Ronnie had accepted a position at Sloane Kettering Hospital as a research associate in the division of nuclear protein chemistry. This was originally a two-year position after which Sheila and Ronnie planned to return to the UK to pursue his research career. While at Sloane Kettering, he developed a relationship with some very prominent scientists, including future Nobel Prize Winner, George Hitchings. This relationship and the excellence of Ronnie's work led to Ronnie being offered a position as a Senior Biochemist with Burroughs Wellcome in 1963. This meant staying in the United States. Ronnie's Wellcome career ended up spanning 25 years, working in both the US and the UK. He started out in the laboratories at Wellcome and then transitioned to management. To help him with this transition, he attended the Harvard Advanced Management Program graduating in 1973. His time with Wellcome culminated in him being a Main Board Member and Chief of Global Research and Development. He was instrumental in bringing several very important pharmaceuticals to production. During the 1980s when AIDS became a public health crisis, he was at the forefront of getting AZT to the patients that needed it. He spent eight hours at the White House in 1987 getting a plan in place to ensure that AZT would be readily available on a compassionate use basis for those that desperately needed some hope in the way of a treatment. Ronnie's career took a big change of course when in 1988 he was approached by Warner Lambert Company to head up the pharmaceutical research division, Parke Davis. This meant a move back to the United States, namely Ann Arbor, Michigan. He saw an opportunity to rebuild a company and this challenge just proved too alluring to him. Once he explained to Sheila his goals for this new position, she gave him her blessing to move once again across the pond. His time at Parke Davis was remarkable. The science of pharmaceutical drug development was constantly changing during Ronnie's career and he was always acutely aware of new drug development patterns. At the time Ronnie started at Parke Davis, molecular biology and biologic engineering were rapidly emerging methods of new drug discovery. Ronnie had the rare ability to understand the science behind the drugs but also manage the process of how to get the drug to market. A colleague of his remarked, "Directing a pharmaceutical discovery organization means encouraging scientists with diverse backgrounds from a variety of disciplines to work together toward a common goal. Ronnie was a master at encouraging people to work together, achieving this with a quiet smile and his Scottish humor. He knew when to let scientists in a laboratory freely innovate together and when to step in and manage. These skills allowed Ronnie and his team to develop a long list of block buster drugs in eleven years." One of these drugs was the statin Lipitor. He was immensely proud of this drug and the improved health it offered to so many people. During Ronnie's time at Parke Davis, he embraced the city of Ann Arbor as if he was a native son. He set an incredibly high bar for what it means to give back to a community in which one lives. He threw himself into city life wholeheartedly and with that he became a proud Wolverine, with the clothes to prove it! It hasn't been mentioned at this point, but Ronnie loved clothes. He dressed impeccably and shop owners undoubtedly were giddy when they would see him walking through the door. In 1998 Ronnie received the Citizen of the Year award from the Ann Arbor News. This award recognized all that Ronnie had done throughout his tenure at Parke Davis not only as a business leader but in a civic capacity. He was keenly aware of the responsibility that came with being the head of an organization that was also the largest private employer of the city at that time. He encouraged his colleagues to give back and led by example. Not only did the city of Ann Arbor recognize his value as a citizen, the University of Michigan appointed him Adjunct Professor of Medicinal Chemistry in the College of Pharmacy upon his retirement at Parke Davis in 1999. In 2017, the University named him a Professor Emeritus of Medicinal Chemistry. When Ronnie and Sheila returned to the United States in 1988, they decided it was time to become American citizens. My dad loved America and the opportunities it gave him. He never gave up his pride in being a native Scot. He and Sheila spent summers in Scotland for many a year after his retirement. Ronnie's achievements were well recognized in Scotland. He was elected as a Fellow to the Royal Society of Edinburgh (FRSE) in 1983 for recognition of his contributions to Clinical Sciences. The FRSE is an educational charity established in 1783 for the advancement of learning and useful knowledge and to promote Scotland's profile on the global stage. Ronnie was also a proud member of the Royal Society of Medicine, the Royal Society of Art and Commerce the Royal Society of Chemistry, London. In 1997, he was awarded an Honorary Degree of Doctor of Science at the University of Strathclyde, Glasgow. Ronnie rounded out his life with an abundance of hobbies and interests. He golfed, read voraciously, played the piano daily, was a mean tennis player, swam, was a keen traveler and food and wine aficionado, and a huge supporter of the arts. He was a champion of his Whitehills school mate Alaisdair Gray and felt that it was important to support artists because without art, life was empty. Sheila traveled with Ronnie whenever she could during his business years, but once Ronnie retired, the two of them became inseparable and were able to pursue so many of their interests and passions. They returned to their early marriage roots in New York and bought an apartment so that they could enjoy city life, in particular visits to the Met to take in their beloved Opera. To sum it all up, Ronnie loved life. He loved sharing his life. If you met Ronnie, he made you feel special. He showered family, friends, and even strangers with as many blessings as he could. He had a laugh that anyone who knew him will never forget. A funeral service will be held Wednesday, May 12, 2021 from 2:00 PM to 3:00 PM at First Presbyterian Church, 1432 Washtenaw Ave, Ann Arbor, Michigan 48104. (Due to Covid 19 restrictions only 50 people can attend in the church sanctuary.) Following the funeral service will be a burial from 3:30 PM to 4:00 PM at Forest Hill Cemetery, 415 Observatory St, Ann Arbor, Michigan 48104. All are welcome to join the family for refreshments from 3:30 PM at Barton Hills Country Club, 730 Country Club Rd, Ann Arbor, Michigan 48105. In lieu of flowers, contributions in Ronald's memory may be made to Living Arts, 8701 Vernor Hwy #301, Detroit, Michigan 48209 US, https://www.livingartsdetroit.org/ or to a charity of your choice. Fond memories and expressions of sympathy may be shared at www.muehligannarbor.com for the Cresswell family.
See more
See Less
DONATIONS

Living Arts

8701 Vernor Hwy #301, Detroit, Michigan 48209
In Memory Of
Dr Ronald Morton Cresswell
Help tell the story of your loved one's unique life. Leave a memory or share a photo or video below to show your support.