OBITUARY
Joseph Powel Franklin
August 28, 1933

–

March 8, 2017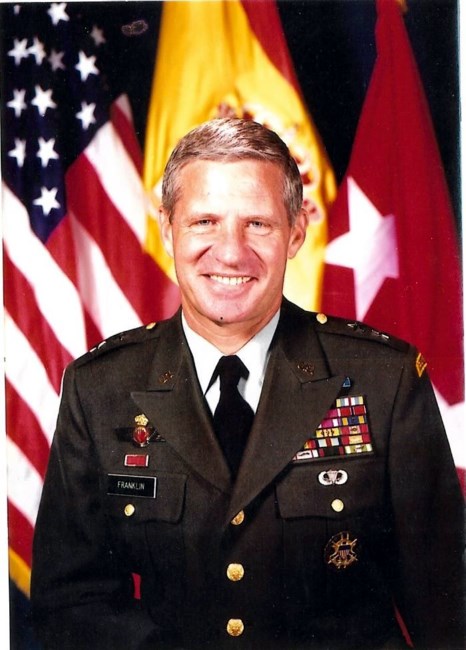 JOSEPH POWEL FRANKLIN Born 28 August, 1933, in Cumberland, Maryland, attended public school through sixth grade. When World War II ended, entered McDonogh School in Baltimore, Maryland, completed high school and won appointment to West Point. Entered West Point 3 July 1951, lettered in football and golf, and graduated in top ten percent of the Class of 1955. Commissioned in the Corps of Engineers and completed Airborne and Ranger training. He and his wife, Constance Marie Smith, who grew up together, were married in March 1956, and enjoyed the rest of their lives together with their four sons. First assignment was to Karlsruhe, Germany. Served as platoon leader and company commander in the 499th and 78th Combat Engineer Battalions, and the 502nd Floating Bridge Company. Selected for graduate schooling at MIT in 1959, earned Master's Degrees in Civil and Nuclear Engineering. In 1961 joined the Nuclear Power Field Office at Fort Belvoir, Virginia, as Project Manager for the design and construction of the world's first floating nuclear power plant, the SS Sturgis. In 1963 led a team of enlisted specialists to dismantle the nuclear power plant located at Camp Century, on the Greenland icecap, 300 miles from the North Pole. This involved the first-time shutdown and disassembly of an operating nuclear power plant. His team of soldiers accomplished the shutdown, disassembly, and movement of the highly radioactive components of the nuclear power plant to CONUS in eighteen months. Greenland duty included inspecting the nuclear power plant and measuring residual radiation levels after shutdown, before work began on disassembly. Did this alone, prohibiting soldiers from entering areas that might be highly radioactive. Actually measured 2,000 Rad field. Took less than two minutes, but absorbing some 60 Rads probably contributed to the cancers that appeared several years later. Cancers required advanced treatment as he reached eighty years old, but never caused him to lose a day of active duty. In 1965 completed the Engineer Officer's Advanced Course and was assigned to the Department of Military Art and Engineering at West Point. Wrote a new, full-year curriculum in Nuclear Engineering as an alternative for the Civil Engineering course required for all First Class cadets. This course remained unchanged for 40 years, and then was expanded to become a Major Course of Study. 1968 was a year of study at the Naval War College in Newport, Rhode Island, followed by assignment in 1969 to US Army Vietnam. Initially oversaw construction of diesel power plants for sites from the Mekong Delta to the northern provinces of South Vietnam. Subsequently commanded the 299th Combat Engineer Battalion, conducting combat operations in Vietnam and Cambodia. In 1970 assigned to the Office of Plans and Policy, J-5. Led the study that was the basis for recasting the United States' nuclear weapons arsenal under the Strategic Arms Limitation Talks (SALT). Attended the Army War College in 1972, and was assigned as Army Staff Group Executive for the Chairman of the Joint Chiefs of Staff in 1973. In 1975 went to Fort Knox, Kentucky, to command the 4th and 5th Combat Training Brigades after merging them into a single unit. Transferred back to the Pentagon in 1977 as Special Assistant to the Director of the Joint Staff. In 1979 West Point had a "cheating scandal" involving take-home exams and women had joined the Corps of Cadets. General Andrew Goodpaster was brought back on active duty as Superintendent, and selected Joe, just promoted to Brigadier General, to be the new Commandant of Cadets. Led the Cadet Honor Committee to review and strengthen the Honor System. Also persuaded the Army to assign a senior non-commissioned officer to each cadet battalion, and later to each cadet company. In 1982 was assigned to Hawaii as Assistant Division Commander of the 25th Infantry Division. Promoted to Major General in 1983 and assigned as Chief of the Joint US Military Group in Madrid, Spain. Spain had just joined NATO. Worked with the Spanish military to align their Armed Forces with NATO standards. When his tour ended in 1987, he was awarded Spain's highest decoration for foreign military officers. Retired in Spain and formed a Spanish company: Franklin Sociedad Anonima. Worked with American companies to expand business in Spain, and Spanish companies to do the same in the US. In 1992 returned to the United States when he was recruited to become the Chairman and CEO of Frequency Electronics, Inc. (FEIC) an American Stock Exchange Company that designs and builds high precision timing and frequency components for space, defense, and commercial applications. FEIC and four senior executives had been indicted on charges that included a number of highly classified space contracts. Brought this case to a satisfactory conclusion, exonerating all four officers who had been indicted. Stepped down from CEO in 2002 and remains Chairman of the Board at FEIC. Turned his attention to giving back to West Point, and began his service with the Association of Graduates in 1993 on the Alumni Support Committee. Elected to the Board of Trustees, appointed Chairman of the Alumni Support Committee, and Vice Chairman of the AOG, where he served for four years. Was a driving force behind the Bicentennial Campaign, exceeding its $150 million goal by $75 million. Also orchestrated many changes that brought governance of the AOG into compliance with new statutes associated with not-for-profit organizations. In 2007 was recognized as a Distinguished Graduate of West Point. Throughout his life of service as an Army officer, scholar, diplomat, and business leader, Joseph P. Franklin dedicated himself to the principles of Duty, Honor, Country. General Franklin is survived by his wife of 61 years, Constance, four sons, Bill, Perry, Philip and Dean, eight grandchildren and a sister Jean Wittich , Baltimore, Maryland. Memorial contributions may be made to the West Point AOG Class of '55 or charity of choice. Visitation: March 18, 2-6 PM at Murphy Funeral Home 4510 Wilson Blvd. Arlington VA. Interment at Arlington Cemetery, at a later date.
See more
See Less
In Memory Of
Joseph Powel Franklin
Help tell the story of your loved one's unique life. Leave a memory or share a photo or video below to show your support.