OBITUARY
Jessie L Conde
November 27, 1930

–

January 19, 2023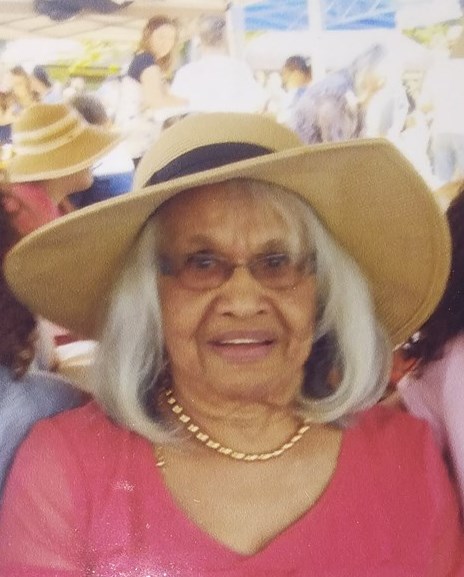 JESSICA LEE CONDE 11/27/1930 - 01/19/2023 Jessica Lee Conde was born to the union of Jesse Gillmore and Earlee Caston on November 27, 1930 in Amite, Mississippi. We are all born to leave this world to meet the man at the pearly gates one day, lets fill in the dashes of her life. Jessica was called Jessie at a young age living a carefree life with her paternal grandparents Napolean Caston and Pearla Moore Caston in Amite Mississippi. She was groomed by her grandmother to have a high standard for taking care of a home, cooking and baking. Each year she attended a finishing achool in New Orleans while she visited various family members, and was taught to present herself as a lady. During one such visit, she met and fell in love with Christopher Conde. Jessie and Chris were married with her grandparents approval and blessings, in a small ceremony in Mississippi. Chris and Jessie relocated to New Orleans for a short time, before he was offered a prestigious job at the country club in Wichita, Kanas. This is were their life together began. Shortly after being married Chris and Jessie started their family. From their union there were 4 beautiful children that were produced, Mary Katherine aka Kathy, Robert Joseph aka Bobbie (deceased), Timothy James aka Tim, Timmy, and Christopher Jr aka Chrissy (deceased). Chris worked at the country club and Jessie's job was to maintain his house, and care for his children.When you think of Jessie, aka Mama Jessie, better known as Grammy, think of the word perfection. Their home tho meager, was Better Homes and Garden quality. She became known for the perfect pies and cakes (made from scratch), and the most amazing gumbo. She was the most loving, caring, smart mouthed woman you would ever meet. Her elegance eluded through all aspects of her life including her love of Victorian decor. To know her was to love her. Jessie was widowed at a young age, leaving her to raise 4 children. Jessie had been sheltered by Chris, and had no work experience but she was determined her children's quality of life would not change. Jessie acquired a entry level job as a housekeeper at St Francis Hospital in Wichita. She worked a full time job there, cleaned her own home, prepared dinner for her children and cleaned offices at night. To supplement her income, Jessie also cleaned houses of Doctors and catered their large scale parties. Jessie's catering abilities quickly became in high demand by the elite medical staff that paid a pretty penny for her services. Regardless of the stature of the Doctors and their wives, Jessie let them know she needed no direction or assistance in the job she was hired for. Most events ended with her famous baked alaska that would be set afire. Jessie continued working at St Francis, and worked the ranks until she was promoted to Supervisor. Once appointed, one of her roles wew to hire new employees. She worked alongside her staff to maintain a high level of performance, she met a lot of people and gained respect across the board. Everyone she encountered became her family Jessie retired from St Francis but continued catering large scale events, cleaning houses and selling her baked goods, which provided her extra money to fly between Denver and Wichita almost every week-end. At some point, Jessie was approached by Walt Johnson of the Medidine Company. Because of the stellar reputation she had gained, he made her a offer to come out of retirement, move to Denver to work at a facility which was the Gardens of St Elizabeths. Jessie accepted the offer and relocated to Denver. Jessie worked a couple years at St Francis and continued to gain respect and acknowledgement of her job performance so when Medidine was acquired by Crothall, Jessie was hired and started working for a client of Crothall which was the University Hospital as a lead in the Environmental Department. Within a couple years Jessie was promoted to Supervisor. She not only demanded a high standard of excellence from her staff, but she worked right alongside them to achieve the goal she demanded (sometimes getting on her hands and knees to scrub corners or grout lines) which gained their respect. Crothall President Scott Brown described her as a strong willed person who never held her tongue. He said at times, her strong will was sometimes challenging to deal with, but her overall personality was intriguing. Tony Ruiz was in upper management for the University hospital, he had similar standards and expectations of Jessie and her staff. Over time, Scott and Tony accepted Jessie into their circle. Something that was unheard of, and a friendship developed. Jessie referred to these friends as the Big Kahun's. Around 2004, Jessie was introduced to Kyle Larson who did a internship at University Hospital, he shadowed Jessie. Kyle would go on to become upper management of Crothall. Kyle was instrumental to Jessie becoming a Mormon. After many conversations and visits to the Church of Jesus Christ of Latter Day Saints (City Park Ward) Jessie became a Mormon. As a Mormon Jessie started to change. She read her bible and studied with the Missionaries who came to her house. A strong bond was formed with the then Bishop, Lynn Larson and his wife Cynthia. Bishop Larson started a carpool where church members volunteered to pick Jessie up from work after 11:00 p.m. Volunteers who had 9 to 5 jobs but they still went to give Jessie a ride home, since she never learned to drive. This went on for years. When the title of Bishop changed, Bill Barnett moved into the position. Jessie referred to Bishop Barnett as Ralph Lauren because of the snazzy clothes he wears. Bishop Barnett and his wife, Sherrie interacted with Jessie as if she were their mother. They treated her with the highest level of respect and love (as the Larson's did). Alongside her husband, Sherrie is a lady to model your life after, she loves the Lord, she is soft spoken and will go out of her way to help people with no expectations, she is elegant and presents like Princess Diana, and she has a voice like an Angel. Jessie was in the care of Briarwood Health Center. There she was lavished with love and support. In the last months of her life, Jessie was flourished with visits from her grandson DJ and granddaughter Christina, had regular visits with the Barnetts who always brought her something, she had long conversations with another grandson Dana. Jessie use to say, "that boy sure can say a prayer", and Horace, he always made her laugh, her son Tim use to get her blood to boil by trying to get her to eat and talk, and her daughter Kathy would drive from Oklahoma to comfort her mother. Jessie passed away on January 19, 2023 resting peacefully. Jessie leaves behind, to cherish her memory, Kathy (Damon)Foreman, Robert Conde (deceased) Tim (Cynthia) Conde, Christopher Conde Jr (deceased), DJ Foreman, Tiffany Foreman Woods, Dana Conde, Ty Sunshine Conde, Shamica Gulley, Tim Conde Jr., Ashley (Zachary) Sims, Amber Conde, Christine (Aaron) Martinez Mitchell, Christopher Martinez and a host of great other grandchildren, nieces, nephews, friends and family. Special extended family and friends-Rosa (Filemon) Ramon and family, Anthony J King, Elijah Banks, Joseph Santillano, Scott Bown, Walt Johnson and Tony Ruiz Fond memories and expressions of sympathy may be shared at www.AdvantageAurora.com for the Conde family.
See more
See Less
Services
Tuesday,
February 07, 2023
Visitation
9:30 am - 10:30 am
The Church of Jesus Christ of Latter-day Saints
Tuesday,
February 07, 2023
Funeral Service
11:00 am - 12:00 pm
The Church of Jesus Christ of Latter-day Saints
Tuesday,
February 07, 2023
Reception
1:00 pm - 4:30 pm
T.R.E.A.
In Memory Of
Jessie L Conde
Help tell the story of your loved one's unique life. Leave a memory or share a photo or video below to show your support.