OBITUARY
Charles Burton Carpenter
July 16, 1932

–

August 16, 2022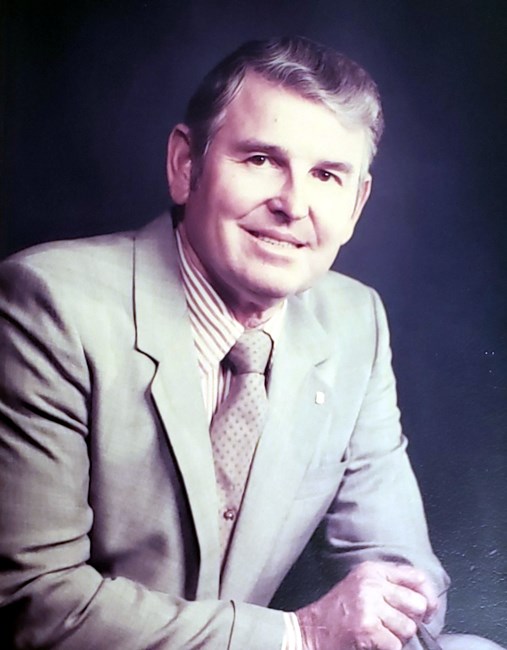 Charles Burton Carpenter was born to Beatrice and David Carpenter on July 16, 1932, in Palacios, Texas. Charlie graduated from Port Lavaca High School in 1949. He played football, ran track in Texas relays in later played semi-professional softball. Coming from a rural family, he farmed rice with his dad and brother and learned early the value of hard work. Charlie attended Victoria College on a football and track scholarship, where the Victoria track team won the national championship two years in a row. And the summer he worked on offshore drilling rigs in the bay. He transferred to Texas A&M University, where he graduated in 1955 with a degree and agricultural administration and a minor and sociology. Charlie married Patricia DeLeon of Victoria, Texas in 1953. After graduation, Charlie worked for the Texas agriculture extension service as an assistant County agent for Bexar County. He served as a vice president of Texas County Agents association, as treasurer for the Jaycees, and worked with the 4-H club overseeing 26 clubs. From 1962 to 1965 he worked for Prudential insurance company as a mortgage loan appraiser for farms, ranches and all commercial properties serving the 26 County area. Charlie set the record for the highest production for mortgage loans for the San Antonio regional office. He was promoted to reviewing appraiser for the firm in 1963 and moved his family to Austin to become head of the mortgage loan division for Prudential. In 1965, he started his own real estate business, the Carpenter King Company, with an office in Austin municipal airport. In 1966, he formed the Carpenter Real Estate Company, which was incorporated in 1969 as Carpenter and Associates, Inc.. C & A grew from five to more than 40 full-time employees and real estate investment counselors. Charlie and Pat divorced, whereby he shared an apartment with Ken Melber and later Bill Jenkins. He cherished their friendship forever. He enjoyed bowling, softball for the Austin Knights, and hunting in New Mexico for deer and elk. Charlie met Judy Harrell in September 1970 through a blind date. They enjoyed UT football games, tennis, and outdoor sports, and were most compatible. They married April 16, 1971, and he then became father to her three young children Lynn, Sandy and Clayton. They were very active in Grace Convenant Church. Some of Charlie's many real estate highlights included the purchase of El Centro Mall in the valley from the Benson family and developed the Plaza Del Sol mall in Del Rio and the Kingsville Mall. He built many Safeway anchored shopping centers throughout Austin and in 1980 he built One Congress Plaza in downtown Austin in partnership with The Vantage Company. He also built the Courtyard Tennis & Swim club in partnership with Robbie Mayfield, Greystone Plaza with Gerald Kucera, and established and served on the board of several banks. Charlie was a chairman of Texas Youth Ranch and was the Director of the Founders Club for the Austin Travis County Livestock Show. They built a new facility for Travis County rodeos and other events. He mentored over 100 broker/agents over his long real estate career and set an example of the highest ethics and excellent professionalism for all. As cutthroat as the Commercial Real Estate industry can be, especially through the recessions when the banking, oil and gas and other industries all crashed at the same time, never would you hear a bad word about Charlie Carpenter. His reputation as an honest gentleman whose handshake was as "good as gold" remained. His children Jim, Gay and Mark all worked at Carpenter & Associates and served as officers of the company. Jim Carpenter continues to run the firm along with his son Stephen. The Carpenters love to travel the world and play golf at Austin Country Club and beyond. They spent time between Austin, South Padre, the Allison ranch and Alto, New Mexico. His Christian faith was strong, as was his love for his Aggies. He was proud to have two grandsons graduate from his Alma -mater and he followed their baseball careers all the way through A & M and professionally. Charlie was preceded in death by his brother James, his parents of David and Beatrice Carpenter and granddaughter Elizabeth Carpenter. He is survived by his loving wife Judy, and children Jim and Robin Carpenter, Gay and Larry Ruggiano, Mark Carpenter, Lynn Harrell, Sandy and Peter Atkins, and Clayton and Rebecca Harrell. Grandchildren and great-grandchildren include James, Stephen, Kaiti, Ashley and Allison Carpenter, Justin, Shelly, Brooks and Ava Ruggiano, Nicole, Grady, Jackson, Callie and Hunter Reamer, Brian, April, Hayden and Josie Ruggiano, Natalie, Justin, Connor and Kinsley King, J.D. and Allison Spiers, Sam and Lillie Atkins.
See more
See Less
PALLBEARERS

Justin Ruggiano

Active Pallbearer

Stephen Carpenter

Active Pallbearer

Brian Ruggiano

Active Pallbearer

JD Spiers

Active Pallbearer

Sam Atkins

Active Pallbearer

Justin King

Active Pallbearer
In Memory Of
Charles Burton Carpenter
Help tell the story of your loved one's unique life. Leave a memory or share a photo or video below to show your support.