OBITUARY
George Harrison Walker
December 12, 1926

–

October 5, 2021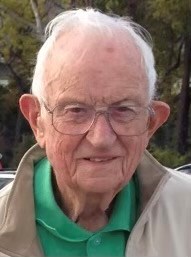 Our beloved husband, father, grandfather, great grandfather, mentor, and friend George Harrison Walker concluded his earthly life on October 5, 2021 to begin his eternal journey with his Lord and Savior Jesus Christ. He is joined with his beloved brother Alfred on the journey as they prepare a place for the arrival of their family and friends.
George was born in Childress TX on December 12, 1926 to Alfred Murray and Marguerite Harrison Walker. Shortly after his birth, the family moved to Spur TX where he graduated from high school in 1944 and his love of high school sports began. After high school, he enrolled at Texas A & M and then enlisted in the Navy later that year.
When WWII ended, George enrolled at the University of Texas at Austin graduating in 1950 with a degree in Business. Drawing on his love of high school sports, he began teaching and coaching in Sweetwater TX. After a year in Sweetwater, he returned to UT to pursue a master's degree.
In the summer of 1951, George met Virginia Beth Taylor (VB), the love of his life, while on a blind date at the Stallion Drive-In in Austin. In the interest of full disclosure, they were each on dates with other people at the time. They got engaged that Christmas and married on June 14, 1952.
George began working for the US Public Health Service in the summer of 1951 – first in Houston and then in Corpus Christi. In January of 1953, he went to work for the Texas Department of Health and moved back to Austin.
In 1957, George and three partners from Dallas started the Kwik Wash Coin Laundry Company. It began as a part-time job but expanded to the point he had to resign from the Health Department to manage the company. At its prime, the company had hundreds of facilities including the retail laundries in several states and locations in a multitude of apartments and dormitories. Most any longtime Austinite might ask, why were the laundry signs upside down? The truth of the matter is that it was a happy accident and the attention it garnered was priceless.
After moving to northeast Austin in 1954, his love of high school sports manifested itself once again as the family traveled throughout the state following the Reagan Raider football team on their annual pursuit of football state championships during the late '60's and early '70's. Later in life, he attended every event his grandkids participated in and even followed various high school athletic teams including the Hutto Hippos coached by his son-in-law. During this time, George and Virginia began a long membership at Windsor Park Baptist Church where he served as a deacon and become passionate about the church's outreach towards starting new mission efforts in the Austin area. Lifelong friendships began at Windsor Park and have continued to this day. As a result of his brother Alfred's and sister-in-law Jane's persistent persuasion, George and Virginia joined Riverbend Church in 1987.
At some point early in his life, George discovered golf. While the origin story isn't clear, this activity persisted for almost all of his life. From playing every Wednesday afternoon with a group of friends at Muny, to teaching his kids and grandkids how to play, to his frequent play with his many friends at Great Hills Country Club to traveling to play some of the great courses including St. Andrews in Scotland. As one of his heroes, Bobby Jones said, golf is the closest game to the game we call life. You get bad breaks from good shots; you get good breaks from bad shots – but you have to play the ball where it lies. The breaks will even themselves up in the long run, if the run is long enough. George had a long run, and he lived his life with the respect, dignity and honor that the game of golf requires.
After his retirement in 1989, George was able to spend even more time with his grandkids and also traveled extensively with Virginia (including completing their goal of visiting all 50 States) while always seeking to improve his golf game. In addition, he was able to spend almost 20 years volunteering at Seton Hospital providing guidance and comfort to all of those he came in contact with.
The true impact of his life on others will never really be known because he never sought attention, appreciation and/or told anyone of the many positive improvements he made in numerous lives. He possessed a wry sense of humor and was "gentle" in thought, speech and action. His loss will be felt and mourned by many – as each of them is likely to say, "he was one of the good ones." He lived every one of his 94+ years with a sense of faith, purpose and tolerance, always setting an example for all who came in contact with him. Just like every other day of his life, his sole purpose through his last breath was to make life easier for those he loved.
George is survived by his wife of 69 years Virginia Beth (VB); children Beth Ann Kidd (Keith) of Athens TX, G. Murray Walker of Georgetown TX and Mary Ellen Schmidt (Peter) of Austin. He is also survived by four grandkids: Laura Ann Kidd of Dallas, Russell Kidd (Katy) of Argyle TX, Robert Walker Schmidt of Dallas TX and Cooper Harrison Schmidt of Oxford MS. He is also survived by his great grandson, Joe Kidd, of Argyle TX.
A celebration of life will be held at the Smith Family Chapel at Riverbend Church on October 25, 2021 at 1:00 PM.
In lieu of flowers, the family requests that memorial donations be made to one of the following organizations. Riverbend Works (Missions and Outreach) - https://riverbendatx.churchcenter.com/giving The Muny Conservancy - https://www.themunyconservancy.com/donate.html Honor Flight - https://www.honorflight.org/donate-online.html
See more
See Less
In Memory Of
George Harrison Walker
Help tell the story of your loved one's unique life. Leave a memory or share a photo below to show your support.