OBITUARY
Guy Allen Thompson Jr.
May 31, 1931

–

February 23, 2022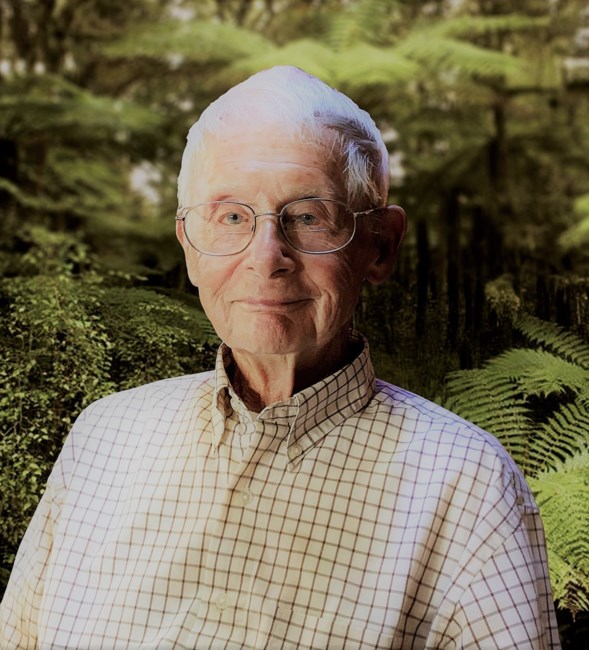 Guy Allen Thompson, Jr., was born on May 31, 1931, in the small Mississippi Delta farming town of Rosedale. It was in the midst of the Depression, and times were hard, which instilled in Guy a life-long frugality. Guy's house was near the Mississippi River levee, and he grew up in a Huck Finn lifestyle, developing a love for the outdoors and for the multitude of birds that migrated through the Mississippi Delta. His education was at the small consolidated school, where he had excellent teachers. Because there were so few students Guy was able, in fact pressured, to take part in most extra-curricular activities. Starting when he weighed less than a hundred pounds, he lettered five years in baseball and football, ending with being captain of the football team that was twice district champions. He was also editor of the school newspaper and valedictorian of his class of 1949 (which had all of 8 graduates). Guy was too young for military service in World War II, but he was active on the home front. He singlehandedly organized a town-wide fair to benefit the Red Cross, and with his friends he collected mounds of waste paper and scrap metal for the war effort. Other highlights of Guy's teenage years included forming a company, Reptiles Unlimited, to market live snakes, including deadly Water Moccasins. The effort failed when Guy's mother balked at keeping his stock in the house. He tried raising rabbits for food, but that didn't work out as he didn't have the heart to butcher them. Much more rewarding was Guy's advancement to Eagle Scout in the local Boy Scout troop. Guy attended Mississippi State College, where he majored in biology before switching to chemistry. He largely financed his education by working summer jobs with a civil engineering crew building roads and by field monitoring plantations to assure that they did not exceed their USDA-allotted cotton acreage. Guy graduated in 1953 with a B. S. degree in Chemistry with Special Honors. He then began active duty at the Air Force Radio Communication School at Scott AFB, Illinois. With this new technology under his belt, Second Lieutenant Thompson was assigned duty in Korea. Fortunately, the Korean War armistice was signed just as Guy was on his way to the battlefront. He was reassigned to a small U.S. air base on the western coast of Japan. As happens, Guy's duties did not include his specialty, radio technology. Instead, he oversaw activities for which he had no training, such as telephone hot line management, base accounting and, most time consuming, running the base PX, which included a laundry, tailor shop, barber shop, snack bar, and bowling alley in addition to the main retail store. He was kept busy supervising the 100 plus Japanese employees, teaching young men fresh from driving ox carts how to drive trucks, helping select work-broken oxen for snack bar hamburger meat, and performing other unlikely activities. Even so, there was ample time to enjoy climbing in the rugged mountains nearby and relaxing at geisha parties. After his discharge from the Air Force in the fall of 1956, Guy was accepted at the California Institute of Technology (Caltech). He appeared next January at Caltech as a very greenhorn graduate student in the middle of a high-powered academic year. He had never been so much out of his depth, but his fellow graduate students and understanding professors calmed and supported him during the first difficult weeks. Guy was expected to become an integral part of the cutting edge research and learning, and he worked day and night to comply. His friendship and collaboration with several Nobel Laureates and soon-to-be Nobel Laureates influenced his personal as well as scientific views. In the summer of 1959 he was awarded a Ph.D degree in biochemistry. It is common for graduates to seek additional experience in a related field of special interest. Guy chose to master new techniques being developed in the Organic Chemistry Department of the University of Manchester, England. This choice was made easier by Guy's urge to explore Europe. His explorations began right away when he toured Scandinavia in a brand new VW beetle before settling down in Manchester. Life in an English research laboratory was a far cry from the 8 am to 10 pm working hours of an American grad student. The iron gates of Manchester University did not open before 9 am, and the entire building was shut down in the evening. Lab work was sandwiched in between morning coffee, a long lunch, and afternoon tea. To fill in the empty spaces Guy explored many scenic spots in Cheshire and the Lake District, started taking cello lessons, and became more than just friendly with a Eileen Wood, a charming Lancashire lass. After a six-month courtship, Guy and Eileen were married on September 24, 1960. The newly married couple traveled through Europe for their honeymoon and visited Guy's parents in Rosedale, then departed for the University of Washington, in Seattle, where Guy had a post-doctoral fellowship in the Biochemistry Department. Everything was to their liking, especially the Cascade Mountains, the seacoast and even the mild but rainy English-type climate. They worked hard and played hard, and after two years Guy was promoted to Assistant Professor. They bought a little house in the north end of town and started a family, with Sally in 1964 and Jill in 1966. In 1967 Guy received an invitation to visit to the Botany Department at the University of Texas at Austin. He liked the varied ongoing research projects, some like his graduate project on plants, and found the faculty to be very welcoming. After considering all the angles with Eileen, he accepted a position of Associate Professor, starting in September, 1967. Luck led them to a beautiful wooded lot on Bee Creek in the rugged hills west of Austin: the best available substitute for their beloved Cascade Mountains. The house they build here was to be their home for the next 53 years. They integrated into the university community and their neighborhood. Guy found it relatively easy to win research grants from the National Science Foundation, the National Institutes of Health, the American Heart Foundation and the U.S. Department of Agriculture in support of his biochemical research. He mentored students and postdoctoral fellows from the U.S., Japan, Denmark, Greece, Spain, Argentina, Korea, England, Thailand, New Zealand, and Morocco. Over the course of his career many of Guy's students and trainees achieved prominence as researchers, professors, departmental chairmen and college deans. Guy published more than 150 scientific papers and book chapters as well as two technical books. He was highly rated by his students for his teaching and received a College award for teaching excellence. He advanced to full professor in 1974 and was awarded the high honor of being elected a Fellow of the American Association for the Advancement of Science in 1989. He served as Botany Department chair from 1996 to 2000. Although Guy spent long hours at the university, he also made time to be a good father and husband, and to pursue his love of nature by working on the acre and a half of land on Bee Creek where they lived. The family welcomed their third child, Jeremy, in 1970, and Guy was often assigned to pick up one or the other of the children from after school activities in his little red V. W. Bug. On the weekends, Guy could be found working in the yard - he built the porch and patio that grace their back yard, and spent many hours developing gardens and trails, and forts for the children to play in. The family often hosted grad student parties out on the patio, which typically included everyone taking a turn at the hand-cranked ice cream maker to produce Guy's favorite watermelon sherbet. Guy's biochemical work was generally done in his laboratories, but he always envied his more botanical colleagues who spent time outdoors on field trips or other research activities. At last the urge to see more of nature led him to gradually reduce his research and teaching and become Professor Emeritus in 2000, at the age of 70. He plunged into new volunteer activities, such as gardening at the Lady Bird Johnson Wildflower Center, trail making at a Nature Conservancy preserve and wildfire danger monitoring for the City of Austin. He even took a paying job as landscaper at the local library that kept him busy for 12 years. He and Eileen were then free to travel to some places rich in colorful birds. In several instances, such as Peru, New Zealand and Ecuador, their goals included visiting centers of weaving, a special interest of Eileen's, as well as seeing new birds. And of course they spent much time visiting their children and grandchildren in Dallas, Gresham, OR and Los Gatos, CA. In November, 2016, Guy and Eileen made one of their frequent visits to the Big Bend National Park. While climbing up the long trail to the South Rim of the Chisos Mountains Guy felt completely winded and unable to keep a steady pace. He eventually saw a cardiologist who emplaced seven stents in his coronary arteries. This restored enough of his energy to permit several trips over the next two years (no mountain climbing). But persistent fatigue and shortness of breath was found, in early 2019, to be caused by a leaky heart valve, and Guy later had temporary heart arrhythmia. All these complications narrowed Guy's options for exploration. Guy and Eileen refused to drop out. In 2019 they had a glorious stay in the English Lake District climbing (very slowly) in the hills near Grasmere, and then traveled on, with Eileen's brother and sister-in-law to Portugal for a river cruise up the Douro River. It was relaxing and fun, but Guy was envious of those hill hikers visible from the boat. Back home, Guy focused his attention on backyard gardening, dreaming up "green" projects to occupy his time, especially when sheltering at home was in order during the coronavirus pandemic. Despite continuing health problems, Guy remained active in the yard, clearing brush, wading into the creek during floods to dislodge branches, and chainsawing fallen branches - sometimes against the objections of his wife and children. At 90, he continued to drive and use the wood chipper regularly. After one particularly vigorous day of yard work, he started to feel ill, and a few days later was admitted to the Heart Hospital of Austin. Guy improved at first, but then started a rapid decline. On the morning of February 23rd, his heart failed him. Guy had often expressed his wish to live at home and be active until the end of his days, and we are thankful that this wish was fulfilled. Guy is survived by his wife, Eileen, daughter Sally and her husband John, daughter Gillian and her husband Mike, son Jeremy and his wife Elisa, and five beloved grandchildren; Kevin, Kyle, Hailey, Jacky, and Dylan. He is cherished in their memories, and the memories of the many community members who knew and loved him. A memorial service will be held at 10am on March 12th, at Weed Corley Fish Funeral home, 5416 Parkcrest Drive, Austin. All are welcome.
See more
See Less
In Memory Of
Guy Allen Thompson Jr.
Help tell the story of your loved one's unique life. Leave a memory or share a photo or video below to show your support.