OBITUARY
Patrick Kazuo Hagiwara
March 7, 1919

–

June 24, 2010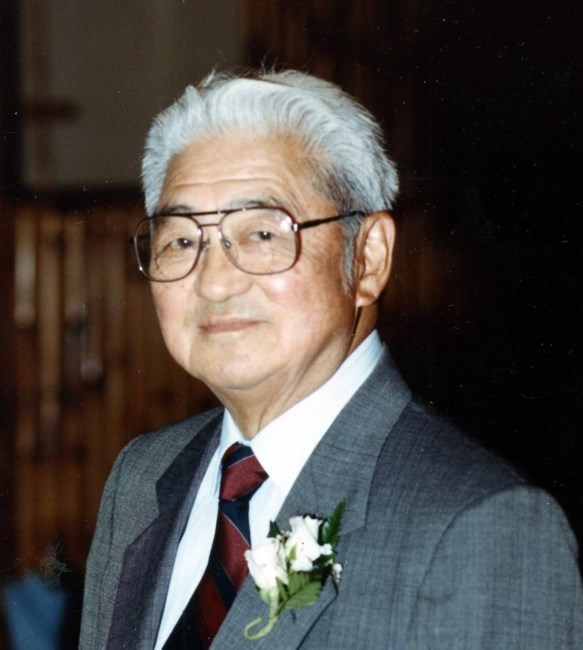 Patrick Kazuo Hagiwara was born and raised in Ketchikan Alaska, the second child of bakery owners, Frank and Shima Hagiwara. When he graduated from Ketchikan High School in 1936, he joined the 297th battalion of the Alaska National Guard. The Guard was nationalized in 1941. During those difficult years, Pat was military personnel and an informal intermediary between the incarcerated Issei men (which occurred before) and then their families in being relocated to inland concentration camps. He was an early advocate for culturally respectful treatment and mitigated considerable fear within the Ketchikan and Southeast Alaska Japanese community. This part of Pat's story is an oral history documented at the University of Alaska Fairbanks.
During World War II, Pat was a much-decorated veteran. He served as a staff sergeant with the 442nd Regimental Combat Team. Campaigns included Napples-Foggia, Southern France (Gliders), Champaign, Gothic Line, Bruyers/Buffontaine, and Lost Battalion. The camaraderie established during the war was frequently renewed through reunions and involvement in veterans' activities, including the Nisei Veterans Committee-Seattle
Pat married Misako Kondo in 1942. The couple moved to Seattle in 1945 with their infant daughter, Kathleen. The couple had three more children, Patrick, Janet, and Grace while they lived at Yesler Terrace and Pat attended the University of Washington where he completed bachelor of science degree in electrical engineering.
The family purchased a home through the assistance of friend and realtor James Matsuoka, and moved to the Rainier Valley in 1951, where the school age children were the first Japanese Americans to attend Brighton Elementary School. In 1968, the couple moved to Bellevue with their youngest children, Juli and Rob, who grew up in the Robinswood area. As the father of six, Pat was an active parent, coach, and role model for his six children and eleven nephews and nieces.
Pat worked for the Boeing Company for 36 years as an engineer and manager. Upon retirement in 1986, he was an active grandparent for Michael and David Cantelon.
Pat was a devoted member of St. Peter's Episcopal Church, carrying on his father's legacy and serving as a member of the vestry during his active years.
Throughout his life Pat remained active with such organizations as the Alaska Yukon Pacific Pioneers and the Ketchikan High School Reunion. He gathered addresses of graduates from 1922-1945 and supported a Kay-Hi reunion picnic the last Saturday in July at Edmonds City Park, attended annually by far and near grads.
Patrick lived 91 years. He is predeceased by his parents, Frank and Shima Hagiwara, his brothers and their wives Abraham (and Esther Sakai) Hagiwara, Michael (and Jaine Oi) Hagiwara, and by his sister Grace Hiyama. (Grace is survived by her husband, the Reverend Paul Hiyama and their three children, of Michigan.)
He will be missed by
His wife of 58 years, Misako Kondo Hagiwara
His children, Kathleen Hagiwara Purcell, Issaquah, WA Patrick (and Hatsumi) Hagiwara, Northridge, CA Janet (and Charles) Cantelon, Des Moines, WA Grace Hagiwara (and William Farrell), Mountain View, CA Juli Alsgaard, Glendale, CA Robert Hagiwara, Winnepeg, Manitoba
Grandsons, Michael (and Deborah) Cantelon, Lake-in-the-Woods, IL David (and Kelly) Cantelon, Seattle, WA
Great grandchildren, Gabrielle Woods Maya Woods William Cantelon Noah Cantelon (September 2010)
"Uncle Pat" to, Patty Akers, Huntington Beach, CA Maureen Keckeisen, Los Angeles, CA Michael Hagiwara, Santa Monica, CA Steven Hiyama, Ann Arbor, MI Suzanne Ross, Ann Arbor, MI Karen Schodowski, Huntington Woods, MI Elaine Kondo McEwan, Santa Monica, CA Lance Kondo, Sumner, WA Loren Kondo, deceased, (family in Spokane, WA) Aileen Bergh, Vancouver, WA Joy Dawson, Pasco, WA
See more
See Less
In Memory Of
Patrick Kazuo Hagiwara
Help tell the story of your loved one's unique life. Leave a memory or share a photo below to show your support.