OBITUARY
Melanio Carbonel Diaz Sr.
June 6, 1928

–

July 22, 2022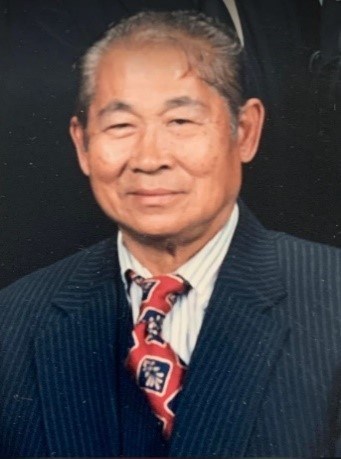 Melanio Carbonel Diaz Sr. was born in Barangay Baluyot in the municipality of Bautista in the Province of Pangasinan in the Philippines on June 6, 1928. He was the eldest child of Federico and Juanita Diaz. He was married to Lorenza Reyes Diaz from April 26, 1954 until her passing on September 2, 1999. He completed over 32 years of combined military and civilian service with the Government of the United States. He first served in the Philippines Guerilla when he was 15 years old from in 1946 then joined the Philippines Scouts, which was absorbed by the U.S. Army. He deployed to Okinawa, Japan and was honorably discharged from the Armed Forces of the United States, U.S. Army as a Private First Class, Philippines Scout in 1949. Melanio's civilian employment began in 1956 as a Laborer at the Public Works Department, U.S. Naval Air Station, Cubi Point, Republic of the Philippines. He was soon promoted to the position of Refrigeration Mechanic and in 1957, he was reassigned to the position of Refrigeration and Air Conditioning Mechanic. In 1960, he joined the Maintenance Department. In 1963, he was promoted to the position of Guard at the Consolidated Base Security Department, U.S. Naval Station Subic Bay Philippines. In 1979, he was promoted to Guard Dog Handler and became a shift supervisor where he trained other dog handlers as well as the K9 unit dogs. He worked at the Office of Provost Marshal until he retired from the service in 1986. During his employment, he received a letter of commendation from the Commanding Officer, U.S. Naval Station, Subic Bay in connection with the Meritorious Unit Commendation awarded by the Secretary of the Navy. In addition, he received nine letters of appreciation and other numerous awards for jobs well done and going above and beyond the call of duty to accomplish the U.S. Naval Station Subic Bay's mission. As a prior servicemen and employee of the United States, his request to become a Special Immigrant was approved and he immigrated to the United States in 1986 with his wife Lorenza and son Jun. Melanio and his family arrived at Delano, California to join his brother-in-law Lito Guinto and his family, and made their living working on a vineyard. They worked at a grapes plantation which produces wine. They would wake up at 4am in the morning and worked from 5am to 4pm. Picking grapes sounds easy since most of you just buy it from a grocery store but it was not. It was a hard labor while working under the scorching sun. After three months, Melanio and his family moved to San Diego, California to join his sister-in-law, Susan Guinto, in search of better job opportunities. He worked at Horton Plaza as security and used his previous experienced from the U.S. Naval Base as a K9 dog handler Security Force until he retired. In his spare time, Melanio enjoyed dancing at the KP Hall in National City and worked part time at the Defense Commissary Agency at Naval Station San Diego. His hobby were gardening, home improvement and the best was cock fighting or also called "sabong". Throughout their lives, Melanio and his wife Lorenza made great sacrifices to support their children in the Philippines. When he became a naturalized U.S. citizen, he filed dependent petitions and was eventually able to bring his children to the United States, except for Gerry, who resides in the Philippines. He was caring, kind, patient, friendly, hardworking, and most of all reliable. You can count on him to help you with any project. He cared and most loved by his family. He had touched many lives and made a positive impact. His children are in a better place due to his hard work, dedication, and commitment as a father and a husband. Melanio passed away on July 22, 2022 at the age of 94. He is survived by his children Teresita Diaz, Evangeline Pedrozo, Gerry Diaz, Emmanuel Diaz, and Melanio Diaz Jr.; his in-laws Rolando, Mary Jean, Analyn, Carol, and Becky; his domestic partner, Crescencia "Nene" Macalinao; His grandchildren: Flor (Al), Donna (Elmer), Farida (Roderick), Janice (Ezra), Joahna (Glenn), Jeffrey, Jeremy, Janelle, Eloisa (Pascual), Stacy (Archie), Mel James (Joy), Jenny, Bernice Elisha, Paul, Brittany, Hannah, Meanne, Melisa (Jugo Ray), King, Karl, Michael, Kristine, Abigail (Dylan). And his great-grandchildren: Gianna, Isaac, Aziel, Mimi, Pascualita, Pascualina, Colleen, Scott Andrei, Amber, and Jela His legacy and memories will continue to be with us. He may be gone but never forgotten.
See more
See Less
Past Services
Wednesday,
August 24, 2022
First Visitation
Thursday,
August 25, 2022
Second Visitation
In Memory Of
Melanio Carbonel Diaz Sr.
Help tell the story of your loved one's unique life. Leave a memory or share a photo or video below to show your support.