OBITUARY
Vivian Pearl (Ball) Henderson
February 21, 1923

–

January 13, 2022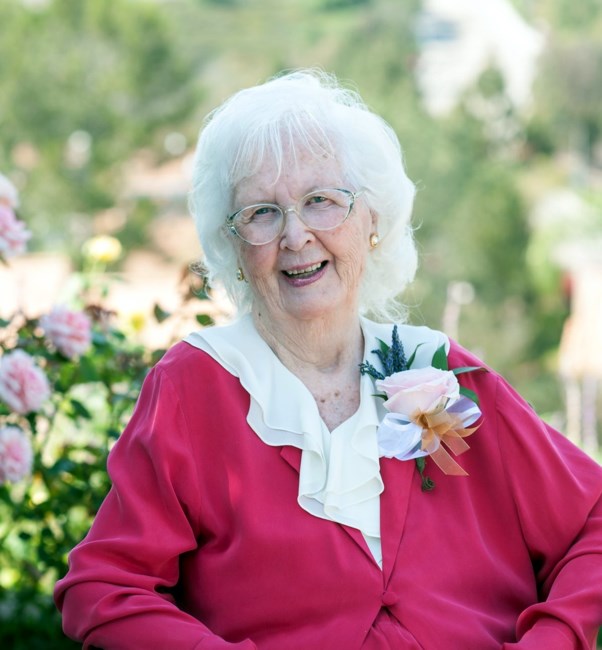 Vivian Pearl (Ball) Henderson, age 98, of Chula Vista, California passed away on Thursday, January 13, 2022. Vivian was born February 21, 1923, in Miles City, Montana. A Celebration of life and a time of fellowship will occur Friday, February 11, 2022, from 11:00 AM to 12:30 PM, followed by a service from 12:30 PM-1:30 PM at the home of daughter Christine Ogden, 819 Cornell, Chula Vista 91913 A graveside service will occur Friday, February 11, 2022, at Glen Abbey Memorial Park from 2:00 PM to 3:00 PM, 3838 Bonita Road, Bonita, CA 91902. Fond memories and expressions of sympathy may be shared at www.glenabbeysandiego.net for the Henderson family. Vivian P. Ball was born February 21st, 1923, in Miles City, Montana to parents Lucy Ann Ball and Andrew Jackson Ball. Vivian's father was a teacher, rancher, carpenter, and homesteader, having built several homes and buildings in Montana, and Alaska. Vivian's mother was caring and hardworking; she was a horsewoman, gardener, cook, seamstress, caregiver, and businesswoman. She lived in Ashland, Montana with her parents and four older half-brothers: Frank, Aleck, Kyle, Daniel, and one older half-sister, Lucille (Sis). The following year in 1924, her younger brother Robert Jackson Ball (Bud) was born. Around age 7, the family moved to Lodge Grass, Montana. Vivian and her younger brother went to Jr. High School in Billings, but due to an earthquake in the area, had to go live with her older brother Frank and his family to finish middle school in Butte, MT. During this time, Vivian's parents had moved South to California to find employment. Vivian and her brother Bud joined their Mother Lucy and Father Jack in Calexico, California in 1938. It was in Calexico where Vivian graduated from Calexico High School in 1941. Vivian was both awarded and accepted an art scholarship to Woodbury University in Burbank, California. She attended only one semester before having to leave to work and help her family due to WWII. During that time, she worked for Consolidated Aircraft for 3 years. She later returned to Calexico and took a job as a grocery checker at Safeway. Here, she met Robert Henderson, a friendly truck driver, who wooed her with his charm, good looks, and genuine love for her. The couple made their way to San Diego, CA in 1951, and bought their first home in National City. It was here in the cute home on Edgerton Way, that Vivian and Bob raised their daughter Christine (Merry Christine, Born 12/25/1946). Bob drove trucks for Safeway while Vivian was a homemaker taking care of all aspects of the home, finances, and raising her daughter. Vivian was a skilled seamstress making many of Christine's clothes and matching dresses for Christine's dolls. In 1965, the small family got a little surprise; Vivian was pregnant and had her second daughter, Robin Ann, born Jan 26, 1966. There was a19 year span between the girls, and Vivian began the adventure of child-rearing once again. The family had now outgrown their sweet little house in National City and moved to the "country" in Bonita, California. They purchased a ranch-style home on one acre of land, which was perfect for summer gardens, horses, and many years of wonderful memories. In 2000, Bob and Vivian decided it was time to downsize. Bob was retired, and it was the only way Vivian could keep Bob from climbing up on ladders to trim the many trees on the property. After Bob had a couple of falls off the ladder, Vivian had had enough! Vivian and Bob enjoyed spending time with, the now, 6 grandchildren. They also loved to travel throughout the US and especially enjoyed a special 50th wedding anniversary road trip to Canada where they observed Polar Bears in the wild. Vivian said, "It was a very exciting experience!" They made their new home in Chula Vista- Rancho Del Rey, in 2001. A short time after the move, Bob started showing signs of confusion and some memory loss; he was later diagnosed with Alzheimer's. Vivian and her children cared for him in the home until he passed in 2007. Bob and Vivian were married for 57 years. At the time of Bob's death, Vivian and Bob were in the process of having a 1-bedroom casita built on the back end of their daughter Christine's property. The new home was completed a few months later and is where Vivian lived for the past 14 years. In her final years, Vivian enjoyed attending church at Community Congregational Community Church of Chula Vista, where she would attend choir practice with her daughter Christine. They attended women's fellowship luncheons and the quilters group to sew quilts. When she could talk someone into taking her, Vivian enjoyed going on a trip to the casinos to play the slots. Vivian also enjoyed going on Sunday drives and out to breakfast. She loved puzzles and playing dominos with Robin, Christine, and some of the grandchildren. Even in her 90's, she would beat us all! The budding artist really came out in her later years as she loved to color and create beautiful works of art on coloring pages! At age 93 she had a fall and broke her hip. She showed her strength and resilience in her recovery with a little help from Christine and Robin that encouraged her each step of the way. At this time, a very special person came into Vivian's life; Seini, who was Vivian's caregiver for the last 5 years. Vivian loved Seini and appreciated all the love and care Seini gave. Seini was truly an angel on earth and became like a daughter to Vivian. Vivian lived through two other surgeries: gallbladder removal and surgery for a urinary tract issue. Vivian had always been healthy and not on any medications, so these were big challenges to deal with late in life. Seini, Christine, and Robin were there by her side and saw her through it all! During Vivian's last year, she could no longer walk and was confined to her bed. She still enjoyed coloring, visiting with family, and calling friends and family on the phone. On January 13, 2022, Vivian joined Jesus and her loved ones who have passed on before her. As she passed, she was surrounded by her daughters Christine, Robin, and Seini. Welcome home Vivian (Mama), we love you!
See more
See Less
Past Services
Friday,
February 11, 2022
"Celebration of Life" Reception
Friday,
February 11, 2022
Memorial Service
Friday,
February 11, 2022
Graveside Service
In Memory Of
Vivian Pearl (Ball) Henderson
Help tell the story of your loved one's unique life. Leave a memory or share a photo or video below to show your support.