OBITUARY
Ron Malinenko
December 17, 1944

–

March 6, 2021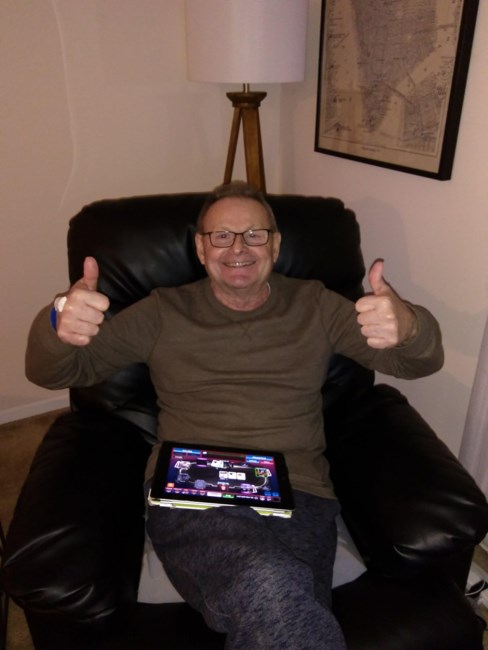 Ron Malinenko, aka Dad, Grandpa, Opa, and of course Big Ron, through words and deeds imparted a number of important lessons to his family. Some were small – like teaching one of his daughters how to fix a temperamental car starter with a ball peen hammer. Or how to make a perfect omelet. How to swing a golf club, catch a ball and drive a car. Some were big – like teaching his daughters how to navigate an imperfect world with honesty and kindness. Or that they were worthy and deserved love. Or that the world, no matter what anyone else told them, was theirs too. He was born in Grun, Czechoslovakia – what is now called Doubrava, right on the Czech/Germany border. But he grew up in Belgium. When he was 8, along with his mother Maria and his stepfather Victor, Ron – then called Reinhold – boarded the U.S.S America and sailed for three weeks to New York. According to the passenger list, they were going to settle upstate but instead he found himself in the Bronx, a small kid from a small town in a big city filled with the chatter of a language he didn't speak. But, like all immigrants, he learned. As a teen he worked in a deli, drag raced cars in Coney Island, and genuinely made a nuisance of himself. When Joan Urff, a woman in the neighborhood would come into the deli, he would sing "Mrs. Brown You've Got a Lovely Daughter" by Herman's Hermits, as Patricia Urff, Ron's eventual wife, pretended to ignore him. Thankfully, for the sake of his daughters, Patricia was eventually charmed. They married and moved upstate with their two daughters, Jennifer and Stephanie and they were shortly followed by a third, Allyson. Every Christmas Ron would lead the family downstairs, look around the corner and joke that there was nothing there as his daughters squealed and pushed and like their father before them, made a general nuisance of themselves. He worked. A lot and with no complaint. He believed, not in hard work, but in doing good work. He commuted to the city for jobs and then later, when he worked for the post office, he would leave for work at 3 am. He rarely took a sick day. His doctors called him The Miracle Man after a diagnosis that he carried for nearly 20 years. He was a runner and one of his daughters expressed an interest so they ran together. He taught her how to breathe up the hills and how to relax back down them. One time when she was running an 800 for the first time, she blew out all her energy on the first lap and had nothing left for the second. Ron got out of the stands and ran with her, telling her everything was okay and making sure she got to the end in one piece. The lesson that he taught her that day was that no matter what he would always be there. (And he still is.) He loved doowop and the Giants and the Yankees though he never warmed up to A-Rod. He would watch a movie from any point even if he'd never seen it and there was only ten minutes left. He was good with faces but terrible with names. He always reversed his car into the driveway. He was fascinated with outer space and was delighted when his family bought him a telescope even if it just showed the moon a little better. To him it was everything. He laughed easy and light, making his eyes disappear, and he had something about him that made you smile as soon as you saw him. He radiated warmth. He greeted you each morning with a charming "Well, hello" as if he truly didn't expect to see you there and now that he did, he was utterly delighted. He loved poker and never let his daughters go on a long drive without making sure they had a blanket, a gallon of water, and flashlight in the trunk. He taught them to take care of themselves, always. If it snowed on his commute home, he would stop at his wife's job and clean the snow off her car so she didn't have to. He didn't always remember which groceries to bring home but he made sure her car was clean. He called her, up until the very end, The Most Beautiful Girl in the World. One day while watching Star Wars with his grandson Nick, he did a trick making a pencil move on its own and he told his young grandson that he had the Force and Nick fully believed him. Which was the right choice – because Ron absolutely had the Force. He was also the funniest and most generous Opa to two kids who thought the world of him. An Opa who would spend afternoons playing chess with his grandson even as Wesley made up his own rules. He always indulged his granddaughter Neve and all her baking inventions. He wore rabbit ears at Easter to make them laugh. In fact, everything he did was to make his family laugh. Ron was generous like that. He was gentle. He was goofy and once wore a fake earring to dinner to see if any of his daughters noticed. He was also careful. Not cautious but careful as in he acted with care. He put tinsel on the Christmas tree, one strand at a time, regardless of how long it took, just to make sure the sparkle effect was perfect. These are some of the stories about Ron Malinenko. And they matter because truthfully all we are in the end are the stories people tell about us. And these are good stories. But still Ron had something else. Because more than anything Ron was kind. Kindness isn't the same as being nice. Nice is easy. Nice is polite. It's passive. Kindness is an act of generosity. It is layered and complex and most of all it is intentional. You choose kindness. Kindness can also be messy. It makes you vulnerable. Ron knew that the secret to kindness was that being vulnerable allowed you to love more deeply and more honestly. It made you a better father. A better husband. A better brother. A better grandfather. A better friend. He also knew that kindness meant honesty and honesty was sometimes the harder choice. But he still made it. Every time. At the end of every life, when the people gather and the stories are shared, and the tears are shed, and the laughter becomes a balm, something powerful is left behind. Something is forged out of those stories. Something like a legacy. Something that distills the essence of a person down to one or two truly defining things. Ron's defining thing, the thing that is left behind and never leaves, was his kindness. Kindness towards his family and friends of course, but also toward strangers. Kindness in the way he spoke, the way he moved and the choices he made. He made the world a better place for everyone that had the privilege to know him. And, in the end, one is hard-pressed to think of a better legacy than that.
See more
See Less
Services
No services are scheduled at this time. Receive a notification when services are updated.
RECEIVE UPDATES
In Memory Of
Ron Malinenko
Help tell the story of your loved one's unique life. Leave a memory or share a photo or video below to show your support.