OBITUARY
C. Gerald "Gerry" Gnerre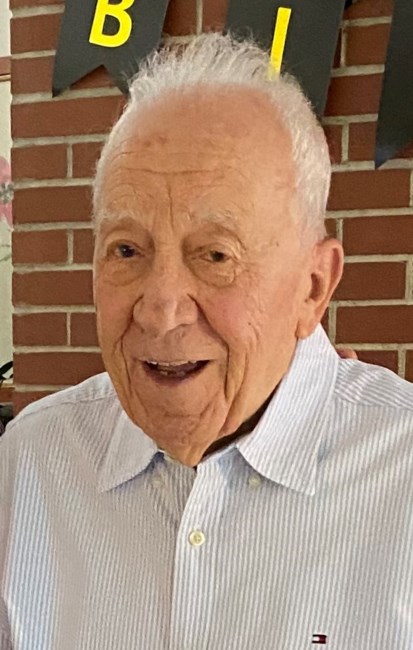 ... C. Gerald "Gerry" Gnerre, age 101 years, of Belmont on Tuesday, March 14, 2023. For 55 years, he was the beloved husband of the late Clara W. (Wagner) Gnerre. Loving father of Bill Gnerre & his wife Tama Gnerre. Dear brother of Tony Gnerre & his late wife Roberta, and the late Vincent Gnerre and Joseph Gnerre & his wife Annelle. Also survived by many nieces and nephews. Services at the Levine Chapels, 470 Harvard St., Brookline on Sunday, March 19 at 1:00pm. Burial will follow in the Beit Olam Cemetery, 61 Old Sudbury Rd., Wayland. In lieu of flowers, remembrances may be made to Mount Auburn Hospital, Office of Philanthropy, 330 Brookline Ave. (OV), Boston, MA 02215, www.mountauburnhospital.org The story from Benevento to Belmont, Gerry's eulogy, from his son Bill: Gerry was born Ciriaco, in San Nazarro Calvi a province of Benevento Italy on Halloween 1921. Only one of three children born in Italy survived. They were peasants but in 1923 my Grandfather Felice made his way to America to find a better life. Felice worked as a steam shovel operator, sent money back his wife Giovanna, and after 7 years brought them to the US. My father entered America on May 12, 1931, at Ellis Island having traveled on the Italian Ocean Liner MS Vulcania. They settled in the North End. Three brothers came along after my grandparents reunited. One of the three surviving is here today. My Uncle Tony. They had an innovative approach to teaching English in those days for non-English speaking immigrants. At age 10 they put him in first grade. It was sink or swim. He did well, eventually graduating from Boys English, quite an achievement. About that time, they moved from the North End to Medford. He entered Northeastern's engineering school in 1941 and completed his freshman year before joining the army in September of 42. He was in New Guinea, Eastern Philippines, Australia, New Zealand. He was in wait to invade Japan and was grateful to President Truman for dropping the bomb. He became a citizen in Feb 44. In 46 he returned to NU which had a Coop program that included working in your field ½ time. The best experience from Coop was meeting my mother on the assignment at Cabot Labs in Cambridge. He graduated with a degree in Chemical Engineering 1949 and married my mother in 1950. He trusted her more than anyone and he credits her with his success and personal and intellectual growth. He was a great admirer of her. He lost her almost 18 years ago and while he was quite vibrant after her passing, he never got close to even considering anyone else as a spouse. When they were first married, they lived in an apartment on Commonwealth Ave in Alston until 1957 moving to Belmont in the house he built, renovated in 2001, and lived there the rest of his life. At 96, he agreed to look at some assisted living facilities. Thought they were for old people and ended the discussion. In 1967 he was awarded a patent for an invention in the manufacturing process of military underseas cables used to track ship movements across the Atlantic. I think my parents struck a perfect cultural balance having an Italian father and Jewish mother. He never was overtly Italian as I think of it, he was overtly neutral, and he showed limited interest in going back to Italy until well after retirement. He welcomed all the Jewish traditions, and the best part was enjoying all the great foods from each culture. As a 6-year-old I remember watching the first Mercury space flights with him. We sat in the living room watching it on our RCA black and white television. Science and engineering topics were a common bond for us. As a teenager we formed another common interest around business topics. He had transitioned from engineering to marketing and so I was able to watch him work on some of his sales presentations at home. It was always interesting to watch. He had a nice workshop in the basement with table saw, drill press, assorted tools, and scores of baby foods jars filled with screws, nails, and fasteners. Over the years many home improvement projects were built in that workshop. After his mother passed away in 1975, he took care of his father by visiting once or twice a week. Every Saturday morning, I would go over with him to help his father. Gerry was always good to my mother's family. He welcomed my maternal grandmother to live with us beginning in 1964 and she was there until her passing in 1977. Around 2000 he helped my mother take care of her brother in a local nursing home. He went over regularly to give my uncle a shave and was attentive to Uncle Herb's need. He honored my mother in 2017 by donating to the refurbishment of the waiting area of the cancer center at Mount Auburn Hospital. There's a plaque with her name. He tackled some big projects at home. One was installing our sewer line from the back of the house to the street. Instead of hiring a general contractor, he oversaw project, did much of the work himself and received kudos from the town's inspector. He also designed and installed the lawn irrigation system which works to this day. On one hand he was extroverted on the other hand he was introverted. My mother was his confidant he would tell her everything but seldom his feelings were revealed to others. If I wanted to know I would ask my mother. On Music – Opera good, Rolling Stones bad. Overall, he was a class act with a fierce will to live no matter the challenge. In 2017 he had a heart valve replaced. Called it a non-event. He drove until he crashed in 2018. He refused to use a walker until he fell in 2019. Since then, he managed to survive 2 rounds of COVID, pneumonia, prostate infection, heart afib, congestive heart failure, all while managing diabetes. But dementia was the cruelest of all and the one he couldn't beat. When asked at age 100 what he wanted. To live!
See more
See Less
DONATIONS

Mount Auburn Hospital

Office of Philanthropy, 330 Brookline Ave. (OV), Boston, Massachusetts 02215
In Memory Of
C. Gerald "Gerry" Gnerre
Help tell the story of your loved one's unique life. Leave a memory or share a photo or video below to show your support.