OBITUARY
Susan Parker Bloom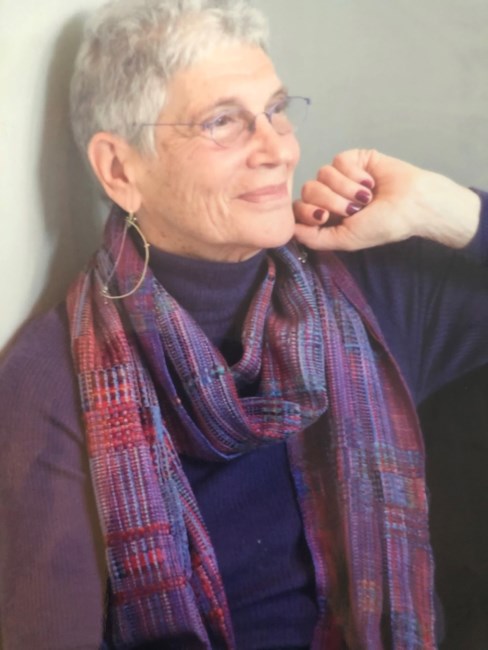 Susan P. Bloom, an educator beloved by legions of former students who became successful writers, editors, teachers, and book advocates, and who spent her working life spreading the gospel of children's books, passed away peacefully at her home in Framingham on June 7, 2019. The cause was ovarian cancer. She was 80 years old. Susan was born in Boston on November 29, 1938, the second daughter of a salesman and a seamstress. Her parents, Benjamin Parker and Lillian (Pinksohn) Parker, raised her in Brookline. Susan was twelve when her father died, but her mother made many of Susan and her sister Lois' clothes, and her deft way with a needle and thread supported the family. She attended Brookline High and received a BA in English from Simmons College (now University) in 1960. Susan began her career teaching English at Newton North High School, where she supervised student teachers from Simmons for many years. On August 29, 1965, Susan married David Bloom at Longwood Towers in Brookline. David was fond of saying "My life began when I met Susy," and they shared that life for almost 52 years. They settled in Wellesley in 1966, where they lived for 40 years, and where they raised their cherished daughter Johanna, who entered the world in 1971. In 2013, Susan and David happily moved into an in-law suite in a home that Johanna and her husband purchased in Framingham. Susan eventually returned to Simmons College and obtained a master's degree in Children's Literature. Soon after, she was hired to teach in the Simmons English Department's freshman writing program. In 1986 she became the Director of Center for the Study of Children's Literature and the Children's Literature Graduate Program. During her time as an Assistant Professor and subsequently, as Associate Professor, the Master of Fine Arts in Children's Literature was created, she served on The Horn Book review staff, was twice chair of the Boston Globe–Horn Book Awards, and twice served on the prestigious Newbery Award committee. She was also an annual lecturer at the Eric Carle Museum of Picture Book Art in Amherst, MA. With co-author Cathie Mercier, Susan wrote biocritical studies of the writers Avi, Russell Freedman, and Zibby Oneal. Cathie, current director of the Center and the graduate degree programs, praised Susan's visionary stewardship of the nation's first graduate degree programs in children's literature. "Susan's reputation as a critic and as a creative spirit fortified the University's status as a leader in children's literature," Cathie said. When she retired from Simmons as Associate Professor Emerita, Susan's family, friends, and alumni established the Susan P. Bloom fund to support the Center's distinctive institutes and advocacy work. Also in her honor, the PEN New England Children's Book Caucus founded the Susan P. Bloom Children's Book Discovery Award, which acknowledges emerging writers and writer/illustrators in the field. Susan's accomplishments are myriad, but the words of her former students best convey her deep love of teaching and learning. Megan Lambert, a current lecturer in the children's literature graduate program, notes that the poet Mary Oliver writes "To pay attention, this is our endless and proper work." "Susan," Megan said, "was a model of attentiveness to her students…her irrepressible sense of delight in learning inspired us to pay attention to the books we read…it's been two decades since I took a class with Susan Bloom, but I've never stopped learning from her." And Susan Rich, a lauded editor for Little, Brown Books for Young Readers, noted that "Susan taught me to look at literature deeply and with an open heart…her pride in my books has been a vital measure of my work." The author Jo Knowles borrowed imagery from E.B. White's classic Charlotte's Web, in saying that "Susan was Charlotte to all of us Wilburs, so unsure of what we were capable of…Show me how you are TERRIFIC, Susan said. We will carry her radiance in our hearts." Writers and illustrators throughout the field also fell under Susan's spell. Newbery Award-winning author Lois Lowry noted that "It's TOUGH (capitals hers) to find someone who didn't appreciate Susan." Author/illustrator David Macaulay, winner of the Caldecott Medal and many other accolades, said "the depth of her enthusiasm for teaching and learning was absolutely contagious…when she visited my studio with her classes, she always managed to wring the best out of me, determined to connect the finished books with their creator." Author Jack Gantos, also a Newbery Award recipient, noted "Heart and soul, brains and lots of purple…Susan was singular." And Jacqueline Woodson, an award-winning author named National Ambassador for Young People's Literature, reacted to Susan's loss with these words: "I adore that woman beyond and beyond and am SO (capitals hers) not ready for her to become an ancestor! She is the truth, that woman." Susan was a noticeable presence everywhere she went, with her closely-cropped curls, a propensity for wearing purple, and her iconic jangly, dangly earrings. Children's books were Susan's vocation and avocation, but her milieu was the world. "I always considered her an omnivore of life," said Carolyn Shute, a former student, colleague, and friend. "She was curious and curiouser about everything and always open to new ideas. Susan ate the world." She was an inveterate theater-goer, holding subscriptions to the ART, Huntington, Trinity, and the Gamm. She loved to support local theater, but traveled frequently to productions in New York City. Seeing Hamilton with its original cast was a recent highlight. Museums, dance, lectures, great literature, gardening, must-see TV, National Public Radio: she was interested in them all. Politics, too. She never shied away from respectfully voicing her strongly-held opinions, whether it was among friends, knocking on doors for national elections, or talking to someone in line at a grocery store. Her charm could sometimes even change minds. A superb cook, Susan loved interesting and artful food, and took great pleasure in entertaining. Her celebrations were always executed in minute detail. She was known in her family for legendary and inspired Thanksgivings, always anchored by a theme connected with a particular American anniversary. They included the 150th anniversary of the Gettysburg Address (for which she created Lincoln's head in bread), the 100th anniversary of the FBI, Julia Child's 90th birthday, and the centennial of the National Parks Service. Playful, pre-dinner activities like making stovepipe hats were de rigueur; place settings included printed menus that cleverly riffed on the theme. Joy existed everywhere for Susan; so many things were worthy of celebration. She had a small collection of orchids and lilies and other semi-exotic things growing in pots. But her favorite was Selenicereus grandiflorus: "Queen of the Night." Once a year this spindly night-blooming cereus would open its petals for a single summer night. Its large, creamy blooms saturated a room with their heady scent. When its buds were full and well-rounded, Susan put friends and neighbors on notice. "Come tonight," she'd say, excitedly. The group attending the flowering varied, but what didn't vary was the champagne and the poetry celebrating the one-night wonder. Susan's highly-developed sense of whimsy showed up in other arenas, too. When Anthony Browne, the British author/illustrator known for his stories featuring gorillas and chimps, crossed the pond to make a presentation at a Simmons symposium, Susan went to pick him up at the airport dressed as an ape in a rental costume. No one batted an eye. But Browne made a beeline for Susan. You must my ride, she recalled him saying with a twinkle in his eye. After being diagnosed with ovarian cancer in 2013, Susan decided to take grandsons Jacob and Ben on a legacy trip. Accompanied by nephew Danny, they went on an African safari–the thrill of a lifetime, according to Susan. But in the following years, the foursome experienced more lifetime thrills, traveling to the Galapagos, Costa Rica, and Alaska. Last summer, they visited the Grand Canyon. All of the trips were full of wonderment, and especially wonderful because she was traveling with the grandsons she adored. As Jacob said of his grandmother, "Traveling with Gamin was the best. She was never about sitting down. She was always about exploring and seeing new things." Susan was preceded in death by her parents, her husband David Bloom and her sister Lois (Parker) Glick. She leaves behind those she considered her greatest blessings in life: her best-beloved daughter Johanna (Bloom) Morse, esteemed son-in-law Bobby Morse, and her three treasured grandchildren, Jacob, 13; Benjamin 11; and Lily, 6, to whom Susan was "Gamin," not grandma. She also leaves behind her brother-in-law Irving Glick, niece Lisa Glick, and nephew Danny Glick. Susan's circle of friends and extended family will dearly miss her intelligent, serene, and celebratory spirit. Services at Levine Chapel, 470 Harvard Street, Brookline, on Tuesday, June 11, at 1:00 p.m. Burial in Sharon Memorial Park, 40 Dedham Street, Sharon 02067. Memorial observance immediately following the burial until 7 p.m. at the Morse/Bloom home. The observance will also continue on Wednesday from 4-7 p.m. In lieu of flowers, donations in Susan's memory may be made to The Gamm Theatre, 1245 Jefferson Blvd., Warwick, RI 02886 or online at www.gammtheatre.org or the Center for the Study of Children's Literature, c/o The Bloom Fund at Simmons University, 300 The Fenway, Boston, MA 02115.
See more
See Less
DONATIONS

The Gamm Theatre

1245 Jefferson Blvd., Warwick, Rhode Island 02886

Center for the Study of Childen's Literature

c/o The Bloom Fund at Simmons University, , 300 The Fenway , Boston, Massachusetts 02115
In Memory Of
Susan Parker Bloom
Help tell the story of your loved one's unique life. Leave a memory or share a photo or video below to show your support.