OBITUARY
Norva Bassage Crosby
October 10, 1915

–

March 1, 2016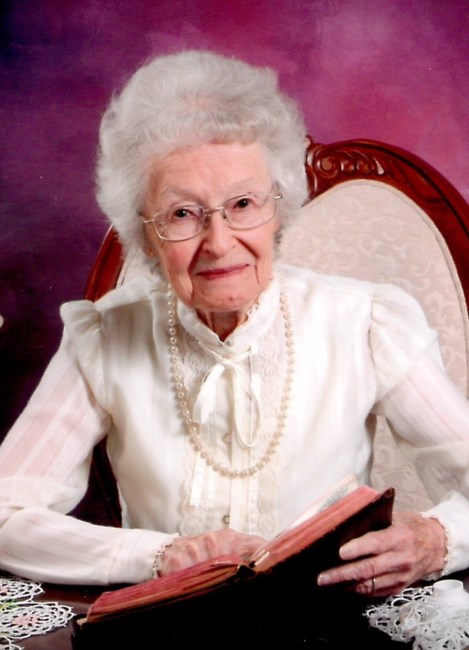 Norva Bassage Crosby was born on October 10, 1915, to a farmer family in Corning, New York, to the late Jesse and Ora (Jimerson) Bassage, the youngest of 4 children; brother 17 years older. She died March 1, 2016, at the HPH Hospice Center, Lecanto, FL., at age 100 years. Premature 7th month birth; neither baby nor mother was expected to live; no birth certificate was filed no hospital record of a live birth. Miraculously both survived, under private nursing care of mom's sis-in-law. God's calling for Norva's life, from her mother's womb, was different, a Life plan. When Norva was 6, father died of Anthrax contracted from a sick farm cow. Moved with widowed mother from the farm to town (Corning). Mom did laundry & housecleaning to support them. Said she never missed paying a bill, said she always gave tithe of income & God provided. Norva, always tender toward God, fully received Jesus as Lord of her life at age 12. Graduated HS with high honors. Enrolled at Houghton College (Christian Liberal Arts school in WNY). Her mother took job as cook at college kitchen, to put Norva through college. She earned her Bachelor of Science degree, majored in languages. Graduated with highest honors in 1938. There she met the man of her life, Robert Crosby. They married after 6 long years of courtship, in 1940. Norva later obtained her Master's Degree from the State University of New York at Geneseo in 1966. Norva taught HS Latin & French x2 years, before married Rev. Robert Crosby, 1940. They opened, & pastored a closed church, near Syracuse, NY x2 years. Felt led to go as pioneer Wesleyan missionaries to Colombia, SA. Norva and her husband, Rev. Robert Crosby, served as overseas career and volunteer missionaries for 55 years, from 1942 – 1997. In 1942, Bob & Norva, with 5-month-old daughter Priscilla, went to Andes Mountains city of Medellin – (Med-eh-YEEN), Colombia – under travel risks & restrictions of WWII. Relationships were built, & land was purchased in the city of Medellin. Robert promptly helped construct a large mission headquarters including a print-press shop, also a mountain retreat center. When OMS missionaries arrived in Medellin, & acquired a hillside compound (at Ro-BLE-do), Crosby's partnered there to teach at the OMS Seminary/Bible School, to train new Christian believers. Other Wesleyan missionaries arrived, and together they built the Wesleyan outreach in Colombia. Partnership w/OMS remained strong, also with Presbyterian & other evangelistic outreaches in Medellin. Bobby (Bob Jr.) was born in 1944. During these years, violence was intense – both political & religious opposition. The radically fanatic Roman Catholic Church iron-ruled the government. To be anything but RC was considered Satanic, & must be ostracized or destroyed. Homes & businesses were torched & burned; machetes slashed cars & people; fanatic mobs demonstrated, often with stonings; armed detentions on the highways were common. People who were found with a forbidden Bible, or identified themselves as evangelical believers, were tortured, homes destroyed, their kids abused on the streets. They could not buy necessities or attend school. Neighbors were at great personal risk to become our friends, as we ourselves were. God supernaturally intervened many times to spare the lives of Bob & Norva, & family. However, people who longed to personally know the Jesus Christ of the Bible, gradually overcame the obstacles against them, & devoted themselves to their new-found dynamic faith in Christ and Bible truths. Today, in spite of drug cartels & political & other crises, Colombia is experiencing dynamic Christ-centered revival, now sending many missionaries of the Gospel worldwide, including to the US. Even here in Brooksville, the founder of the Hispanic ministry at Grace World Outreach Church, became a transformed Christian in Medellin, Colombia, as a result of past mission outreach there. In 1947, son #2, Stevie was born. God also spared him through life-threatening health crises. "Back then", missionaries' kids were considered secondary to the ministry outreach of both parents. This was very difficult for Mom Norva to balance. At 1st she homeschooled us; but at ages 6 & 8, we kids were painfully flown away to a boarding school, to free up our parents for mission ministries. This is revolutionized now as Mission Boards strongly prioritize family & parenting needs of MK's – (Or "TCK's"= Third Culture Kids – or Three Culture Kids.) After 10 yrs. of Crosbys' planting God's work in Colombia, Wesleyan World Missions directed them not to return to the severe conditions of "La Violencia" in Colombia. They were sent as a team, along with Rev. Orval Butcher (predecessor of Max Lucado), and OG McKinley to PR, for an outreach campaign of tent meetings, held in San Juan, PR. These meetings drew many people. Many who found new life in Christ asked for leaders to come help establish a new church body there. The 5 Crosby's' moved to PR, and spent the next 5 years planting the Wesleyan outreach on that island. Robert and Norva founded the first Wesleyan church in PR, establishing many relationships, as well as other churches, and eventually 2 schools. While in PR, a surprise 4th child, Susan, was born. In 1955, Norva founded "Wesleyan Academy of PR", accredited by the PR Board of Education as well as by the Wesleyan denomination, as a bi-lingual, Christian, college-prep, K-12 school. It gained strength rapidly, expanding to a prominent multi-acre campus, and quickly became a top-rated private school on the island. With about 900 yearly students, Wesleyan Academy grads are today a Christian voice in the government of PR, as well as in the professions, other civic leadership, and worldwide. Student teachers from US colleges, as well as HS exchange students, often spend overseas terms at the Wesleyan Academy. Numerous Puerto Rican overseas missionaries have had their foundation at Wesleyan Academy, as well as at the Bible School that formed later. Ten years ago, as WA founder, Norva was honored at WA's flashy 50-year anniversary celebration. This year "Wesleyan Academy of PR" celebrates their 60th anniversary! Norva was invited to come as Guest of Honor again, at their gala 60th anniversary event. (Daughter Priscilla will represent her, since her 3/1/16 passing). Bob & Norva Crosby's memory remains strong there, among their beloved Puerto Rican family. In the '60's, the Crosby's' returned to Colombia, for another term there. What a joy to see the dramatic growth, and openness to the gospel there! Later, after some interim years of teaching Spanish at Houghton College, they went back to PR, for an administrative term there, before retiring in Brooksville, in the mid-'80's. After officially retiring from Wesleyan Missions, they served volunteer terms in Ciudad Valles, Mexico, teaching at the Wesleyan Bible School there. Norva also taught at Hernando High (Brooksville). For the past 30 years, Norva has done much publication translation (English to Spanish) for CREA (www.wesleyana.org) a Spanish resource website dedicated to providing pastors and leaders with free online ministry materials (printable), also other printed Christian Ed. materials (books, magazine articles, etc.). Early in their Brooksville retirement days, Robert founded the chaplaincy at the Brooksville Regional Hospital. Norva headed the hospital Volunteer Staff at the OR Waiting Rm, for 20 years. When she was home long enough to tend a garden, she cultivated enviable vegetable crops. Norva is well known for her artistic tatting skills, having gifted countless heirlooms of that lost art to many folks, as well as helping others learn to create tatting lace. She remained an avid reader. Unless she was engrossed at her computer, she usually had a crossword puzzle book in hand. Above all, she loved her Savior and Lord Jesus Christ to her last breath. Her quiet, gentle, cheerful, caring warmth towards other remained to the end. She would not criticize others, or complain, but regularly complimented, & commented on the best. Norva's unswerving, devout faith and trust in her Savior was evidenced by her deep, unreserved compassion for everyone she knew. She insisted that "to God be the glory!" As her earthly tent faded, God's Spirit in her grew ever stronger. Since Bob went home to his Savior & Lord in 2006, Norva lived w/daughter Priscilla & husband Bernie Piersma, near Brooksville, FL. Her other 3 children live in Alaska, Oregon, & WNY. Norva has continued yearly travel to visit her wide-spread family, 9 grandchildren, & 7 great-grands. In August 2015, she traveled to Alaska (w/ Priscilla & Bernie) to celebrate her 100th with many family there! Norva Bassage Crosby will be laid to final rest beside her late husband Robert Leslie Crosby, in the historic family plot near Corning, NY on May 7, 2016. The family has established the "Robert and Norva Crosby Scholarship Fund" at the Wesleyan Academy of Puerto Rico. Memorial donations may be made there: 1) www.wesleyanacademy.org (click Giving; Scroll; Click Make a Gift; designate Scholarship Fund - Robert & Norva Crosby…); 2) Or call the school directly (787) 720-8959, x1227/1228 to donate by phone.
See more
See Less
In Memory Of
Norva Bassage Crosby
Help tell the story of your loved one's unique life. Leave a memory or share a photo or video below to show your support.