OBITUARY
Robert L. Hoffman
November 22, 1929

–

November 14, 2021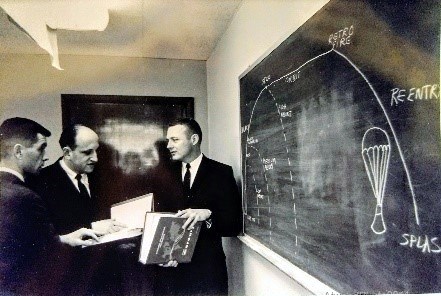 Robert Lynwood Hoffman (right), born in Hagerstown, MD, on November 22, 1929, was an IBM-NASA Project Mercury, Gemini and Apollo space-flights computer programmer, as well as a graduate of the University of Virginia (UVA), and a Korean War veteran. Bob was also a devoted husband, proud father and grandfather. He died on November 14, 2021, a week shy of age 92. Services will take place in May 2022. The eldest son of the late Clyde Martin Hoffman and Helen Rebecca (Carter/Fritz) Hoffman, Bob was preceded in passage by his parents (1998; '86), infant sister Charlotte Ruth (1928), and his beloved wife of 54 years, Dorothy (Dot) Lee (Blackwell/Short) Hoffman (2010). Bob's numerous accomplishments began at Hagerstown High School in the 1940's where he and a friend established a "Breakfast Club": Students came for a bite to eat and student-tutoring before school began. He graduated with Honors from Hagerstown High in 1948, worked briefly in Statistics at Potomac Edison Power Co., then went on to UVA in Charlottesville, VA, graduating in 1954 with a BA in Mathematics and a strong interest in a certain young nurse. Bob and that nurse, Dorothy Blackwell, R.N., married in December 1955 (Doylesville, VA); they had four children; four grandchildren. He also served in the U.S. Navy (1955-1958) during the Korean War as an Air Intelligence & Radar Analysis Officer on staff of Commander-in-Chief, Atlantic Fleet, based in Virginia, and later, as a Lieutenant, Naval Reserves, till 1970. Bob's career with IBM began in 1960 and spanned 30 years. In 1960 IBM hired him as a computer programmer in Washington, D.C., and in 1961, Bob and IBM colleague Marilyn B. Scott co-authored a technical paper entitled, The Role of Digital Computers in Project Mercury; the Mercury Programming System, published in the AFIPS '61 (Eastern) Proceedings of the December 12-14, 1961, eastern joint computer conference. In 1962 IBM transferred Bob as a contract computer programmer to NASA's Manned Space Flight Center in Houston, TX, where he helped design and develop the "Mercury Monitor Real-Time Control System" for space flights. Bob cited this period as a highlight of his 30-year career with IBM in the US and in France, noting: "The Mercury Monitor Control System provided the data to accurately track space flights from launch through orbit and splashdown, for successful astronaut recovery and to identify potential threats during flight missions." In 1968 IBM transferred him from Houston and the Space Flight Center to management roles at their Federal Systems Division HQ in Gaithersburg, MD. New management roles came in 1975 with a transfer to IBM-Europe Headquarters at La Défense in Paris, France; he and family took up residence in nearby Ville d'Avray for four years. Bob's "Earth-oriented" roles included Scoutmaster to his son's Boy Scout Troop (Rockville, MD) and active supporter of his children's activities in the U.S. and France, including academics, music, horseback, ballet, swim teams, Girl and Boy Scouts, family campouts. In 1980 he transferred back to the U.S., continuing with IBM in Corporate Administration and Information Systems in White Plains, NY, commuting from their home in nearby CT. In 1990 Bob retired to Charlottesville, VA, where he and Dot could be near the University and many family members. Generous in mind and spirit, with a ready sense of humor, Bob was endowed with a broad intellect and a passion for education. He was often deeply engrossed in a book or in thoughts about one. Bob's passion for education inspired curiosity and a love of learning in his children, grandchildren, and many nieces and nephews. He savored a deep read, a good laugh – and a good meal! Bob enjoyed both fine dining and picnics in many places, and watching UVA polo matches, Foxfield races, and UVA educational programs and concerts with Dot. They shared amazing travel opportunities, including Alaska, Australia and the Caribbean, and delighted in family and grandchildren's visits and "mini-stays," and ice cream (always!). One of Bob's favorite American restaurants was Charlottesville's Vivace, whose Chef Landon Saul is one of Dot's first cousins once removed. Bob also enjoyed opera music played at high volume, which could be felt as well as heard throughout their home (not as enjoyed by Dot!). A few years after Dot's passage in 2010, Bob relocated to Lake Placid, FL, and Hilton Head, SC, where he continued to read and study everything from theoretical physics to philosophy until his final days. He also continued to enjoy fine dining and picnics, more wonderful travel (from Newfoundland to Scandinavia, Europe, the American Southwest, and California), and stayed physically fit, even hiking at Machu Picchu in Peru at age 86 with late-in-life special friend Anita Martinec. He could still do a 20-minute mile hike up the beach at age 91 and worked out with trainers up till his final weeks, believing that an active mind benefits from a strong and active body. Bob passed onward at home in Hilton Head among loved ones. Survivors include one son, Brent B. Hoffman and wife, Cathie (Keaner), of Charlotte, NC; three daughters, Karen H. Atwood and husband, Chris, of Mechanicsburg, PA; Lisa C. Hoffman of Durham, NC; Ingrid L. Tepelmann and husband, Fritz, of Camden, ME; four grandchildren: Brent Hoffman; Kaitlin Hoffman; Julia (Atwood) Robinson and husband, Joe; Benjamin Tepelmann; and also one brother, E. Eugene Hoffman and wife, Betty (Cohill), of Talking Rocks, GA, and their families; sister-in-law M. Louise (Blackwell) Rich of Crozet, VA, and families; the families of sister-in-law Mary (Blackwell) Sheridan (2010; Crozet); and special friend Anita Martinec. In lieu of flowers, please consider a donation in Bob's memory to a public-education entity of your choice, your local Hospice, or to Optimist International Foundation (www.oifoundation.org). Teague Funeral Service, 2260 Ivy Rd.; Charlottesville, VA, is assisting the family with final arrangements.
See more
See Less
Past Services
Interment of Urn, Graveside Service
In Memory Of
Robert L. Hoffman
Help tell the story of your loved one's unique life. Leave a memory or share a photo or video below to show your support.