OBITUARY
Nancy Mullen Erskine
May 3, 1935

–

August 4, 2022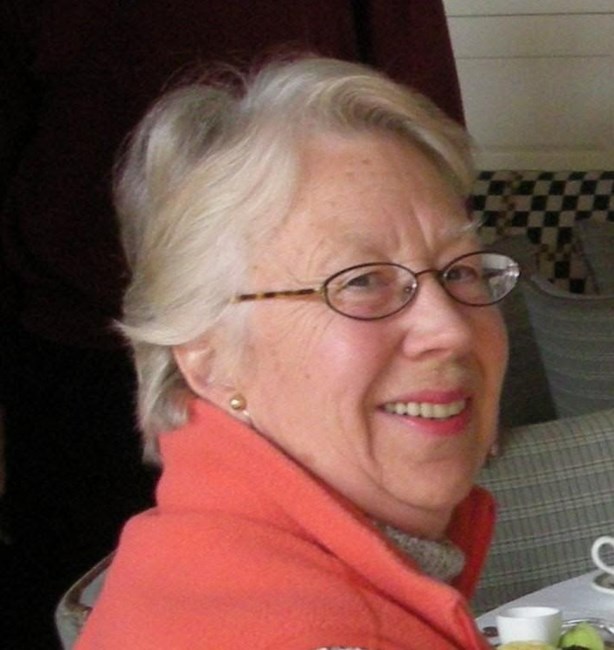 Nancy Mullen Erskine, born Nancy Priscilla Mullen on May 3, 1935 — who lived a quietly consequential life in which she found great love, and who took part in the world and gave back in every way she could, to her family, friends and especially her community — passed away on August 4, 2022, after an abrupt decline in health. She died peacefully at her home in Chatham, Massachusetts, in the company of those dear to her, both in person and in spirit. Nancy was eighty-seven years old. As the first child of Norton and Helen (Kelly) Mullen, Nancy received, in her own words, "all the care and love which young parents can give." She grew up in the Boston suburb of Milton, and was raised with strong core values of personal responsibility, commitment to family and respect for others. Nancy formed an especially close and enduring relationship with her paternal grandparents before she was joined by two lively siblings, Jane and Tom. The Mullen kids spent significant time with their father's family, including six cousins who grew up to share their relatives' code of close ties and good times. Nancy attended elementary school in Milton during the Second World War and particularly remembered a hot August night in 1945 when she was allowed to stay up late to see the people of Boston celebrate the return of peacetime. She graduated from Milton High School with what she felt was "an unusually thorough and well-balanced preparation" for her studies at Smith College. She majored in Government, hoping to refine her outlook on the problems facing the world. Nancy spent two college summers working at Harvard University Press, where her "secretarial duties" included liaising with prominent and fascinating authors. She also worked for the semi-weekly campus newspaper during all four years at Smith, first as a reporter, then as researcher and editor, delighting in work she found rewarding and the lasting friendships she formed. College gave Nancy greater sympathy for others, with whom she now felt a "universal oneness", and new appreciation for the opportunities she had been given. After graduation she spent the summer of 1956 studying at the University of London before moving to Manhattan to work for the world's largest advertising agency, J. Walter Thompson (JWT). When she started there, fast typing was the firm's sole qualification for women applicants, who were barred from the company's executive dining room. Nancy quickly distinguished herself as a standout copywriter, turning out a successful manual for Ford salespeople and a tagline for Kodak — "Take your camera where the fun is" — that was lauded as "the missing link" the company had been "searching for for years." She also worked on campaigns for Findus frozen foods, RCA and the Red Cross, and wrote newsstand sales copy for Reader's Digest, then near the height of its popularity and influence, with some seventeen million subscribers. After stints in JWT's offices in Canada and Europe, Nancy returned to the firm's New York headquarters, where she met and fell in love with Bill Erskine, a hugely charismatic "anchor man" who had risen from the job of messenger to top leadership roles in several of the company's foreign offices. Nancy, who was talented and urbane but did not regard her life as glamorous, considered herself as "lucky" that Bill took an interest in her. Likewise he appreciated Nancy's strong mind and independence, both of which complimented his, and they shared similar interests and intentions. The Erskines were married in 1972 in the chapel at the United Nations in Manhattan and soon moved to Canada, where they bought a home and spent happy years with their dog Misty. Nancy was welcomed by Bill's three daughters from his first marriage, who ranged in age from late teens to early twenties. She worked as a writer for Holiday Inns of Canada and followed a passion for charitable work and the new friendships it led to. She was often kept apart from Bill by his constant travels for Labatt Breweries, but Nancy shared an inclination to see more of the world and they took trips together to visit countries in Africa, Europe and South America. In the early 1980s the Erskines returned to the US to launch International Beverages Inc. in Massachusetts, and they spent most of the next two decades importing and distributing specialty beers around New England. They also bought a home in Chatham on Cape Cod, where Nancy had enjoyed family summer vacations as a child. As their business grew it kept Bill and Nancy busy, energized and on the road around New England until they sold the company in the late 1990s. By then they were deeply engaged in the volunteer work that became the focus of their retirement years. Habitat for Humanity of Cape Cod was chief among the organizations they were both passionately committed to and Nancy worked primarily as a volunteer coordinator. Habitat collaborators appreciated her strong principles, dedication and essential kindness. They remember her as a leader who appreciated acknowledgment of her efforts but shied away from public praise. The Erskines' many contributions to Habitat included the initial idea and impetus to open the area's ReStore donation center, now a major revenue generator, as well as Nancy's recent full sponsorship of a Habitat house in Chatham in their names. Nancy was heartbroken when her beloved Bill died in 2013 but she kept her memory of him close and found solace in continuing to work for the causes they both believed in. She took personal pride in the time she also devoted to the League of Women Voters of the Cape Cod Area, serving on its board, as spokesperson and as longtime editor of its newsletter, among other roles. She donated volunteer hours and resources generously to myriad other local charitable organizations, including FISH, the Cape Downwinders and WE CAN, as well as national and international groups that promote children's welfare, women's rights and empowerment, animal rights and wildlife preservation. She informed herself about world and national affairs and got involved in local politics, joining committees, counting votes and recruiting timekeepers for town meetings. Nancy also volunteered to manage alumni correspondence and other efforts for her high school and college classes. As a faithful Catholic she was active in the Church of the Holy Redeemer parish in Chatham. In her own affairs she was a woman of endearing contradiction — she remained adamantly independent but cherished time with her family and graciously accepted certain forms of assistance from others (especially technical support); she was diligent about remembering birthdays but was chronically late in sending cards; she was humble and unconcerned with appearance, but could be uncompromisingly proper, especially about grammar; she was an unapologetic piler-upper of valueless things that held unforgettable meaning; and she loved the symphony and fine art but snubbed fine dining in favor of chowder at the Chatham Squire. Nancy's other loves included lobster rolls and onion rings, Brigham's ice cream with Bailey's butterscotch topping, public radio and the television police procedural NCIS, cinnamon coffee cake, instant coffee (with lots of milk) that was only "good" hours after it was made, crossword puzzles and taking visitors to the Chatham Lighthouse, where she would point out new breaks and cuts after storms. She had few dislikes but loathed being a burden, in theory or practice, and she avoided saying goodbye, opting instead for a less final: "Night, night," or "Bye for now, dear." "Ont" Nancy took great interest in the lives of her nieces and nephews, who valued quality time with their famous "O.N." and her abiding attention to their particular passions. She was a devoted step-mother and a doting grandmother, appreciated by the Erskine clan for her sense of humor and commitment to their connection, including her long travels to visit their homes. Nancy found comfort in dear friendships and took care of cherished neighbors until it was her turn to be cared for. She will be missed by more people than she would ever have allowed herself to imagine. With sadness and joy in our hearts, we wish her "goodbye for now." Nancy was preceded in death by her husband, Bill, her parents and her sister Jane Hildreth and brother Thomas Mullen, who are survived by "outlaws" Charlie and Barbara, respectively. Nancy's living relatives include her step-daughters, Allison Green, Margaret Erskine and Lucy Erskine; grandsons Tim Green and Will Erskine; two great-grandsons, Alex and Zach Green; her nieces and nephews, Timothy Weber, Amy Keough, Kelly Wieser, Ryan Mullen, Shannon Mullen and Evan Mullen; six beloved cousins and several grand-nieces and grand-nephews. Visitation with Nancy's family and friends will be held on Friday, September 23, 2022 from 5-7pm at the Nickerson Funeral Home in Chatham, Massachusetts. A Funeral Mass will be held at Holy Redeemer Church in Chatham on September 24, 2022 at 10am. Interment at Milton Cemetery will follow at a later date. In lieu of flowers, donations in Nancy's memory can be made to Habitat for Humanity of Cape Cod habitatcapecod.org/ or to WE CAN of Harwich wecancenter.org/ Her family is also organizing a Habitat work party for those who might like to volunteer on the Erskine House build. Fond memories and expressions of sympathy may be shared at www.nickersonfhchatham.com for the Erskine and Mullen families.
See more
See Less
Services
Friday,
September 23, 2022
Memorial Visitation
5:00 pm - 7:00 pm
Nickerson Funeral Home
Saturday,
September 24, 2022
Funeral Mass
10:00 am
Holy Redeemer
In Memory Of
Nancy Mullen Erskine
Help tell the story of your loved one's unique life. Leave a memory or share a photo or video below to show your support.