OBITUARY
R. Jack Garver
July 29, 1925

–

August 2, 2021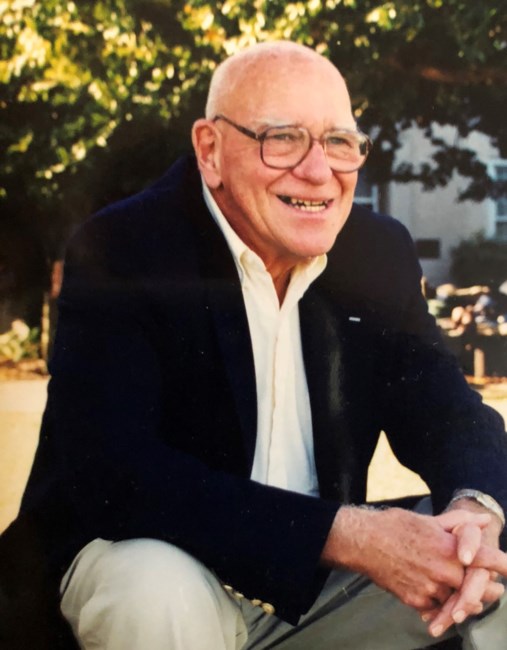 Robert Jack Garver (never once known as Robert), internationally-renowned watercolorist, West Chatham resident, and all-around great guy, died on August 2, 2021, four days after his 96th birthday. Jack was born on July 29, 1925 in Cumberland, Maryland, the only child of Mary Pearl Bock and Earle Snively Garver (that's right, Pearl and Earle). He grew up in Hagerstown, Maryland, where at the age of two, he met the love of his life, Shirley Snyder. They attended school together except for a few years (because they literally lived on opposite sides of the tracks). In August 1944, at the age of 19, Jack was sent to Europe as a member of the 318th Infantry regiment, 80th Division, and came ashore on Omaha Beach. He became known as "Bazookaman" in his unit ("got no tanks but killed a big tree"). He fought in three campaigns: Normandy; Northern France; and the Ardennes, where he was wounded on December 23, 1944. Honors bestowed on him include the Purple Heart, the Combat Infantry Badge, three Battle Stars, and he "reached the exalted rank of Corporal." Thanks to the hospital psychiatrist, who recognized the young man's artistic abilities, Jack did not return to the front, but was assigned a desk job that ensured he would return home to his parents and Shirley, to whom he had proposed in a letter, asking if she would consent to be "the first Mrs. Jack Garver." Shirley and Jack married on August 21, 1948 in Hagerstown. Five years later, they welcomed the first of their two daughters, Kristen, and almost 13 years later, Jan came along to round out the family. Jack attended Carnegie Tech on the GI Bill, graduating with a BFA in 1950. He always thought of himself as "an artist who teaches." His teaching career spanned forty years. He was chairman of the art departments at the Gilman School in Baltimore and the Lawrenceville School in New Jersey and taught set design at Goucher College. He also taught many adult workshops and classes, including locally at Chatham's Creative Arts Center and the Cape Cod Museum of Art. The lasting impression Jack made on his students was what he considered one of his greatest accomplishments. Many former students called, wrote, and sent him holiday cards for years. A number of those students went on to become professional artists thanks to their time with Jack, and that was a great source of pride for him. Galleries throughout the country represented Jack, including Smithy Pioneer Gallery in Cooperstown, New York, Hughes Gallery in Boca Grande, Florida, and The Maritime Gallery at Mystic Seaport Museum, where he was honored with its Marine Environmental Award and twice with its Thomas M. Hoyne III Award for best depiction of the commercial fishing industry, either historic or present. His paintings won many awards in national and international competitions (the last two in 2020, after his declining health had forced him to put down his brush) and appeared in many national art publications, including two feature articles in American Artist Magazine. In Chatham, he was one of the mainstays of the Munson Gallery and became sought after for commissions and the occasional mural. The Stage Harbor lighthouse was Jack's signature subject; no one will ever capture it as beautifully. Jack was a member of the American Watercolor Society, Salmagundi Club New York, New England Watercolor Society, Pennsylvania Watercolor Society, Taos National Society of Watercolorists, the Watercolor USA Honor Society, and The Artists' Fellowship. The Garver family enjoyed spending summers on Cape Cod beginning in 1965 and Shirley and Jack built their retirement home in West Chatham in 1978. Jack's paintings were inspired by his travels to many special places, such as Mexico, the British Isles, France, Spain, Portugal, Italy, Greece, Norway, and Egypt (his bucket-list topper). Closer to the home front, he was proud to have "set foot in at least 45 states and 4 Canadian provinces," Nova Scotia being the dearest to his heart. Wherever he went, Jack made friends. He was gregarious, funny, smart, kind, generous, and humble about his immense talent. He could light up a room by entering it, but he never tried to. That's what made him so special. He gave his family love, stability, and humor that shaped them for a lifetime. He brought joy to so many through his artwork; it will remain a testament to him. He was a great friend and avid sportsman. His friends will remember him for his warm sense of humor (at times self-deprecating) and sense of fun. Jack is the best example of a life well-lived. He will be loved and missed by family and friends more than words can ever say.
Jack is survived by his beloved girls and of course, his teddy bear, Biff, his constant companion and favorite traveling buddy for the past 40 years. Shirley is unable to respond to condolences, so please do not attempt to contact her or send her anything. In lieu of flowers or gifts, the family asks that donations be made to Artists' Fellowship Inc. (www.artistsfellowship.org), the Gary Sinise Foundation (www.garysinisefoundation.org), the Creative Arts Center (www.capecodcreativearts.org), or New England Donor Services (www.neds.org). No celebration of life is planned at this time. Jan and Kristen invite and welcome you to share favorite memories of their dad to rememberingjackgarver@gmail.com, where they will see and respond to them and pass them on to their mom.
Finally, Jack asked that his own words, excerpted from his WWII memoirs, titled "Near Misses," close out his obituary: "I now realize that these setbacks and disappointments, these near misses, both good and bad, were things that began the shaping of whatever character I have today. I learned that you can't undo history. What's done is done, and if you do not have the power to change things, there's no point in lamenting the past. When you make mistakes, learn from them, but don't obsess over them. To a certain extent, roll with the punches, play the hand that's dealt to you, and get the most out of it–make it work for you. Deal with adversity by looking for the positive. Negative people are unhappy people and they make those around them unhappy. This philosophy was to get me through many rough days ahead during my two years in the service, and it has stood me in good stead for the past [77] years."
See more
See Less
Services
No services are scheduled at this time. Receive a notification when services are updated.
RECEIVE UPDATES
In Memory Of
R. Jack Garver
Help tell the story of your loved one's unique life. Leave a memory or share a photo below to show your support.