OBITUARY
Dr. John "Jack" Howard Monroe
July 10, 1922

–

January 12, 2016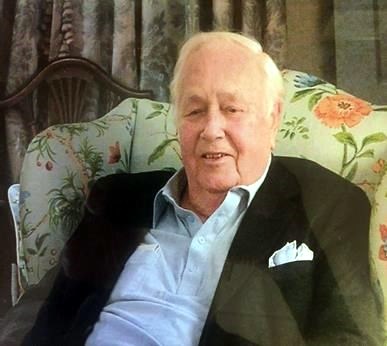 John Howard Monroe, M.D. 10 July 1922 — 12 January 2016 John Howard Monroe, M.D., 93, died from complications following pneumonia on Tuesday evening last week. Dr. "Jack" Monroe, during the last 25 years of his life, raged against and with a rare courage managed to overcome monumental debilitations that would have vanquished most men. Jack Monroe believed deeply in this credo: "But man is not made for defeat. A man can be destroyed but not defeated." He remained undefeated to the end. Early Life and Marriage He was born in Hamlet, N.C., the second son of Thomas Guy Monroe and Marguerite Pierce Monroe. He survived infantile polio and developed a passion for furniture making at an early age (training hands that would later become those of a surgeon). In 1946, he married his childhood sweetheart, Elizabeth Breeden, known to their many friends as "Boo." With deep strength of spirit, dignity and self-deprecating humor, Jack and Boo's 69-and-a-half-year marriage embodied "the figure a poem makes," beginning in delight and ending in wisdom: "The heart can think of no devotion/Greater than being shore to the ocean — /Holding the curve of one position,/Counting an endless repetition." Far more than his "rage against the dying of the light," it was his great love for Boo that kept Jack alive for so many years. Medical Career After graduating from Hamlet High School and UNC, Jack attended the UNC medical school for two years — at that time, UNC had only a two-year medical school — then transferred to Harvard University, where he received his M.D. degree in 1946. He interned at Cincinnati General Hospital, spent two years in the Navy as a Lieutenant, and completed his residency in Obstetrics and Gynecology at the Yale School of Medicine. It's an uncommon medical resume, a Harvard M.D. and a Yale residency. He could have chosen to practice anywhere, but he decided to return to his native North Carolina, and began his practice at the Bowman Gray School of Medicine. He subsequently, and boldly, established his own private practice, but remained a teaching professor at Bowman Gray throughout much of his career. He helped to found and fund Forsyth Memorial Hospital (now known as Forsyth Medical Center) and served for several years as its Chief of Staff. He was passionately active in promoting sex education during a time and in a place that was fiercely opposed to it. Estimates vary, but Dr. Jack Monroe brought at least 7,500 and perhaps as many as 8,500 children into the world, and he saved many lives during the course of his storied and distinguished career. Clan Munro Jack was immensely proud of his Scots heritage and dedicated himself for many decades to Clan Munro activities and events, both here and abroad. He helped to fund the building of a modern apartment in one of the wings of Foulis Castle, the worldwide home of Clan Munro, located near Evanton and Dingwall in the highlands of Scotland, overlooking the Cromarty Firth; served as Clan Munro U.S.A president; and was awarded the Munro Eagle in recognition of his many contributions to the Clan. Antiquities and Antiques Jack and Boo deeply loved the history and design of antique silver and furniture. They acquired extensive knowledge during the course of many years of frequenting flea markets, fine stores and auction houses in the United States, Europe and Asia. Jack also had a great passion for medical antiquities — fleems, scarifiers, bleeding bowls, bottles, oddments of all the things that doctors used to cure and often kill their patients during the last 500 years. "Bleeding bowls are beautiful bowls," he once said. He found "beauty, inventiveness and hope" in what many people saw as "ghoulish relics" of a barbaric age. [See the Winston-Salem Journal article of 8/17/09.] Permanent collections of his accumulated artifacts can be seen at the Vierling House in Old Salem and at the Wake Forest Institute for Regenerative Medicine. Legacy Born in a small eastern North Carolina "hamlet," Jack became, over many years of medical practice and world travel, a man of great global understanding: "For the world is not to be narrowed until it will go into the understanding, but the understanding is to be expanded and opened until it can take in the image of the world." Among his many qualities, Jack had the gift of friendship, an almost magical ability to bring out people's simple care and goodness, to "cure." He lived by these words: "We can't go around measuring our goodness by what we don't do, by what we deny ourselves, what we resist and who we exclude. We've got to measure goodness by what we embrace, what we create and who we include." He tried to embrace everyone with kindness and humor and tolerance. He tried to include all living creatures in his immense soul. And his kindness had a fiery, loving quality, a creative force. In Solomon's Song of Songs, the fiery quality of love is said to be a "flame of [God]." Usually explained as "a Yahweh flame" of high burning intensity, one intriguing potential explanation is that it could mean that the fire of love is a fire of God, a participation in the Lord's white-hot love. The family hopes that, in Jack's memory, we will all feel love as a flame of the Lord, take in more of the world's diversity and extend the measure of our goodness. Here are a few other credos with which Jack aimed to live in accord: Respect the elders Teach the young Cooperate with the pack Play when you can Hunt when you must Rest in between Share your affections Voice your feelings Leave your mark Jack left, and will continue to leave, his unique and indelible (and humorous) mark. Survivors and Last Wishes Jack is survived by his beloved wife, Boo; his daughter, Elizabeth Cloud Monroe, of Winston-Salem; his son and daughter-in-law, John and Cindy Monroe, and their daughter, Camille Elizabeth Melelei Monroe, of San Jose and San Francisco, California; and Guy Monroe, of Haines, Alaska. A funeral and burial service will be held at St. Paul's Episcopal Church, 520 Summit St., Winston-Salem, at 2:00PM Tuesday the 19th of January. Jack and Boo have been devoted members of St. Paul's for more than 60 years. Rather than sending flowers or gifts, Boo requests that all friends and family send a donation in Jack's memory to the church or charity of their choice.
See more
See Less
Past Services
Tuesday,
January 19, 2016
Funeral Service
In Memory Of
Dr. John "Jack" Howard Monroe
Help tell the story of your loved one's unique life. Leave a memory or share a photo or video below to show your support.