OBITUARY
Clotilde Dent Bowen
March 20, 1923

–

March 3, 2011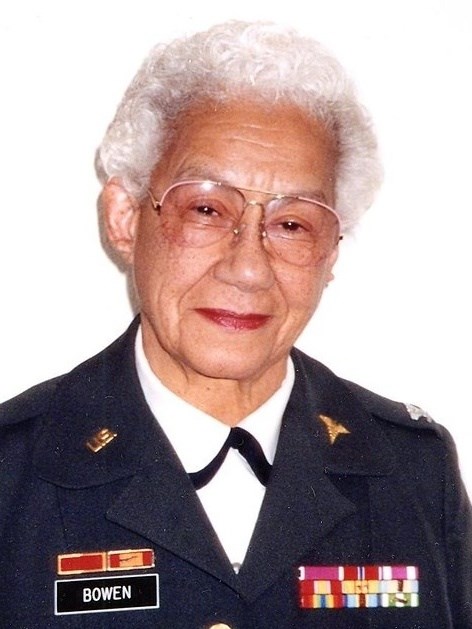 CLOTILDE DENT BOWEN, M.D., COLONEL (USA – RET'D)
Dr. Bowen was born March 20, 1923 in Chicago, IL., the second of three children, to the late William Marion and Clotilde (Tynes) Dent. She departed this life on Thursday, March 3, 2011, at Porter Adventist Hospital, Denver, CO. She was preceded in death by her sister, Maryella Jean Dent Lane and her brother, William Marion Dent, Jr. From the age of three, she was raised on an Army Post in Columbus, Ohio, by her maternal Aunt and Uncle, 1st Lt. Stephen Barrows, (USA), a Buffalo Soldier, and Maude (Tynes) Barrows. She was also preceded in death by her husband, Dr. William Nolan Bowen. She is survived by many beloved relatives and friends and her friend and companion of many years, Micki Athans, as well as her constant companions, Little Gypsy Bear and her beloved cat, Whiskers.
Dr. Bowen completed public education in Columbus, and became the first black woman to graduate from The Ohio State University, School of Medicine, from which she has received numerous honors and awards. She commenced medical practice as a Pulmonologist, in her private office in Harlem, New York, during which time she also worked in three major hospitals in New York City. She attained many 'firsts' throughout her life, including; first woman doctor in the United States Army, accepting her commission as Captain, in 1956, serving as a pulmonary specialist at Valley Forge, PA. She worked for the Veteran's Administration Hospital in Roseburg, Oregon as an Internist, later pursuing a residency in Psychiatry through the V.A. in Albany, NY. She returned to Oregon, and upon learning of the untimely death of the first young man in the state, to be killed in the Navy following only three weeks of duty during the Vietnam War, she returned to military service as a Psychiatrist. She served at Tripler Army Medical Center in Hawaii, Fitzsimmons Army Medical Center, Denver, CO., as Director of CHAMPUS, Chief of Psychiatry, and Chief of the Out-Patient Clinic. From 1970-1971, Colonel Bowen was sent to Vietnam as the Neuro-Psychiatric Physician for the entire U.S. Army for which she receive the American Legion of Merit. She became an avid advocate in issues related to drug-alcohol and Post Traumatic Stress Disorder. She was the first woman commander of any military hospital, upon assignment to Ft. Benjamin Harrison, Indianapolis, IN. Subsequent to retirement from military service in 1996, Dr. Bowen accepted employment with the Joint Commission on Accreditation of Hospitals, in Chicago, IL., traveling throughout the United States. She later returned to the V.A. as Chief of Psychiatry in Cheyenne, WY. And the V.A. Clinic in Colorado Springs, CO. Subsequent to retirement from the Veterans' Administration, Dr. Bowen accepted numerous assignments in several states as an independent physician through 'Locum Tenens' employment, helping to offset the shortage of trained professionals. She formally retired from medical practice in 2008. She was granted medical licenses in the states of Ohio, New York, Colorado, New Mexico and Arizona. As a member of the American Psychiatric Association (APA), she accepted their request to assist in developing and establishing the program on Emergency Psychiatry. She received the prestigious award of 'Fellow' of the APA; 'Fellow' of the Central Neuro-Psychiatric Association; 'Fellow' of The Academy of Psychosomatic Medicine, and the U.C.C.F. Eminent Scholar Award, in addition to many others. In 1972 she was given the Denver Business and Professional Woman of the Year Award. In 2001-2001, she wrote a monthly column entitled "Compass" in the Denver Post Newspaper; she described her life as "Been there! Done that!" Dr. Bowen was well known as a public speaker throughout the country in various organizations and universities. She accepted staff teaching positions from the University of WY., at Laramie and The University of Colorado School of Medicine, in Denver. Dr. Bowen loved life to the fullest, rarely sleeping more than 3-4 hours nightly. She loved and believed in her country, enjoying and interacting with all individuals on all levels of life. She was strong and independent, fighting for the rights of others regardless of their respective issues. Her greatest joy was spending time with friends and family, sharing her life experiences, encouraging everyone to be the best they could be; to pursue their dreams and Reach for the Stars!
A memorial service will be held at the United States Air Force Academy, Community Center Chapel located at the USAFA Community Center, at 2:00 PM on March 15th, with visitation from 1:15 to 1:45 PM (prior to the service.) Burial with full military honors will be held at Arlington National Cemetery, Washington, DC. In lieu of flowers, the family requests contribution be made to the Salvation Army for homeless, or drug/alcohol programs at Colorado Springs; or the Colorado Springs Humane Society. Arrangements made by Swan Law Funeral Home, 501 N. Cascade Ave, Colorado Springs, CO.
Arrangements under the direction of Swan-Law Funeral Directors, Colorado Springs, CO.
See more
See Less
In Memory Of
Clotilde Dent Bowen
Help tell the story of your loved one's unique life. Leave a memory or share a photo below to show your support.