OBITUARY
Edward Chinoyera Dzimiri
July 27, 1933

–

July 25, 2022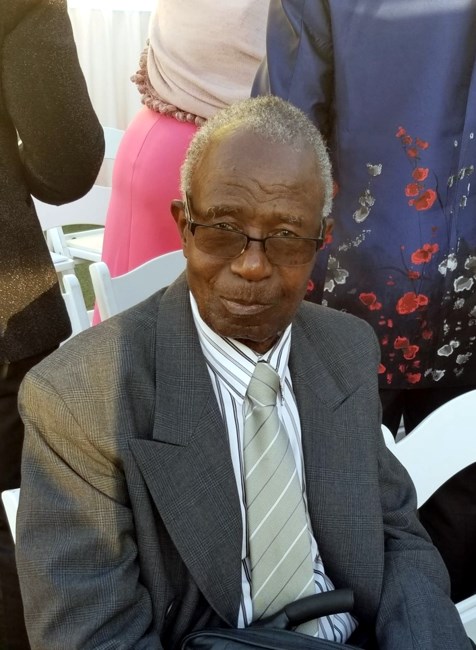 Life History Our dad, Edward Chinoyera Dzimiri was the firstborn of Misheck Dzimiri and Mary Nyakura-Kororo. Edward was born on the 27th of July 1933 in Shurugwi, Zimbabwe. Edward had two sisters Alice Dzimiri-Furusa and Chipo Kororo- Bhunu. Chipo was his half-sister. The parents were both farmers and public transport owners as well as a retail business. The parents separated after Edward and Alice were born. Edward went to live with his mother and sister at the Nyakura Village. However, he kept in touch with his father Misheck. Under the guidance of his divorced mother, Edward learned to farm crops, raise animals and sell farmed produce. Later in years, farming education proved to be an avenue for pulling out of poverty. Our father learned household chores such as cooking, dishwashing, and fetching water from the river. These chores he instilled in his children later in his life once he got children. Dad kept in touch with his father. Later, before completing primary education or Standard six, his cousin Elijah encouraged him to join his father who resided at a farm in Rockford, Shurugwi, Zimbabwe. By then his father had remarried. He joined his half-brothers and a half-sister while completing his primary education at Jobolingo primary school in Shurugwi. Edward was entrusted with managing the retail business and counting cash from the bus takings each evening. After successfully completing his primary education, his uncle Pastor Philemon Dzimiri (aka Masaidhi) found a place for him to study high school. He went to Lower Gweru Mission for two years. After two years, he went to work with his father at the farm. Again, his cousin Elijah Dzimiri now encouraged him to look for a paying job. Dad left for Harare (Salisbury) the capital city of Zimbabwe. He joined other boys of his age. As a matter of fact, he met his cousins Fari Mazibisa, Nelson Matambo who offered him accommodation for the next two years before he bought his own home. His cousins trained him to sell fresh vegetables to white settlers and Portuguese nationals. Dad became so good at selling farm produce that he opened his own shop in the city. A Portuguese settler supported his business financially. While in Harare, he got closer to his brother-in-law Mr. Sezzy and his aunt Laiza (Mrs Sezzy). At the encouragement of his brother-in-law, dad bought a brand-new car (a Chevy truck) which he later sold and used the proceedings to send himself to college and study ministry. By the way, his aunt was studying vocational classes when his aunt met a beautiful female instructor by the name of Grace (Efi) Chikwanha. This was around 1956. Because Edward was introverted and a loner, his aunt Laiza on behalf of Edward decided to propose love to Grace. Grace wanted to see the boy whose aunt boosted about a well-rounded character. Edward and Grace met, and the rest was history. The two entered holy matrimony in 1958. The following year they were blessed with a baby boy. While attending a marriage seminar conducted by the late Pastor Muza of Mashonaland Field, our father was convicted to enter the ministry. Pastor Muza recommended that he should go for training at Solusi College. Our father sold his car and business and off he went to Solusi College for a two-year ministerial certificate. The ministerial certificate would prepare Edward for pastoral work. Dad studied at Solusi between 1961-1962. After college, dad was posted to Zaka, Masvingo. By then he had two boys. It is at Zaka that Edward built an extended family based on his faith. He had fathers, mothers, uncles, cousins, and sisters. He opened churches by conducting three-week evangelistic campaigns from which some of us benefited. While pastoring in Zaka, the Matabeleland and Midlands Field called him to serve as a departmental director around 1966. Dad joined the Youth department. He popularized the youth department through programs such as missionary volunteers and pathfinders. He became known for working with and baptizing young people. In 1980, Pastor Mathaba in Botswana through the Matebeleland and Midlands Field in Zimbabwe Executive Committee called dad to work as a missionary in Botswana. Dad worked in Botswana until 1986 when he was called back to serve in Zvishavane as a District Pastor. Dad served the Lord for approximately 37 years and was retired. While in retirement, dad and mom did not stop working for the Lord. He started building churches and conducting evangelistic campaigns. Dad and mom left Zimbabwe in 2015 June to settle in the United States of America. In 2016 dad became a widower after the passing of his wife (our mother). In late 2019, dad showed signs of dementia. One year later dad was diagnosed with Dementia and showed signs of Parkinson's disease. While he struggled with Dementia, dad, myself and Margaret studied the bible each evening. Three months before he died, we had completed studying and reading the whole Bible. Pastor Dzimiri loved reading and singing. Pastor Edward Dzimiri is survived by his children, George, Gershom, Denford, Alice and Farai. Daughters-in-law and Son in-laws: Margaret, Sharon, and Washington Mabuto Grand Children: Edward Jr, Tafadzwa, Grace, Henry, McDonald, George, Michael, Shamiso, Lonah, Tungamirai and Chinoyera, Tafadzwa, Tanatswa, and Kundai. Great Grand Children: Innocent, Amos. Brothers & Sisters: Shingai Dzimiri and Sylvia Ndebele Cousins and Nephews: Furusa, Bhunu, Mabonga, Ndebele, Mpofu, Dzimiri, Nyakura, Chikwanha, and Siwardi families. He is preceded in death by his wife Grace; son Innocent; grandson Keith; daughter-in-law Tabeth; mother Mary Nyakura; sisters Alice Furusa and Chipo Bhunu; father Misheck Dzimiri; half-brothers Joseph, Ferguson, Robert, Chado, Maxwell, and Richard. We will meet soon dad. You slept with hope and peace. Love you. A visitation for Edward will be held Thursday, August 18, 2022 from 4:00 PM to 8:00 PM at All Nations African SDA Church, 2282 Pumalo St, San Bernardino, CA 92404. A committal service will occur Friday, August 19, 2022 from 1:30 PM to 2:00 PM at Montecito Memorial Park, 3520 E Washington St, Colton, CA 92324. A funeral service will occur Friday, August 19, 2022 from 12:00 PM to 1:00 PM, 2282 Pumalo Street, San Bernardino, CA 92404. Fond memories and expressions of sympathy may be shared at www.montecitomemorialparkandmortuary.com for the Dzimiri family.
See more
See Less
Services
Thursday,
August 18, 2022
Visitation
4:00 pm - 8:00 pm
All Nations African SDA Church
Funeral Service
9:00 am - 1:00 pm
All Nations African SDA Church
Committal Service
1:30 pm - 2:00 pm
Montecito Memorial Park
In Memory Of
Edward Chinoyera Dzimiri
Help tell the story of your loved one's unique life. Leave a memory or share a photo or video below to show your support.