OBITUARY
Mrs. Dorothy Anna (Hendrich) Minor
July 4, 1925

–

August 2, 2022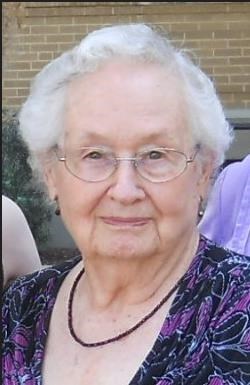 Dorothy Anna Hendrich Minor was born July 4, 1925 in Dorrance, Kansas, to Joseph and Anna Louise (nee Steenbock) Hendrich. Dorothy was the fourth of ten children and the oldest girl. When Dorothy was 3 years old, the family moved to a farm north of Lyons, Kansas. From there into her growing years, Dorothy was a farm girl living north of Bunker Hill, Kansas, near the Smokey Hill River. They lived first on the Pecarek farm and then on the Prediger farm for only one year. Her grade school education was in a one room school. Dorothy attended first grade in Lyons public school. After that she attended Crab Tree School and Four Corners School. The road to Four Corners school was a pioneer road and required crossing the Smokey Hill River. Sometimes they had to ford the river in a one-horse buggy. One time, in the middle of the river, a wheel came off the buggy. Dorothy looked at the rippling water and thought the buggy was being carried downstream. Her brother, William, had to assure her it was only the river moving, not the buggy. He put the wheel back on the buggy and the horse pulled them safely home. Most of the time one of her brothers drove the car and used the Bunker Hill Bridge. After eighth grade the family moved to a farm near Lucas, Kansas, where they remained for many years. Dorothy began a family tradition of going to high school and later to college. She was the first one in her family to do that, a practice followed by her five younger sisters. Not knowing what to do after high school, Dorothy stayed at home and taught her sisters how to do the housework. One day during that year while ironing the family clothes using a gasoline iron, God called her to be a foreign missionary. She immediately applied to a small hospital for a nursing course. The class was sent to Kansas state college at Manhattan, Kansas, to study chemistry and psychology. At the end of the course, the class was informed that the nursing course had been closed. Realizing God had shut that door, Dorothy began applying to various schools. She was accepted at Wheaton College in Wheaton, Illinois. There was no space available, so she had to wait another year. In the gap of that year, she taught a one-room country school south of Russell, Kansas. The pioneer school had grades two through seven. During the week she boarded at the Lipprand Home and walked a half mile through their pasture to the school. The following September Dorothy made the trip by train to Chicago and out to Wheaton, Illinois. She decided to major in Bible, but later she changed to Elementary Education. Dorothy worked her way through college cleaning the college's Williston Hall dormitory. One day when dashing to the finance office, she ran right into Eugene (Gene) Minor, who was coming down the stairs to the library. She knocked the breath out of him! Their conversation began a courtship as they were both interested in mission work. Eugene was interested in doing Bible translation with Wycliffe Bible Translators. So they began their training by attending Wycliffe's linguistic course at summer school in Norman, Oklahoma. They transferred those credits back to Wheaton College enabling them to graduate early. At the end of the summer school, they married and returned to Wheaton for their senior year of college. They applied to, and were accepted as junior members of, Wycliffe Bible Translators in February of 1949 and graduated from college in June of 1949. Eugene completed his mission training by taking a one-year crash course in medicine offered by Bible Institute of Los Angeles, now known as Biola University, in Los Angeles, California. The medical course was specifically designed for missionaries going into pioneer areas. During that time Dorothy gave birth to their first child, Ruth, at the Presbyterian Hospital in Hollywood, California. Gene also worked as an intern at that hospital. This was followed by another summer of linguistics study, then a fall trip to Chiapas, Mexico, to attend Wycliffe's Jungle Training Camp. Dorothy never completed the training because she returned to Mexico City to await the birth of their second child, Dan. Gene completed all the training, including the Advance Base Training which was offered for the first time. He arrived back in the city just in time for Dan's birth. When Dan was six weeks old, the little Minor family took an 18 hour flight in a propeller plane to Lima, Peru. The next flight carried them over the Andes Mountains to arrive at the Wycliffe Center on the edge of the jungle at Yarinacocha Lake. Gene anticipated immediately going to a people group and starting translation work. Instead, he was asked to spend a year at Yarinacocha replacing the radio man who was on furlough. Gene resisted, but when he saw the radio equipment and the tower, he realized it was WWII surplus equipment that he was thoroughly trained to use. Dorothy's biggest contact during that year was with the other missionary women and the babies they were all raising. At the end of the year they re-located to join an indigenous people group who lived in the Estirón on the Ampiyacu River, a half day's travel by canoe upstream from the small town of Pebas on the Amazon River. Estirón was a long straight stretch of river that enabled the mission's float plane to land on the river. At last they began linguistic and translation work with the friendly Witoto people group. The people were willing to build them a house and help them learn the language. This required learning their unwritten language and preparing a reading system. The Witotos were so illiterate they did not know what a picture was. It required all of Dorothy's training, skills, and varied approaches to help them become, in time, a literate society. She had to write the books before she could teach them to read. Eventually this included her writing materials for a bilingual school, which was sponsored by the Peruvian government and taught by Witoto teachers. During the years in Peru, Dorothy gave birth to three more children in the small mission clinic at Yarinacocha: Joe, Rachel and Lois. After fifteen years of work among the Peruvian Witotos, the Minor family transferred to Colombia, South America, leaving behind a literate society able to read the scripture and other resources that had been translated. In Colombia the Minors worked out of the newly established Wycliffe center at Lomalinda, Meta. To reach the Witotos who lived in Colombia, they flew south from Lomalinda for three hours in the mission's single engine plane, crossing the equator and seemingly endless miles of unbroken jungle. Finally, they landed in a small cow pasture cleared from the jungle at the place called La Chorrera, where a Catholic mission had been established thirty years previously. They met with the priest to obtain permission to live up stream at Bella Vista (Beautiful View) on the Igara Paraná River. The Witotos there were friendly, so during their first couple of months, they rented a small room in a Witoto home while they built their own house and supervised the clearing of a small airstrip. Dorothy and Gene could understand the Witotos' dialect which was different from that spoken by Witotos in Peru, and the people could understand Dorothy and Gene as well. Witoto grammar was essentially the same as in Peru, but the letters of the alphabet and the vocabulary were enough different that they had to start all over again with language analysis before beginning translation or literacy work. Here, most of the Witoto teenagers and some of the adults had attended the mission school, so they were familiar with reading a little Spanish. Dorothy rewrote a fifty-page primer to teach them how to read their own language. Dorothy and Gene also produced a grammar book written in Spanish, with examples in Witoto, to help the teachers at the Catholic school understand a number of teaching problems which resulted from the Spanish and Witoto languages sometimes working exactly opposite from one another. Dorothy also spent countless hours typing Gene's handwritten manuscripts of the Witoto New Testament and proofreading it in preparation for publication. After nineteen years working in Colombia, the New Testament in the Witoto language was completed, along with many other reading materials. Her greatest joy was in distributing copies of the New Testament books of John and Mark to the ten classrooms at the Catholic mission school. After completing translation of all the New Testament books, pertinent Old Testament passages, literacy materials and community service booklets, Gene and Dottie left the Witotos as a society literate in its own language and able to begin functioning within the national culture. Having completed all of Wycliffe's, and the Colombian government's, requirements for the Witoto language in that country, Dorothy and Gene moved back to the United States. They settled in Duncanville, Texas, near the Wycliffe mission center in south Dallas. After a couple of years of rest, Dorothy spent five years serving as a tour guide at the International Museum of Cultures located, then, on the Wycliffe campus. Many groups of school children, senior adults, and visitors from in and out of state enjoyed her explanations of jungle living and the bilingual school system. Most of her remaining years were spent being a homemaker and helping with grandchildren. Dorothy was preceded in death by her parents, Joseph and Anna Hendrich; Leo (and Gertrude) Hendrich, William Hendrich; Reuben Hendrich; her husband of 72 years, Eugene Edward Minor; an infant daughter, Eunice Kay; and an adult son, Daniel Minor. She is survived by Ruth Bellamy of Colorado Springs, Colorado; Pamela Minor of Ovilla, Texas; Joseph Minor (and wife, Shelli) of La Quinta, California; Rachel Freiberger (and husband, Douglas) of Plano, Texas; Lois Taylor of Colorado Springs, Colorado; 14 grandchildren, 15 great grandchildren; sisters Beth McDonald, Millie Hlad, Miriam Felts, Norma Jean (and husband, Don) Philips, Alice Dawson, and brother, Robert Hendrich, as well as a host of relatives and friends. Fond memories and expressions of sympathy may be shared at www.laurellanddallas.com for the Minor family.
See more
See Less
Past Services
Thursday,
August 18, 2022
Visitation
Celebration of Life Service
In Memory Of
Mrs. Dorothy Anna (Hendrich) Minor
Help tell the story of your loved one's unique life. Leave a memory or share a photo or video below to show your support.