OBITUARY
Darrel James Barras
February 10, 1943

–

October 3, 2021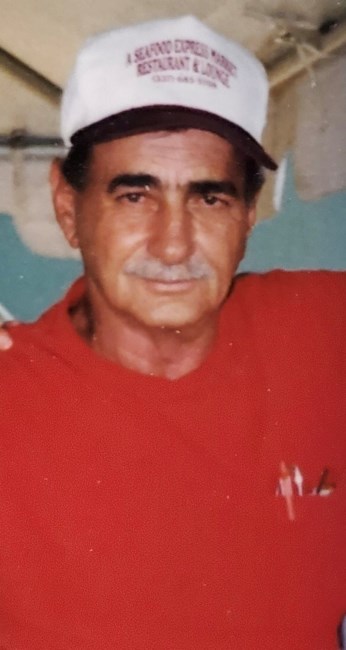 DELCAMBRE-A Mass of Christian Burial will be conducted for Mr. Darrel James Barras age 78 on Tuesday, October 12, 2021 AT 2:30 p.m. at Our Lady of Lake Catholic Church. Father Brian Harrington will officiate at the services. Military Honorswill be conducted by Iberia Veteran's Honor Guard. Inurnment will be held privately at a later date. Visitation will be held from Tuesday, October 12th at Evangeline Funeral Home in Delcambre from 9:00 a.m. until 2:00 p.m with a rosary at 11:00 am. A native of Vermilion Parish and long time resident of Delcambre, Darrel Barras passed away at 3:20 pm on Sunday, October 3rd at Maison Du Monde nursing home in Abbeville, LA. As a child, Darrel was raised by his grandparents, Mr. and Mrs. Clovis Landry, as well as his, Aunt Rena and Uncle Allen Delcambre, with their children Michael Delcambre, Patricia (Patty) Delcambre Viator, Darcy Delcambre and Sara Delcambre Boudreaux due to his mother's passing when he was two years old. In high school Darrel was a star running back for the Delcambre High Panthers. He also served his country honorably in the US Army as well as a member of the Army Football team. Afterwards he worked on the shrimp boats for many years with his brother and other family members and in the oil field at Gulf Coast Marine in Abbeville. Darrel had a passion for politics and was involved in the political process his entire life. He followed his dream of running for public office in his hometown of Delcambre. Although he was never elected, he came within a few dozen votes of winning Mayor of Delcambre and in a later election carried the town when he ran for State Representative. That was only the beginning of his involvement in politics. He spent the rest of his life helping others who sought public office to get elected including a long list of Councilmen, Mayors, Sheriffs, District Attorneys, Judges, Representatives, Senators, public servant Commissioners, Congressman and even Governors. When election time would come those well studied candidates who understood the political landscape would always seek out Darrel Barras for support, If he decided to support a particular candidate in a race, it was well known that candidate was probably going to be successful and almost certainly carry the advantage in the town of Delcambre. He served as a Legislative Assistant for former Representative Ted Haik and former Senator Troy Hebert. He was current State Representative and House Majority Leader Blake Miguez's, Legislative Assistant until the time of his death. Darrel was sworn in and served as a special agent with the Louisiana Alcohol and Tobacco Control-ATC. Darrel worked many nights and weekends across the state ensuring Compliance of State Law. "Barras" as many people called him was well known throughout the Acadiana region and the entire state. When he would walk into many establishments you could hear patrons call his name out loud in joy. He was always willing to help those in need and strangers could not help but like him as soon as they met him. Mr. Barras is survived by his brother Gerald Barras of Delcambre, half-sister Rosemary Delahoussaye and husband Larry of St. Martinville, half-sister Lily Barras and half-brother Felix Kent Barras, sister-in-law Betty Barras of Delcambre, longtime partner Jane Vice of Coteau, as well as several nieces and nephews.
He was preceded in death by his parents Paul and Lily Landry Barras, Stepmother Elrena Barras, grandparents Clovis and Bertha Touchet Landry, Uncle Allen and Aunt Rena Landry Delcambre, sisters Mona Faye Barras, Belva Barras and husband Bradley Landry, Anna Barras Viator and husband AJ Viator, brother Donald Barras and half-brothers Vernon and John Barras.
Honorary Pallbearers are: Sonny Moss, Councilman Aaron Trahan, Kenneth Roy, Lieutenant Governor Paul Hardy, Judge Ned Doucet, Representative Ted Haik, Judge Dickie Haik, Senator Oswald Decuir, Judge Tommy Bienvenu, Richard Putnam, Sheriff Mike Couvillion, Representative Blake Miguez, Delcambre Mayor Pam Blakely, Police Chief James Broussard, Parish Councilman Joe Baudoin, Judge Roger Hamilton, Brian Broussard, Judge Ed Broussard, District Attorney Mike Harson, and Senator Troy Hebert. To view on-line obituary, video tribute and sign the guest register, please visit www.evangelinefuneralhome.com. Evangeline Funeral Homes, Inc. of Delcambre is in charge of arrangements.
See more
See Less
FAMILY

Gerald Barras

Brother

Rosemary Delahoussaye (Larry)

Half-Sister

Lily Barras

Half-Sister

Felix Kent Barras

Half Brother

Betty Barras

Sister in law

Jane Vice

Partner

Paul & Lily Landry Barras

Parents (deceased)

Elrena Barras

Step Mother (deceased)

Clovis & Bertha Touchet Landry

Grandparents (deceased)

Allen & Rena Landry Delcambre

Aunt & Uncle (deceased)

Mona Faye Barras

Sister (deceased)

Belva Barras (Bradley)

Sister (deceased)

Anna Barras Viator (AJ)

Sister (deceased)

Donald Barras

Brother (deceased)

Vernon Barras

Half Brother (deceased)

John Barras

Half Brother (deceased)

Darrel is also survived by numerous nieces and nephews.
Past Services
Tuesday,
October 12, 2021
Visitation
Tuesday,
October 12, 2021
Rosary
Tuesday,
October 12, 2021
Memorial Mass
In Memory Of
Darrel James Barras
Help tell the story of your loved one's unique life. Leave a memory or share a photo below to show your support.