OBITUARY
Joan Helen Kohler Zinnert
April 20, 1933

–

January 19, 2022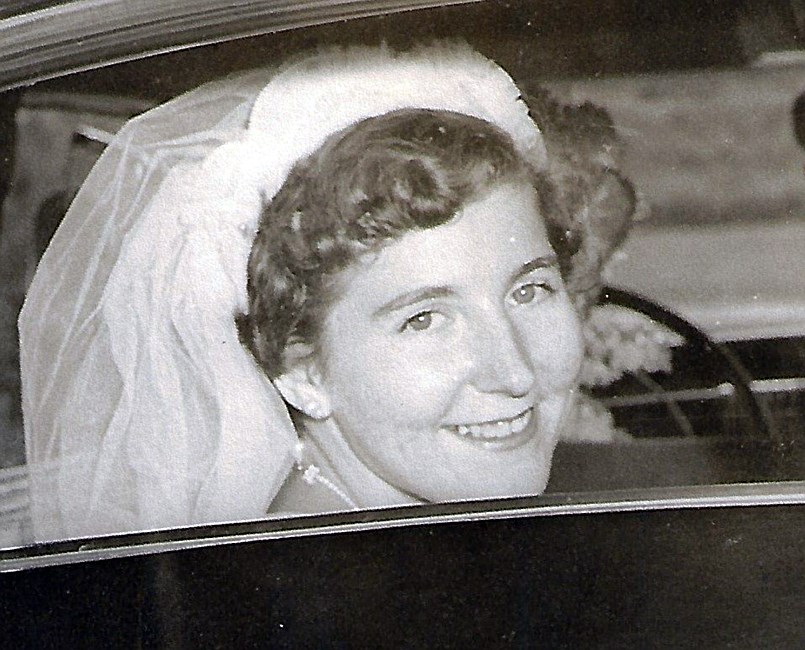 Joan Helen Kohler Zinnert, age 88, of Catonsville, Maryland passed away on Wednesday, January 19, 2022. Joan was born April 20, 1933, Maryland to John M. and Natalie F. Kohler (nee Kempter); Beloved wife of 68 years to William C. Zinnert Jr.; Loving mother of Doreen E. Zinnert Harwood, and William C. Zinnert III and wife Joanne; Cherished grandmother of William C. Zinnert IV, Seth W. Harwood, and Leah A. Zinnert; Dear sister of Delories Kohler Ring. A visitation for Joan will be held at the Gary L. Kaufman Funeral Home at Meadowridge Memorial Park, 7250 Washington Blvd, Elkridge, MD 21075 on Sunday, January 23, 2022 from 3:00 PM to 5:00 PM and 7:00 PM to 9:00 PM, where a Funeral Service will occur on Monday, January 24, 2022 at 11:30 AM. Burial Meadowridge Memorial Park, 7250 Washington Blvd, Elkridge, MD 21075. Fond memories and expressions of sympathy may be shared at www.garylkaufmanfuneralhome.com for the Zinnert family. ************** Joan's Story We are here to celebrate the life of Joan Helen Bernadette Kohler Zinnert, daughter of Natalie Florence Kohler and John Millard (Fillmore) Kohler, and sister to Delores Marie Kohler (Ring). Her father, John served in the Navy during WWII as a cook, after the war became a baker, and then supported the family as a skilled handyman. Natalie was a homemaker, beautifully raised Dee and Joan, and is remembered as a wonderful cook - especially for her coconut cake! When Joan was born on the 20th of April 1933, Franklin Roosevelt had just assumed the Presidency and the world was in the midst of the Great Depression. From the time Joan was born through high school graduation she experienced a global financial crisis (29-39), WWII (41-44), the end of the Great Depression, and the beginning of the Cold War (52). These events formed in her a lifelong appreciation for the simple, most important things in life. Who was Joan in her early years? She will say that she was a tomboy when young; nothing was better than being outside, exploring, playing at her house after school or at Kitty's - her BFF from elementary school until Kitty's passing just a few years ago, a friendship of ~70 years. Joan always said how much she loved St. Cecelia's Catholic elementary school, the nuns who taught there, learning the stories of the Saints, and especially Saint Bernadette. One of her favorite movies was the "Song of Bernadette" which you can't watch without crying. Joan loved her family: parents, sister Delores, and especially her Aunts Nona, Helen, Dorothy and Betty whom she idolized, as well as her grandmothers Eva Meyberger and Dora Arbin - both hailing from good English, Scottish, German stock. Grandmother Dora and her husband sold bathtub gin during prohibition (20s). And when Her husband (Millard Filmore Kohler) passed when she was forty-two with four children to raise, it fell to John, Joan's father, to become the head of the household and provider at the age of fifteen. Grandmother Eva, who we're told married below her rank as a "Cornell" and was unceremoniously disinherited, also lost her husband (Charles Albert), a crewman, in a train accident. With seven children below the age of fourteen to raise, Eva placed all of them in a local boarding school to keep them safe, and ensure their education while she worked multiple shifts at a high end restaurant. To be sure, Joan's work ethic was shaped by these strong and determined women and men. Joan loved the high school experience at Seton: the camaraderie of being in an all-girls school, plays and talent shows, formal dances with the "boys schools" to include Loyola, Mount Saint Joe and Calvert Hall. And while - via her high school scrapbook - we found out that she had Bo's at each, it was eventually a Calvert Hall man that caught her eye and stole her heart. The Memory Lane portion of the Program card from the 1951 Catholic Students Mission Crusade (CSMC) Formal Ball, the first with Bill Zinnert read: "My escort, Bill called for me at 8:30 p.m. and presented me with a pink rose corsage. It was a nice night for a formal dance. … We left about 1 a.m. with the crowd and twelve others went to Marie's where we had spaghetti. We left there at 2:50 a.m. and arrive home at 4. A nice Night to Remember." It had to be their joint love of dancing that sealed the connection between Mom & Dad. Dad was quite proficient - he and all his siblings were required to go to Arthur Murray dance school:-) Fast forward: Joan fell in love with Bill (and vice versa). They were engaged in May 1952, Dad graduated from Calvert Hall in June 1952, and they wed a little over a year later on August 1, 1953. The reception was held in Natalie and John's (parents) house, and the beautiful wedding pictures - which we are very thankful for and have used over many anniversary parties - clearly show Joan's excitement at being a bride, and the future of building a life and family with Bill. Who was Joan in her family years? After Bill completed a year stationed with the Army in Germany, he returned to Baltimore where he and Joan started their family, eventually settled at 1110 Armistead Street, in Arundel Hills, with Doreen and Billy in tow. With Sister Dee, Larry and eventually the three Ring cousins just around the corner (at 1110 McHenry Drive) - life was good! • Joan found a second BFF in her next door neighbor, Veda Waterworth and they remained best friends to this day • Joan enrolled Doreen & Bill in St. Philip Neri Catholic School -we walked to school, uphill, both ways! • Joan remained close to the nuns (and priests) by hosting hosted them for dinner at the house yearly, much to the dismay of Bill & Doreen. • Joan created a strong bond with the ladies of the neighborhood; she was a founding member of the "Cinderella Club" who met monthly to do "an activity" and for the occasional dinner out. • Joan "crafted" - pottery, crocheting afghans, cross stitch, tended to a vegetable garden even growing grapes, and regularly went to exercise classes. • To ensure the basics Joan budgeted - there was an index card file kept in the bottom of the china hutch where we would go to get the money for the odd trip to the 7-Eleven for a loaf of bread. The file had dividers for food, gas, cleaners, paper with a few dollars tucked behind each. Joan created a fun but "structured" home life. • The door was always open: we were encouraged to invite friends to our home. I remember an elementary school ice cream social, a muscular dystrophy carnival in the backyard, Billy's band practices , who Cousin Jerry told me was extremely loud and wondered what Mom did during the hour long practices and, more importantly what type of ear plugs she wore :-) • Activities were encouraged: Billy became a Boy Scouts and got guitar lessons, and Doreen became a majorette and a member of the Christian version of the Girl Scouts. And in between there were house chores, earning Bill and Doreen a whole fifty cents per week! • Use of the phone was limited, but Dad put a long cord on the phone so Billy and mainly Doreen could take the handset into the next room to have "private" conversations. • There was NO TV at the dinner table! except when Dad spun the TV around the corner so we could look at it through the kitchen/dining room divider :-) much to Mom's disapproval. We spent almost every weekend with either the Zinnert or Kohler family, and were surrounded by Joan's sister, parents, Great Aunts, and Grandmothers Dora and Eva - who we had throughout teenage years - and all of whom made HER life so special. Mom, in turn, made our lives EXTRA special by giving us the opportunity to know these women and men through experience of these gatherings. In 1968, a pop-up camper appeared in the driveway beginning 40+ years of camping - as a family, with the Rings, and taking Natalie and John (parents) with them. Joan chronicled many of the trips in folders with detailed notes on the places they visited, mileage traveled and the camping experience. Joan and Bill's travels took them to the forty-eight continuous states to include a 3-month caravan trip to Alaska #49. Joan always said it was their absolutely best adventure because of the sheer beauty, scale and grandeur of the State and made us promise to put it on our bucket list. Ultimately, Joan and Bill became a "snowbird" couple, driving to Key West each year on the day after Christmas - calling us from the road - and returning just in time to file their taxes. Coupled with an earlier (non-camping) trip to Hawaii, Joan and Bill were proud to say they visited the entirety of the U.S. …Of course it wasn't until Bill and Doreen left the house that they upgraded from the Pop-Up Camper to the 60+ foot RV! Who was Joan as a Grandmother? Simply put, the best! Joan loved hosting Easter to include the traditional Easter Egg Hunt, Thanksgiving, Christmas and birthday gatherings. She coordinated annual trips to Dutch Wonderland and, once the kids were big enough, to Hershey Park. There were weekends camping, and then family trips to Ocean City, the Outer Banks and St. Michaels. Joan loved her grandchildren with all her heart, supporting them physically, emotionally, intellectually and financially. There were $25 checks for each birthday and Christmas, and one share of stock to mark their 18th birthdays. She stated - "Then you're on your own!" Joan loved her dogs, her grand dogs and animals in general:-) Memories (Leah/Granddaughter): I can speak for all three of us when I say how thankful we were to have had such an incredible grandmother or 'nana banana' as I sometimes called her. As far as I can remember - every event, graduation, recital, party, weekend get together - nana and pop were there. The 100% all in type of nana. Nana played such a huge role in shaping us into the people we are today and we are so fortunate to have had someone like her in our life. Some of our fondest memories were made at their Pennsylvania house. Nana was always the cool nana. She let us run wild in the basement and out on the golf course.. at least until someone got hurt. Which was usually me. One year we were gifted mini marshmallow blow guns. Not sure who authorized that one. But the entire house was completely covered in mini marshmallows. I'm certain that the current owner of the house still finds a marshmallow from time to time. Memories of flipping four wheelers in the woods out back, Sledding down the golf course hills in the winter, and hanging out with Nana at the old Stewartstown Library, going through all the fun books and "helping her organize" Lol. As I've gotten older I can appreciate how brave of a woman she was for putting up with all of us. She was always a confidant, shoulder to lean on and sometimes the bearer of hard truths. As many of you know - Nana had a way of not beating around the bush. She would tell it how it was but it was still always kind and from her heart. Looking back it's easy to focus on those big moments, but thinking back - it was really the small moments that We will always remember and cherish most. Gathering around a puzzle table, sipping coffee and eating twizzlers. If I close my eyes I can still hear her humming an old Frank Sinatra tune. The quiet walks through the yard with the dogs, sitting out on the deck watching the sun go down on vacation. Snuggling up on the couch watching an old Ben Hur movie for the 50th time. She was always the type of person to appreciate the small things as well. At Christmas it would take a little longer for Nana to open her gifts because she truly appreciated the wrapping as much as she did the gift inside of it. She always put her family first and taught us how important it is to always be there for each other through the good and the bad. Our heart aches knowing that she is no longer here with us. We have seen first-hand the devastating effects that Parkinson's disease can have. As sad as it is, it gives us peace to know she is no longer suffering. We know she is watching down over us, and her strong fighting spirit lives on through all of us. So, who was Joan? Her favorite color was Pink, favorite food was shrimp salad, for music it was Peter, Paul & Mary (light rock), and she loved to dance with Dad. Her go to drink in the early years (me as a little girl) was a "Grasshopper" which I remember her ordering in those rare times we went out to dinner at Fort Holabird NCO Club. More recently she enjoyed a small glass of grape Manischewitz wine. Her favorite snacks were nuts, chocolate and "nuts&chocolate," sour patch kids, lemon drops and TWIZZLERS!!! She always enjoyed putting together a puzzle or playing any time of game. There were many Sunday afternoon visits to PA and week-long vacations spent doing both with Bill (husband), Bill (son)Joanne, Doreen, and the grandkids gathered around the dining room table…and TWIZZLERs! She sent hand-written cards and letters "just because," updated her address book regularly to ensure her messages got to you. She looked forward to the annual Mother-Daughter luncheons and Sunday Ravens game. She loved to give and receive hugs, have her arm gently stroked (writing letters or drawing a figure), and a good neck/back rub. Joan was… A loving wife of 68+ years Passionate for and dedicated to family A true friend for life a rudder to Dad's boat Practical Sassy, especially in her older years Always curious Always kind Always greeted you with open arms and a smile Saw the good in people FIRST An adventurer and explorer Incredibly Appreciative for the husband, family and friends she was given Joan was… The person you WANTED as your Mom, Nana, Sister, Aunt, Cousin, Friend, 2nd Mother. The person you were GRATEFUL to have at the center of your life.
See more
See Less
In Memory Of
Joan Helen Kohler Zinnert
Help tell the story of your loved one's unique life. Leave a memory or share a photo or video below to show your support.