OBITUARY
Dr. William L. Ridgway
September 24, 1920

–

March 8, 2013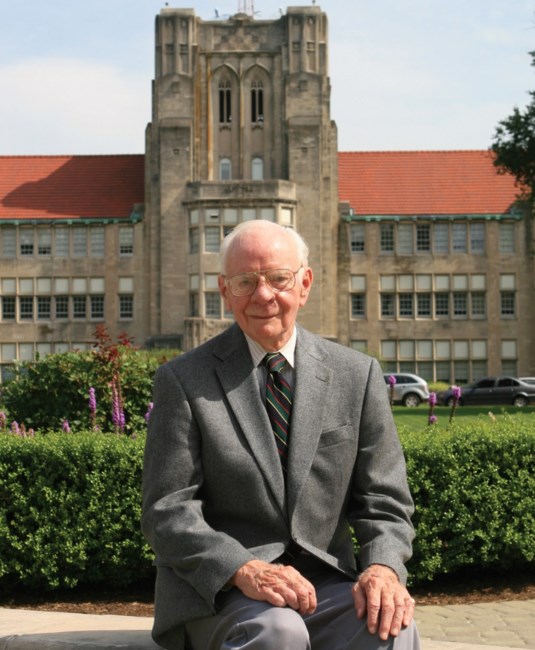 Dr. William L. Ridgway, 92, of Evansville passed away Friday, March 8, 2013, at Heritage Center. He was born September 24, 1920, in Evansville, to the late Marvel (Lant) and George V. Ridgway, OD. He graduated from Central High School in 1938 and attended preparatory school at St. John's Military Academy in Delafield, WI. He attended Evansville College in 1940 and received his AB degree in 1942 and his MD degree in 1944 from Indiana University. He enjoyed a distinguished, 40-year career as an ophthalmologist. He held a rotating internship at Cook County Hospital in Chicago in 1945 and was a ship surgeon for the US Navy on the USS Valencia, AKA-81, in 1945-46. William did his post-graduate study in ophthalmology at Cook County Hospital in Chicago and was a recipient of Heed Fellowship in Ophthalmology in 1948. During 1948 he also spent time in the ophthalmology departments of the University of California, where he was the former assistant clinical professor of ophthalmology, Columbia University, and Massachusetts Eye and Ear Hospital in Boston. He was a Diplomat of American Board of Ophthalmology in 1952. During the years of 1949-1989 (except for 1953-1954), William had a private practice of ophthalmology in San Francisco, before retiring and returning to his native Evansville in 1989. During the years of 1953-1954, he was regimental surgeon with the First Marine Division in Korea with the US Navy. William was a member of the Central High School Alumni Hall of Fame and the Evansville Vanderburgh School Corporation Hall of Fame. The City of Evansville proclaimed October 29, 2008, as "Dr. William L. Ridgway Day," and was named by the Indiana Governor as a "Distinguished Hoosier" in 2010. He received the Leadership Evansville Lifetime Achievement Award. He was former treasurer and member of the Board of Directors for the Foundation for Glaucoma Research in San Francisco, CA. He published original articles in the American Journal of Ophthalmology in 1951, 1960 and 1975. He was also a member of the American Medical Association, Indiana State Medical Society, California State Medical Association, Cordes Eye Society, San Francisco Ophthalmological Roundtable, Diplomat of American Board of Ophthalmology and Oxford Ophthalmological Congress. William was a member of Phi Gamma Delta, Nu Sigma Nu, the Board of Trustees of the Evansville Museum of Arts, History & Science, Olympic Club of San Francisco, Marine Memorial Club of San Francisco, Evansville Country Club and the Evansville Kennel Club. He was also a member of First Presbyterian Church in Evansville and a former member of the Rotary Club of San Francisco. Despite earning his degrees from Indiana University, Dr. Ridgway adopted the University of Evansville as his alma mater, making it his mission to ensure that all UE students receive the outstanding education that prepares them for success after graduation. In 2009, that vision led to the creation of the William L. Ridgway Award – a financial award that ensured Vanderburgh County students have access to the quality private education offered by UE. Thanks to the Ridgway Award, any student who graduates from a high school in Vanderburgh County, as well as any student whose parents maintain a permanent address in Vanderburgh County, is able to attend the University of Evansville at a cost comparable to that of Indiana's leading public institutions. In creating this award, Dr. Ridgway also ensured that these students would take the time to give back to the community that had given so much to them. As such, each recipient of the Ridgway Award must perform at least 10 hours of community service per semester. Over the years, Dr. Ridgway consistently illustrated his belief in higher education as the pathway to a greater tomorrow. And, through his boundless generosity and his tireless work as a life member of the UE Board of Trustees, he inspired others to that vision. His direct involvement in UE's Facing the Future and Widening the Circle campaigns were integral in those projects' success. He also served as a member of the Board of Directors of UE's Harlaxton Society, received the University's Medal of Honor, and was named an Honorary Alumnus. Perhaps most noteworthy, though, is the central role Dr. Ridgway played in kick-starting the success of UE's U-Envision 2010 capital campaign. When University officials began working to raise the $80 million goal, Dr. Ridgway immediately stepped up, offering the contribution that allowed work to begin on UE's $23.6 million University Center – a building that now bears his name. With Dr. Ridgway leading the way, the U-Envision 2010 campaign was a resounding success. The Ridgway University Center opened in November 2008, offering UE students a "campus living room" where they can gather, eat, study, and enjoy the student life component of their University experience. In 1976, Dr. Ridgway also saw the opportunity to enhance UE's then-fledgling study abroad program. He purchased Harlaxton College in Grantham, England (which was being leased by the University), and gave it to the University of Evansville. Thanks to Dr. Ridgway's leadership, the University of Evansville now has one of the nation's top study abroad programs. Every year, hundreds of students visit UE's British campus at Harlaxton, and more than half of graduates study abroad during their time at UE. "Today, Harlaxton College is one of the finest study-abroad destinations in the world, and we owe much of that success to the generosity of Dr. William Ridgway," said Gordon Kingsley, principal of Harlaxton College. "His vision for international education led to the opportunity for students to live and study in a grand English manor house – a life-changing experience that is a core part of the University of Evansville's identity." Through his contributions to study abroad, Dr. Ridgway also helped create a greater diversity on campus, as the University of Evansville created a larger international focus. Today, 46 countries are represented in UE's student body. William is survived by his long-time friend, Melvin Peterson. Memorial services will be held at 2:00 PM on Monday, March 18, 2013, at the University of Evansville Neu Chapel. In lieu of flowers, memorial contributions may be made to the University of Evansville Scholarship Fund. Condolences may be made online at www.AlexanderEastChapel.com.
See more
See Less
In Memory Of
Dr. William L. Ridgway
Help tell the story of your loved one's unique life. Leave a memory or share a photo or video below to show your support.