OBITUARY
Martin De Porres Holt Sr.
September 4, 1939

–

September 26, 2022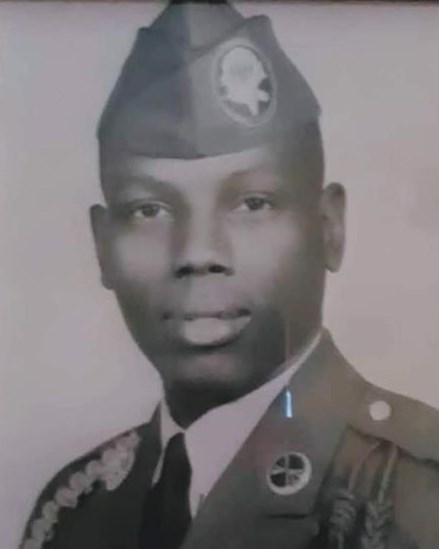 Born Martin dé Porres Holt, September 4, 1939, three days after the start of World War II to Thomas Holt and Florence Holt (née Smith), of St. Mary's County, Maryland; at Gallinger Municipal Hospital (D.C. General Hospital) in SE Washington D.C. Martin thrived in St. Mary's County with his beloved brothers Skipper, David, and Joe. Martin formed an enduring bond of love and friendship with his cousins…so much so that his three children have only ever known them as our Aunt Anna King, of Oaksville Maryland, Aunt Elizabeth Woodland of Mechanicsville Maryland, and Uncle Thomas Holt of Mechanicsville Maryland; this bond was forged whilst family cared for the boys during their father's time of deployment during World War II and endures forever. Martin attended Banneker High School and upon completion of his studies, he joined the United States Coast Guard in 1956, at the tender age of 17; the beginning of a long and gallant service career. Martin traveled the world with the United States Army, learned to play the guitar in the U.S. Army, learned to box and received Golden Gloves in the U.S. Army, and reached his goal of becoming an Airborne Ranger in the U.S. Army with the XVIII Airborne Corps.; culminating in active combat in Vietnam in the 82nd Airborne Division. Martin received every commendation an officer could ever dream of wanting including Presidential Honors and the Purple Heart. Martin was shot in the back of the neck during a reconnaissance mission and contracted malaria while waiting on his rescue in a rice patty for 3 days, he always said "Thank God for leeches, they'll keep you alive". When Martin returned stateside he was given a diagnosis of paraplegia at Walter Reed Hospital, doctors told him that he would never walk again. In six months he was walking, in a year's time he was running and weight lifting, a hobby he sustained his entire life. Even though Martin was classified as 100% disabled you would never know it by his work ethic and physical health. Martin met the love of his life and the mother of his children Stella Louise Holt (née Simpson) in 1975 and married on November 18, 1978. Martin, Stella, and daughter Tabitha resided in Kent Village , Landover, Maryland for the first 5 years of their married life and welcomed children Martin dè Porres Holt Jr. on August 23, 1979, and Stella Linda Holt on April 11, 1981. Martin decided to "put down roots" and raise his children with his wife, in his beloved St. Mary's County; when 'Kentland" went through the challenges of 1980s D.C. Martin was a strict yet loving father. He lived his life like clockwork. He got up at 2:30 am every morning Monday-Friday and was on the road to commute from Country Lakes in Mechanicsville, Maryland to Merryfield, Virginia United States Post Office by 6 am. Martin made this commute with dedication and punctuality for 30 years and was very proud of his membership in the National Postal Mailhandlers Union Local 305. He cheered on his Redskins and believed being a 'skins fan was an exercise in "patience, penance, and sacrifice". He jammed on his guitars every chance he could get, even if that meant carpet bombing Hot Licks to allegedly "test drive" a new guitar he had no intention of buying. Martin often said his jam sessions were therapy because music was the only drug that truly soothed him. Martin taught his children to be cautious of everything "Time will tell about the serpent in the wishing well." To try new things and respect other people's culture "In some countries, it's disrespectful if you don't clear the plate…and lick it TOO!" To not just try, but perfect your craft "If practice makes perfect, there will never be a day I don't pick up this guitar." To analyze your options and act accordingly "Don't write a check your behind can't cash!" To keep your word and never take an oath lightly "Let your yes, mean yes; and your no, mean no." To be wary of anyone not seeking your best interest, that calls themselves a friend "Bad association spoils useful habits." To travel the world and experience LIFE while doing so, even if that does mean cliff diving at 65. And whenever you mess up with your significant other, like cliff diving at 65 in a foreign country while on vacation, there's nothing a little roasted duck, filet mignon, a cruise, or Samba Pa Tì on a PRS can't solve. Martin dè Porres Sr. will be grieved and missed, every single second, of every single day; until we meet again. Martin ended his race of life in this labyrinth we call earth on September 25, 2022, at 83 years young. He is survived by his daughter Tabitha White (nèe Cox), of Winston-Salem, North Carolina, son Martin dè Porres Holt Jr. of Hagerstown, Maryland, daughter Stella Linda Holt of Winston-Salem, North Carolina; grandchildren Joseph Delontè Martin, Jasmine Harris, Breanna Hill, Jaiden Holt, Talan Holt, Mason Holt, Sequoia Swann, Keturah Swann; and great-grandchildren Julius Martin and Isabel Martin. Martin dè Porres Holt Sr. will be interred at Arlington National Cemetery; date TBD. All-American Soldier Chorus We're All American and proud to be; For we're the soldiers of liberty. Some ride the gliders through the enemy, Others are sky paratroopers. We're All American, and fight we will, Till all the guns of the foe are still. Airborne, from skies of blue We're coming through-Make Your Jumps, Take Your Bumps Let's Go! Interlude Put on your boots, Your parachutes- Get all those gliders ready To attack today; For we'll be gone into the dawn To fight 'em all The 82nd way... Yes! Revelation 21:3-4 3 And I heard a great voice out of heaven saying, Behold, the tabernacle of God is with men, and he will dwell with them, and they shall be his people, and God himself shall be with them, and be their God. 4 And God shall wipe away all tears from their eyes; and there shall be no more death, neither sorrow, nor crying, neither shall there be any more pain: for the former things are passed away. Fond memories and expressions of sympathy may be shared at www.craigflaglerpalms.com for the Holt family.
See more
See Less
Services
No services are scheduled at this time. Receive a notification when services are updated.
RECEIVE UPDATES
In Memory Of
Martin De Porres Holt Sr.