OBITUARY
Bruce David Christie
February 17, 1939

–

March 23, 2022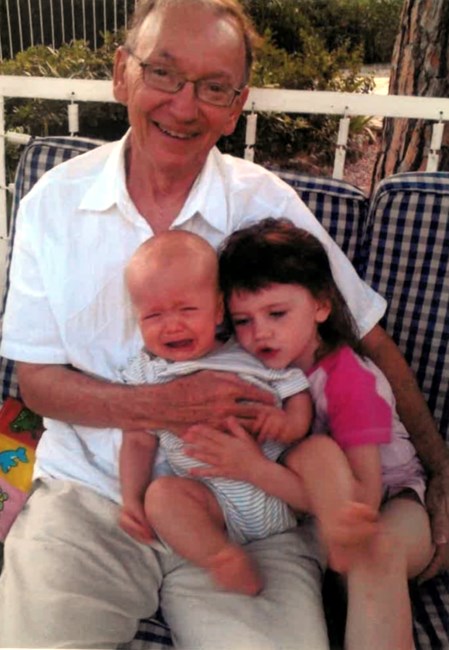 Bruce David Christie (83) died in his sleep on the 23rd of March 2022 in Fort Collins, Colorado, following a long struggle with Alzheimer's. Bruce was born in Faribault, Minnesota on the 17th of February 1939 to Earl and Elsie (Wilkowske) Christie, the youngest of four boys. He attended Garfield Elementary School, and then the Faribault Junior-Senior High School, graduating in 1957. While in Junior-Senior High School, Bruce was active in the marching band, student council, theatre, student newspaper, jazz band and as the only male cheerleader on the cheerleading squad! After High School, Bruce attended Macalester College in St. Paul, Minnesota, graduating in 1962 with a BA in Political Science. While at Macalester, Bruce had the chance to participate in a SPAN study abroad program to Ghana. He made some lifelong friends at Macalester, and met his future wife, Judith Ann (Fish) Christie while assisting one of those friends at the Calvary Presbyterian Church Youth Group. Following graduation from Macalester, Bruce moved to Chicago where he first studied Political Science at Northwestern University, before changing direction to study for the ministry at The Chicago Theological Seminary (CTS). While at CTS, he worked alongside Dr Elisabeth Kübler-Ross as she began her groundbreaking work on "Life and Dying" and participated in the Freedom March in Montgomery, Alabama, following his meeting Dr Martin Luther King Jr in Chicago. In between school, Bruce took time out to get married to Judith on 29 May 1966 at the same Calvary Presbyterian Church in Minneapolis, Minnesota where they had met, and to have a major operation in the summer of 1967 to remove one of his kidneys (his brother Richard died from kidney failure in 1954 at the age of 21). He graduated from seminary with a MA in Theology in 1967, and thereafter stayed in Chicago with Judith for a few years, ministering to the inner-city population there. Bruce and Judith returned to Minnesota in 1969 to prepare for the birth of their first daughter, Wenona Jane, in October of that year. The family of three lived for a few years in Minneapolis, where Bruce started his 33-year career with the Minnesota Conference of the United Methodist Church (UMC), having been born and raised in the Fourth Avenue UMC of Faribault. They then moved to St. Paul in 1971, where their second daughter, Heather Kathryne, was born in June 1972. During his career with the Minnesota Conference of the UMC, in addition to working in the Minneapolis and St. Paul urban parishes, Bruce worked for; the Morristown-Blooming Grove parish from 1976-1979, Holy Trinity UMC in Prior Lake from 1981-1985, First UMC of South St Paul from 1985-1992, and retiring following his tenure at Sunrise UMC in Moundsview from 1992-2002. In addition to his work in the church, Bruce worked for several years as a Chaplain and then Counselor Aide at the Wilson Center in Faribault, Minnesota, a school for young people with emotional disabilities. Following his retirement from the church, Bruce, Judith and Heather moved to Santa Fe, New Mexico, where they lived from 2002-2014. While in Santa Fe, Bruce worked as a substitute teacher, and then as a Counselor Aide at the Life Healing Center, a treatment center for adults with addiction, as well as serious trauma. In August 1999 Bruce finally got a "son" when Wenona married Thorsten Michael Arndt from Düsseldorf, Germany. He then became a grandfather for the first time in August 2005 with the birth of his granddaughter, Lillie Siena Arndt, and then for the second time in January 2010 with the birth of his grandson, Liam Lucca Arndt. Although the Arndt family live in Geneva, Switzerland, Bruce kept in contact with them regularly (thank goodness for technology!) and got to see them as much as possible. In the mid-2000's, Bruce was diagnosed with Alzheimer's disease. It is this illness which slowly took him away from those of us who loved him, first with his personality change, and finally with his physical demise. Bruce was a person who thoroughly loved life, people, new experiences and all that went with it. This was a part of him which never completely disappeared, even towards the very end. He is preceded in death by his parents, his brothers Robert, Donald, and Richard Christie and by several brothers and sisters-in-law. He is survived by his wife of 56 years, Judith, daughters Wenona and Heather, as well as son-in-law Thorsten, grandchildren Lillie and Liam, his brother-in-law Charles William Fish and several nieces and nephews. A celebration of the life of Bruce David Christie will be held at the First United Methodist Church of Fort Collins on Tuesday 19 April at 11 am. The service will be live streamed for those wishing to attend, but who cannot make the trip all the way to Colorado. Here is the link to the livestream of the service https://urldefense.com/v3/__https://www.icloud.com/iclouddrive/06cQGr5VMLce8J74DuNizIKiw*Rev_Bruce_David_Christie_Celebration_of_Live_Service__;Iw!!M2D_dUfSiN4E!ILWcW8RE6s-rlD7JwXk-8_ZSrMp-86OimhZNtXjCBnLuMeMZoD7TpbZ7LzToNoZTB9ao2K2e75bslB5H0IutnCZXnlp2$.
See more
See Less
In Memory Of
Bruce David Christie
Help tell the story of your loved one's unique life. Leave a memory or share a photo or video below to show your support.