OBITUARY
Barbara Howard Brock
September 12, 1927

–

October 4, 2021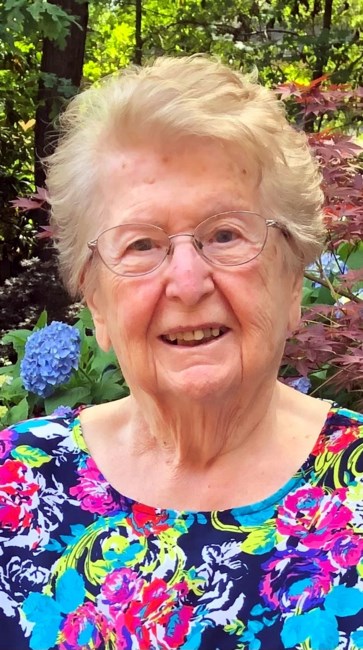 Barbara Ruth Howard Brock passed away in Greensboro, North Carolina on October 4, 2021 at the age of 94. Born September 12, 1927 in Knoxville, TN, Barbara was a beloved wife, mother, grandmother, great-grandmother and friend to many, who lived a devoted life of service to her Lord, Jesus Christ.
Barbara was the daughter of Mary Agnes Smith Howard and Thomas Oliver Howard and was the last surviving of four siblings in the Howard family: Lorraine Howard Clark, Jean Howard Poe, and Rufus O. Howard.
After spending childhood years in Knoxville, the Howards moved during the Great Depression to Portsmouth, Virginia where Barbara spent much of her teen years. Upon graduating from high school, she moved to Richmond, Virginia to attend nursing school at the Medical College of Virginia (now part of Virginia Commonwealth University) as part of the last class of Cadet Nursing Corps class members during WWII. The war ended before Barbara was able to serve; it was during these years that she committed her life to full time Christian service and became determined to pursue a life as a missionary.
Upon making this decision Barbara completed her Bachelor's degree at Carson Newman College, close to where she had spent summers with her siblings at her grandmother Emma Groves Smith's home in Mill Springs, Tennessee. Following graduation, she attended seminary at the former Southwestern Baptist Seminary in Fort Worth, Texas. Barbara received her nursing degree with financial support from the federal government as part of the Cadet Nursing Corps program; she then used these skills to pay for seminary and gain experience by working in rural communities as a Frontier Nurse during the summer.
On one Christmas break from seminary, Barbara returned home to Portsmouth for the holidays and visited the library of Park View Baptist Church to do research for a paper. It was there that she met The Rev. Mr. L. R. Brock (Bill), the church's religious education minister. According to Barbara, Bill would not let her check out her books until he had her address, phone number, and what she was doing that Friday night; it was the start of a courtship.
After the holidays she returned to seminary in Texas; Barbara and Bill continued courting long-distance through writing letters. When Bill went to the Foreign Mission Board in Richmond and told them he wanted to volunteer for mission service, he was told that he had to be married to enroll. He promptly said that he planned to marry Barbara, even though they were not engaged. Word got around to Barbara, at which point she told her seminary roommate that she was going to call off the relationship because of Bill's presumptuousness.
Barbara loved to laugh and tell the story later that her roommate said "Oh Barbara, just string him along!"
She did, they fell in love, and were engaged shortly thereafter.
Bill took a job as the first full-time pastor of Glen Allen Baptist Church in Glen Allen, Virginia. When Barbara graduated from Southwestern Seminary, she moved to Richmond to teach surgical nursing at the Medical College of Virginia, where she had attended nursing school. They were married on June 14, 1952 and lived in the church parsonage. Bill and Barbara spent the first year of their marriage preparing to be appointed as missionaries with the former Foreign Mission Board of the Southern Baptist Convention in Richmond, Virginia.
In the summer of 1953 the first of their three daughters was born, Karen Ruth Brock Ramalho de Miranda (deceased). In October of that same year, they bid their family and friends farewell and boarded a steamship to Brazil with an almost 3 month old baby. They did not know anyone in Brazil, they did not speak the language, and yet they felt this is where God would have them serve. They started their ministry by attending language school full-time to study Portuguese; a year later they were in Natal (northeast Brazil) for their first assignment. During this first term, their second daughter, Katherine Brock Simmons, (of Greensboro), was born in Recife, Brazil. They returned to the US every 4 years for a year of furlough; their third daughter Virginia Carol Brock Reynolds (of Greensboro), was born during one of these furloughs.
The Brock family lived and served in Brazil for twenty-five years. Over the course of their ministry, Bill worked to help start and organize churches in the interior of Brazil while Barbara opened up clinics in poverty-stricken communities, worked with the WMU (serving as President for the state), taught in the women's seminary in Recife, managed the household and led the education of their children.
Following a furlough in 1958 the family moved from Natal to Arcoverde, a rural town in the interior of the state of Pernambuco. Here, the Brocks were the only English-speaking family and in her usual manner, Barbara befriended everyone she met. She was the first woman to drive a car in this little town; one day as she drove down the main street, some little boys came running up beside the car yelling "It IS a woman! It IS a woman!" When Barbara stepped out of the car, the little boy stepped back and asked if she really drove the car. Barbara responded with a smile, "Well, did you see anyone else driving it?"
From Arcoverde, Barbara and Bill moved their family to Recife where they would remain for the rest of their years in Brazil. Barbara continued to both support Bill's ministry and to be the light and love of Jesus to their community herself. In the early 1970's, poverty and malnourishment in Recife was an enormous challenge - especially with children. Every other week, Barbara would go to the wholesale market to buy oranges and bananas by the half-thousand. She'd start her day by putting 50-100 pieces of fruit out on the walls surrounding their house (all houses in Brazil had walls) and by the end of the day, the fruit would be taken by all the children who came by. Beyond formal ministry, Barbara had a deep love for the country and people she had come to know and a desire to care for their everyday needs.
Barbara and Bill left Brazil in 1977, returning to the US and resigning from the Foreign Mission Board. That same year, they celebrated their 25th wedding anniversary with a trip to Europe and decided to settle in Rutherfordton, North Carolina. After living in Recife, a city of 3.5 million inhabitants, they relished the idea of a simpler, quieter life where they could build roots in a new community, spend time with family and pursue hobbies.
Throughout their time in Rutherfordton, Barbara maintained an active level of involvement with her church and broader community. She was a part of the garden club, the DAR, and on various committees at First Baptist Church in Rutherfordton where she and Bill were members. She advocated for those with mental health challenges by serving on a board in Rutherford County, NC. Barbara was also a member of the Executive Board of the NC Baptist State Convention. She was an avid reader and would read up to five books a week. Barbara and Bill pursued a decades-long hobby of genealogy and compiled books on their family tree to share with the extended family members. She loved to have her grandchildren come and visit and would make doll clothes and halloween costumes each year.
In 2004, Barbara and Bill moved to Greensboro, North Carolina to be close to two of their daughters. And as always, Barbara jumped in with both feet. They joined First Baptist Church, where Barbara taught Sunday School and actively participated in the life of the church. They also enjoyed frequent Sunday lunches with their children and grandchildren. When it was possible, they would return to Brazil to visit their daughter Karen (Celso Miranda), and their grandsons, Dario Brock Ramalho (Maria Rita), and Frederico Allevato Ramalho (Dalila). And even though it had been 35 years since living in Brazil, on one occasion Barbara sat in on Karen's Bible Study and discussed the scriptures in fluent Portuguese.
Barbara and Bill were married for 60 years and were an example to all who knew them of what lifelong devotion to one another looked like. Following Bill's passing in 2012, Barbara continued teaching Sunday School and spending time with her children and grandchildren. She leaves behind daughters: Katherine (Kathy) Brock Simmons (Billy), Virginia Brock Reynolds (Lollis),of Greensboro, NC, grandchildren: Dario Brock Ramalho (Maria Rita Dutra), Frederico Allevato Ramalho (Dalila Salomão e Medeiros) of Belo Horizonte, Brazil, Haley Simmons Bohon (Steve), and Cam Simmons of Charlotte, NC, Joshua Reynolds, and Joel Reynolds of Greensboro, NC. She also leaves behind 3 great-grandchildren, Heitor Salomão Ramalho, Tomás Dutra Ramalho and Olivia Dutra Ramalho, all of Belo Horizonte, Brazil.
Throughout her ministry and her life, Barbara carried out Paul's words in Phillipians 4:11: "I have learned, in whatsoever state I am, therewith to be content." She lived this out whether she was on the frontlines of nursing in rural communities, opening clinics in the interior of Brazil or supporting her family through their health challenges late in life.
Those who knew Barbara knew her to be generous, kind, creative, relational, and a deep thinker. She was the picture of abundant hospitality and a friend to anyone she met. You could see the way Barbara wove her life into the community around her by the number of people who would stop her, whether she was walking through the feira in Brazil or down the halls of First Baptist Church. Cheerful calls of "Dona Barbara!" or "Hello, Mrs. Brock!" followed her for all her life.
In lieu of flowers, donations may be made to the Christian Assistance Fund at First Baptist Church, 1000 Friendly Ave. Greensboro, NC or to the charity of your choice.
Online condolences may be made at rememberingbarbarabrock@gmail.com
See more
See Less
Services
No services are scheduled at this time. Receive a notification when services are updated.
RECEIVE UPDATES
In Memory Of
Barbara Howard Brock
Help tell the story of your loved one's unique life. Leave a memory or share a photo below to show your support.