OBITUARY
James "Butch" Thomas Williams Jr.
July 21, 1940

–

September 3, 2018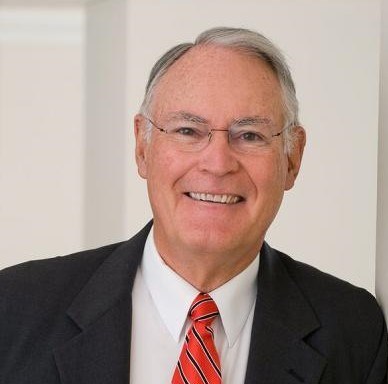 James Thomas Williams, Jr. (Butch) passed away on September 3, 2018. Born July 21, 1940, Jim is survived by his wife, of 56 years, Barbara, their two daughters Anne Bryan Trent and Patricia Vaughan Goodson; son-in-law Scott Bartley Goodson; and his five treasured grandchildren, Liza, Holden, and Thomas Trent, Scottie and Lilly Goodson. He is also survived by his brother, John Vaughan Williams (Melanie), sister-in-law Susan Neal Harrington, nephews Christopher Neal Harrington (Jamie), William Eugene Harrington, III (Julie), and Wesley Vaughan Williams (Rachel) and niece Francis Williams Crawford (Sean). He was also blessed with great nieces, nephews and other extended family. Visitation will be held Thursday, September 6th from 6-8 p.m. at the law firm of Brooks Pierce, 19th floor of Renaissance Plaza, 230 North Elm Street. A parking garage is located across the street. A memorial service will be held at 11:00 am on Friday, September 7, 2018 at West Market Street United Methodist Church, 302 West Market Street. Following the service, the family will receive friends at the Greensboro Country Club, 410 Sunset Drive. Jim was a man with many names – Jim, JT, Butch and Poppie. He was a passionate man about many aspects of his life, including Wake Forest University, the law, his law firm, photography, travel and the coast. However, nothing was more important to Poppie than his family. Barbara and Butch met in college and knew they were soul mates from that first blind date. They created a wonderful home that was filled with love, laughter and joy. A kid at heart, Poppie, had boundless enthusiasm for life. Our family's "gentle giant" set the example for all of us, and we will continue to ask the question – "What would Poppie do?" He was so proud of his grandchildren and their accomplishments and enjoyed every minute with them. Following graduation from public high school in Durham, Jim played varsity football on an athletic scholarship at Wake Forest University. A first generation college student, he completed his undergraduate degree in 1962 and his law degree, with honors, in 1966 from Wake Forest University School of Law. He was an Associate Editor of the Wake Forest Law Review. After graduation, Jim joined the firm that is now Brooks Pierce McLendon Humphrey & Leonard, LLP. He practiced his entire career, more than 52 years, with Brooks Pierce. He was widely known for his integrity and excellence as a trial lawyer. His love of the law, his respect for the judicial system, his legendary preparation and discipline, his competitiveness, and his exceptional advocacy skills led to many victories. Judges respected him; juries adored him; and lawyers he had bested in the courtroom later referred cases to him. Not surprisingly, Jim was sought out by business clients from throughout the country, including some of the world's largest companies and national accounting firms, whenever their fortunes were cast before courts sitting in North Carolina. Some of his trials lasted months. Because Jim was always respectful and civil to everyone, no matter how difficult the case was, he made new friends every time. Recognitions of Jim's professional success include his membership in the American College of Trial Lawyers, for which he served as the State Chair, and his consistent listings in The Best Lawyers in America, Chambers USA America's Leading Business Lawyers; and Business North Carolina's Legal Elite Hall of Fame. He received both the John B. McMillan Distinguished Service Award, the highest award bestowed by the North Carolina State Bar, and the Advocate's Award, given by the North Carolina Bar Association. In 1981, Jim began serving on the law firm's Management Committee, and did so continuously for 29 years, including 14 years as Chair. Throughout that time, Jim embraced new ideas and opportunities. He was among the first to foresee how information technology would change the practice of law. Jim quickly acquired every new device that he thought might be applied to the practice of law and joyfully demonstrated them all to partners, clients and opposing counsel. One of Jim's delights was helping others in the legal community. He quietly contributed to many good causes. He took interest and pride in the careers of everyone, from the high school foreign exchange students who lived with his family to his law firm colleagues. He was generous with his time. In the midst of his busy career, Jim helped found the Joseph Branch Inn of Court to teach law students and young lawyers how to achieve the highest levels of professionalism. He was a teacher at heart. Jim was a champion of public education, serving on the Greensboro Board of Education from 1984 to 1988. In 2004, he was elected to the Community Foundation of Greater Greensboro Board of Directors and served as its Chair from 2005 to 2007. He also served twice on the Board of Trustees of Blue Cross and Blue Shield of North Carolina (1997 to 2001 and 2006 to 2010). From 2009 to 2012, he served on the Greensboro Chamber of Commerce Board of Directors. No secret was Jim's loyalty to his alma mater. His contributions to Wake Forest University are many and far-reaching. He served as a member of the Alumni Council, College Board of Visitors and the School of Law's Board of Visitors. He was first elected to the University's Board of Trustees in 2002 and served as vice chair from 2007 to 2009 and chair from 2009 to 2012. He was named a Life Trustee in 2013. He also served on the cabinet for the Wake Will capital campaign and on the boards of Wake Forest University Health Sciences and Wake Forest Baptist Medical Center. In 2014, Wake Forest honored Jim with the Distinguished Alumni Award. In 2016, he was awarded the Medallion of Merit, Wake Forest's highest award for service. Jim exemplified the Wake Forest motto "Pro Humanitate". Two of Jim's passions were travel and photography. Barbara and Butch were eager to see new places and experience different cultures. They traveled throughout the world, returning always with stunning images of landscapes, wildlife and people. His favorite subjects, however, were the family he adored. His best pictures were of them playing sports, sailing or enjoying a vacation. Jim approached photography just as he did the law. He studied and mastered the science of photography completely, he knew his equipment thoroughly, he composed every picture carefully, and he was disciplined in waiting for just the right moment to take the shot. And when it didn't work exactly right, Jim would brush it off and move on to the next opportunity. Butch spoke often and fondly about his summers as a youth on Ocracoke Island with his extended family who lived there. He could speak with the "High Tider" accent perfectly and swore that he never wore shoes in the summertime until he turned 16. That love of the North Carolina Coast never faded. It was a second home for the Williams family. Whether it was the view of the ocean from his porch or boating to Cape Lookout, the coast was a special place for him. His commitment to community extended to the coast as well, serving on the board at the Coral Bay Club. In lieu of flowers, the family suggests memorials to: James T. Williams Jr., Law Scholarship Fund, Wake Forest University, PO Box 7227, Winston Salem, 27109; Community Foundation of Greater Greensboro, 330 S. Greene St., Suite 100, Greensboro, NC 27401; and West Market United Methodist Church Legacy Fund, 302 West Market Street, Greensboro, NC 27401. Online condolences may be made through www.haneslineberryfuneralhomes.com.
See more
See Less
Past Services
Thursday,
September 06, 2018
Visitation
Friday,
September 07, 2018
Memorial Service
Friday,
September 07, 2018
Reception following the service
In Memory Of
James "Butch" Thomas Williams Jr.