OBITUARY
Larry Houston Hatley
November 8, 1937

–

July 14, 2020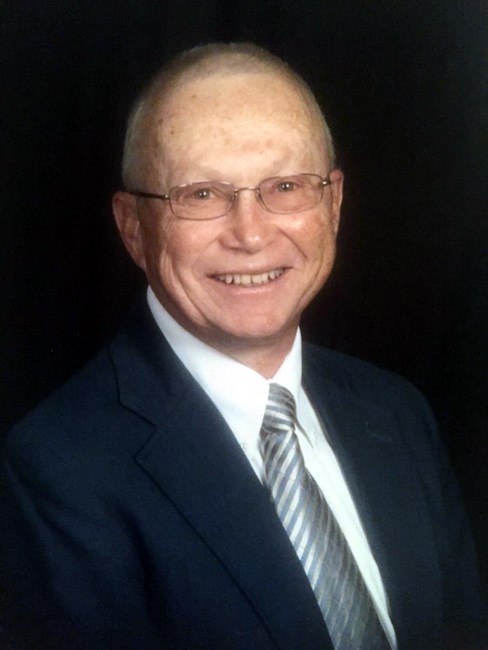 Larry Hatley was born on November 8, 1937 to Houston and Lucille Williams Hatley. He has a brother, Robert (Bob) who is 3 years older and survives him in his death. Although his family lived in Pennsylvania for a few years when he was young, he basically grew up in the Bessemer section of Greensboro, NC and lived in Greensboro most of his life with a short time spent in Cornelius, NC at Lake Norman. Larry and Bob grew up as typical brothers, scrapping between themselves occasionally but always having each other's back outside the family. From an early age, Larry was known for his dogged determination (affectionately known as stubbornness in his later years). Being three years older and bigger as they were growing up, Bob could easily get the best of Larry when wrestling but, as Bob says, he could get Larry pinned but he couldn't ever get him to give up. Larry and Bob both played on the Bessemer High School football team where Larry's feistiness and determination earned Larry All-Conference honors his senior year as a 112 lb. center. Now, granted, high school football players in the early 1950's were not the size they are today, but a 112 lb. center?! That says it all about Larry's approach to life. Over the years, Larry was the proud father of three children, four grandchildren, a successful business man and a pillar in his church community, but the most constant and defining aspect of his life was his unwavering love for his wife Shelba. They were married for 63 years! Larry and Shelba met in the spring his freshman year at NC State while she was a senior in high school, and for their first date he went to listen to her sing in the choir at church. They instantly became inseparable and continued to be throughout their lives. He simply adored her. Over the years through many trips, travels and just everyday life, Larry and Shelba would just be going along when he would suddenly stop and give her a little kiss on the forehead. Anyone who met them instantly knew they were hopelessly in love, and his example of loving his spouse was one of the greatest gifts he gave to his family and friends. After getting married in August at age 19 right before Larry went back to NC State University for his junior year of college, Larry and Shelba went on to have three children, Mark, Allison and Mia and four grandchildren, Ben, Luke, Chris and Sidney. While his children were growing up, Larry worked in sales for a couple of companies and then settled in with ElectroMechanical Engineering Co (EMCO). He was with EMCO for 18 years, working his way up to VP of Distribution and Sales. In May of 1984 Larry started his own manufacturer's sales rep agency and Mark joined him in January 1986. Larry had moved to Lake Norman for the last couple of years he worked with EMCO, but Shelba had refused to sell the house they built in 1969 in Forest Oaks outside Greensboro. After Mark came on board, Larry and Shelba returned to their house in Forest Oaks where they have lived ever since. Mark and Larry were fortunate enough to work together for well over 30 years until Larry retired from the business. Mark is continuing to carry on the legacy with their sales agency, Hatley and Associates, Inc. Larry started a second business in 2005, Houston Products, Inc., which Mark and Mia run today. Houston is a family name starting with Larry's grandfather then his father and continuing with Larry, Mark and Mark's son Ben. After starting to work together, Larry and Mark split coverage of their territory and Mark, his wife Pam and their sons Ben and Chris have lived in Mooresville, NC for Mark's adult life. Mia (the youngest of the three children) lives in Greensboro and works with both companies. Allison, the middle child, became a successful optometrist and raised her family (Luke and Sidney) in Washington, NC, so Larry's children and grandchildren have always lived fairly close by and have been a big part of his life. Larry was the quintessential grandfather, known as "Grandpa" to Ben and Chris and "Pop Pop" to Luke and Sidney. He and Shelba would routinely drive to Mooresville or Washington to watch a ball game, soccer or tennis match, swim meets, or a dance recital (those were for Sidney being the only granddaughter), to play golf or occasionally go fishing with one or more of the grandkids. For years, the entire family would take vacations together, get together on holidays or just a weekend, and his grandkids were one of the true joys of his life. All four are in their twenties now making their way as young adults, and they are so fortunate and blessed to have had the love, support and example of how to approach and live life that Larry so lovingly provided. Larry has always been an outgoing and friendly person who would strike up a conversation with anyone at any time. The joke in the family was always that Larry would start a conversation with a tree and Bob would talk to a telephone pole if no one else was around. Larry and Shelba have been blessed to have many close friends that they played tennis (both of them) and golf (Larry) with over the years. They also traveled extensively with friends on ski vacations and trips all around the US and Europe, and through these travels they have developed close relationships that carry on today. Larry spoke frequently about the friends he and Shelba have had over the years, and he truly loved them all. Larry and Shelba have been strong in their Christian faith their entire lives (as evidenced by their first date being going to church). They raised their family in the moderate Baptist tradition attending Magnolia Street Baptist Church in Greensboro and then Pleasant Garden Baptist Church after moving to the Southeast Guilford area. They were founding members in 1975 of Southeast Baptist Chapel which grew to become Southeast Baptist Church which they have attended since the inception. Larry and Shelba were also founding members of Lake Norman Baptist Church in Cornelius during the several years they lived there. Larry has always been a pillar of his church community, serving on numerous committees and as a deacon and trustee, teaching adult Sunday School, working on building projects and going on mission trips, both domestic and abroad. Along with his love for Shelba and his family, Larry's love for the Lord and service to his church and community were constants for his life. A funeral service will be held Monday, July 20 at 9:30 a.m. at Southeast Baptist Church. Interment will follow in Guilford Memorial Park. The family will receive friends from 7:00 to 8:30 p.m., Sunday, July 19 at the church in the parking lot.
See more
See Less
In Memory Of
Larry Houston Hatley
Help tell the story of your loved one's unique life. Leave a memory or share a photo or video below to show your support.