OBITUARY
Laura Bolivia Aviles Mora
April 3, 1943

–

January 22, 2023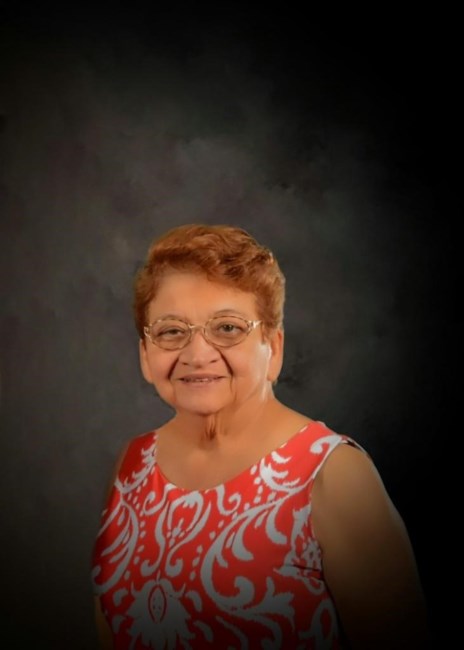 Today, January 22, 2023, her eyes were closed for the last time and God in his mercy embraced her last breath. She passed away in peace and tranquility with her daughter and son-in-law at 2:25 am. After 13 years of battling Parkinson's, her body was defeated but her heart won the race. Laura, my mommy, grew up in the city of Guayaquil- Ecuador with her parents Carlos Aviles✞, Boli Mora de Aviles✞, and her siblings Flavio ✞,Nela and Maria. When she was 8 years old, her mother and sisters accepted Jesus as their Savior in the Seventh Day Adventist Church. She went to Jose Joaquin de Olmedo school and then to the National high school for girls in the city of Guayaquil, and to the private high school 5th of June graduating with a bachelor's degree from the Republic of Ecuador. At the age of 20, she worked as a teacher at Miguel de Cervantes School. At that time, in a SDA South American youth congress in Peru, mom met the love of her life (my daddy), Jose Antonio Ottati Sierra, marrying him at the age of 23 on May 24, 1966. They had 2 children together: Tuqui and Laury. They were married for 54 years, giving us an example of fidelity, perseverance, and love. A woman of strong character with many skills in her hands, who, without ceasing to preach of the Second Coming of Jesus to rescue His people to every person she met, her eyes never stopped reading His word to receive more wisdom. A devoted daughter of her mother. An attentive, sensitive, and cozy sister. A faithful wife dedicated to her home. A mother striving for her children to be good human beings. A fervent Christian and zealous for the truth. A dedicated middle school teacher. A very strong woman, educated and skillful with her hands in sewing, embroidery, knitting, and cooking. An exceptional lyric soprano singer, singing in evangelistic crusades with Pastor Alejandro Bullón, in choirs, alone, and at gatherings of friends and family. She worked as the Principal and teacher for the "Pensionado Adventista Ciudad de Quito" for some years. Attributes that, in the 79 years of her life, she showed to all those who surrounded her. Those of us who were by her side until the end of her days were able to benefit from all these qualities and learn from the positive results of her decisions. She leaves us a beautiful legacy, which she and her husband shared with the world. That of the wonderful hope of seeing the Savior Jesus Christ come again and rescue her children from sin and give them eternal life with restored bodies. That legacy of not fainting in faith. The constancy in learning more of divine things. Of looking forward to eternity with Jesus. That was her unwavering hope. And it will be mine. Today we say farewell. Until the glorious morning of the great meeting with Jesus our Savior and all the people that by His Grace He will save. Thank you, Mommy, for the beautiful memories that will remain carved in my heart. Laura's life will be treasured forever by her beloved children Dr. Antonio Ottati and Mgtr. Laura Ottati-Romero, her son and daughter-in-law Dr. Sergio Romero and Mrs. Doris Ottati, her beloved grandchildren: Sergio Antonio Romero, Tori Borg-Romero, Giancarlo, and Angelo Ottati. Her sisters: Nela and María Avilés, and the rest of her family and friends. Hoy, 22 de enero de 2023, sus ojos se cerraron por última vez y Dios, en su misericordia, abrazó su último aliento. Falleció en paz y tranquilidad acompañada de su hija y su yerno a las 2:25 a.m. Después de 13 años de luchar contra el Parkinson, su cuerpo fue derrotado, pero su corazón ganó la carrera. Laura, mi madre, creció en la ciudad de Guayaquil- Ecuador con sus padres Carlos Alberto Aviles Norero✞, Boli Mora de Aviles✞ y sus hermanos Flavio✞, Nela y María. Cuando tenía 8 años, su madre y sus hermanas aceptaron a Jesús como su Salvador en la Iglesia Adventista del Séptimo Día. Fue a la escuela José Joaquín de Olmedo y luego a la escuela secundaria nacional para niñas en la ciudad de Guayaquil, y a la escuela secundaria privada 5 de junio graduándose de bachiller de la República del Ecuador. A la edad de 20 años, trabajó como profesora en la Escuela Miguel de Cervantes. En ese momento, en un congreso juvenil sudamericano en Perú, mamá conoció al amor de su vida (mi papá), José Antonio Ottati Sierra, casándose con él a la edad de 23 años el 24 de mayo de 1966. Tuvieron 2 hijos: Tuqui y Laury. Estuvieron casados durante 54 años, dándonos un ejemplo de fidelidad, perseverancia y amor. Una mujer de carácter fuerte con muchas habilidades en sus manos, que, sin dejar de predicar de la Segunda Venida de Jesús para rescatar a Su pueblo a cada persona que conoció, sus ojos nunca dejaron de leer Su palabra para recibir más sabiduría. Una devota hija de su madre. Una hermana atenta, sensible y acogedora. Una esposa fiel dedicada a su hogar. Una madre que se esforzó porque sus hijos sean buenos seres humanos. Una cristiana ferviente y celosa por la verdad. Una profesora dedicada de niños. Una mujer muy fuerte, culta y hábil con sus manos en costura, bordado, tejido y cocina (la mejor). Una excepcional cantante soprano lírica, cantando en campañas evangelisticas con el Pastor Alejandro Bullón, en coros, solo y en reuniones de amigos y familiares. Trabajó como directora y profesora del "Pensionado Adventista Ciudad de Quito" durante algunos años. Atributos que, en los 79 años de su vida, mostró a todos los que la rodearon. Aquellos de nosotros que estuvimos a su lado hasta el final de sus días pudimos beneficiarnos de todas estas cualidades y aprender de los resultados positivos de sus decisiones. Ella nos deja un hermoso legado, que ella y su marido compartieron con el mundo. La de la maravillosa esperanza de ver al Salvador Jesucristo volver a rescatar a sus hijos del pecado y darles vida eterna con cuerpos restaurados. Ese legado de no desmayar en la fe. La constancia de aprender más cosas divinas. De avanzar con la mirada hacia la eternidad con Jesús. Esa era su esperanza inquebrantable. Y será mía. Hoy nos despedimos, le decimos hasta luego. Hasta la gloriosa mañana del gran encuentro con Jesús nuestro Salvador y todas las personas que por su gracia salvará. Gracias, mamá, por los hermosos recuerdos que permanecerán grabados en mi corazón. La vida de Laura será atesorada para siempre por sus amados hijos: el Dr. Antonio Ottati y Mgtr. Laura Ottati-Romero, su yerno y nuera Dr. Sergio Romero y la Sra. Doris Ottati, sus queridos nietos: Sergio Antonio Romero, Tori Borg-Romero, Giancarlo y Angelo Ottati. Sus hermanas: Nela y María Avilés, y el resto de su familia y amigos.
See more
See Less
Past Services
Thursday,
January 26, 2023
Visitation
Thursday,
January 26, 2023
Funeral Service
In Memory Of
Laura Bolivia Aviles Mora
Help tell the story of your loved one's unique life. Leave a memory or share a photo or video below to show your support.