OBITUARY
Christine Jean Newman
January 18, 1955

–

December 27, 2020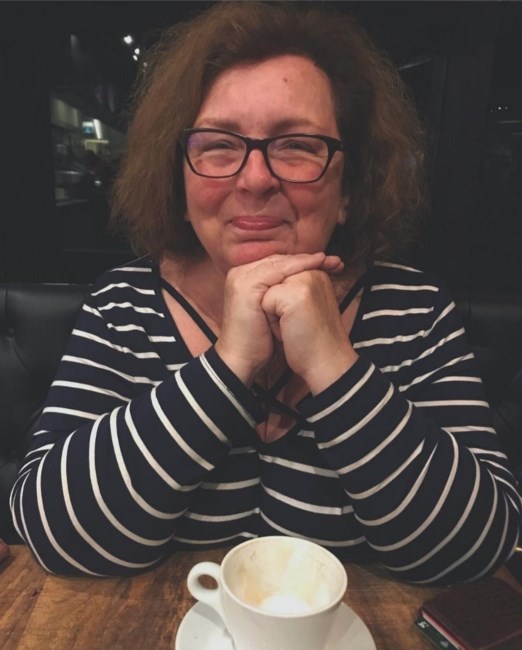 With heavy hearts, friends and family alike are mourning the sudden passing of Chris Newman, who died on December 27, 2020 in her 66th year.
Dr. Christine ('Chris') Jean Newman (known as Captain America, to some).After a renowned career as a doctor caring for sick and dying children and their families, followed by a retirement of just three short years mostly devoted to serving others, Chris' very big heart just gave out. Chris was the daughter of the late Audrey and Ed Jackson. She is survived by her daughter Emma Woodhead, by her brothers Robert Newman (Virginia) of Petrolia and Chuck Newman (the late Mel) of Abbotsford, and by her step-siblings Barry Jackson, Patricia Lemay, Ed Jackson, Dale Jackson, Heather Brunell, Wendy King & Bonnie Morrow, and by her nieces and nephews and their children. Chris has always been a great Aunt to her nieces and nephews, but she was the greatest 'Great Aunt' to Audrey, Mac, Elise, and Alli.Chris and her brothers Bob (whom she affectionately called 'Bob the Perfect Child') and Chuck were born and raised in Windsor, Ontario. Chris was a dyed-in-the-wool Windsor girl (proudly working summers at Boblo Island) before being accepted to Medical School at the University of Toronto (Class of 1982). During her training, Chris initially chose Neonatology as her preferred area of practice (always the champion of the underdog) and started her career in 1989 as a staff physician in the Neonatal Intensive Care Unit (NICU) at SickKids. Doing double-duty, she spent four years at Toronto General Hospital as Division Head of Neonatology where she and others provided care to sick and tiny babies, oftentimes born to very sick mothers. In 1996, Chris returned full-time to SickKids as the Clinical Director of the NICU. During her time in the NICU, Chris began to reflect that there must be a better way to care for children who would ultimately die from their underlying illness. After learning more about palliative care, Chris left the NICU in 2003 to become the first physician to hold a permanent position on the SickKids Palliative and Bereavement Care Service. In so doing, Chris joined the ranks of a trailblazing first wave of paediatric palliative care physicians across the world. There is not a hospital unit in the Greater Toronto Area that hasn't at one time or another let out a collective sigh of relief when they saw Chris Newman approaching to help support a complex situation where a child was dying. Chris connected effortlessly and as effectively with toddlers and siblings as she did with their grandparents. Her impact on how palliative care is provided to children and their families is quite simply monumental. Aristotle is credited with saying, 'Where your talents and the needs of the world cross, there lies your vocation.' Chris is the epitome of Aristotle's assertion, and to her, it was second nature. Those who had the privilege to be part of a care team, or those who were the beneficiaries of her care, will remember that it wasn't just about 'what' Chris did, but was instead more about 'how' she did it. The 'how' – with unparalleled courage, compassion, and empathy – is her legacy, and is why she will be alive forever in our hearts and memories. Above all else, Chris always strived to be a good person. And it is for this reason that Chris was most proud of receiving the esteemed Robert Salter Humanitarian Award in 2010, an award given to those exceptional few who epitomize 'qualities of compassion in providing care to patients and their families, and through the respect and kindness with which colleagues and team members are treated.'
Chris had a life-long dream to become a mother and in 1995, she and Evan were blessed with the arrival of their daughter, Emma. From the day Emma was born until the day Chris died, she loved Emma with every fibre of her being. One may have observed or thought that Chris deserved a better hand than was dealt to her in this life. Those who knew Chris, however, know that she did not really stop to think about that very often. Astoundingly and consistently, even in the face of adversity, Chris always found a way to love and be there for others. Her capacity to give was surpassed only by her ability to laugh and by the pure joy she found in giving. Showing us all what selflessness looks like was the most striking gift she gave to so many of us over the course of a life cut too short. In her retirement, Chris filled her cup with knitting (she was a terrible knitter), creative writing classes, musical theatre (viewing, though she would have loved to be on stage), online scrabble, and book clubs (yes, plural!). A voracious reader, Chris never shied away from a recommendation that meant something to you (though you were bound to get a thorough critique if it wasn't her cup of tea). She was an enthusiastic student of life, equally excited about being introduced to new ideas as she was to challenging old ones. Chris also spent countless hours devoted to helping those struggling and in need. The community to which Chris belonged was a place of support and love, and is where Chris found some peace in finding a way to pay-forward learnings to so many who were recipients of her wise counsel, sense of humour, and kind nature. A social butterfly from start to finish, the current restrictions were ultimately no match for the Queen of Zoom, whose reign reached across the globe. Not even a worldwide pandemic could stop her from connecting with the people she loved. But it didn't matter who you were or where you came from; if you were a barista in passing or a lifelong friend, Chris was genuinely interested in knowing you.
Time spent with family and friends gave Chris so much joy. After all of the hugs and hellos were finished, the first words spoken by Chris at any family gathering were always "How can I help?", and her bakery treats for the following day's breakfast were always a welcomed addition. Any holiday dinner at a Quigley home was never complete without Chris saying grace and reminding every single person gathered at the table about their individual importance and contributions to a bigger picture. Chris would want us to remember her birthday (January 18, a day she always took off from work), that her favourite colour was yellow, her favourite cake was chocolate, and that there was no such thing as too many gifts – a delightful phrase that she would recite with a twinkle in her eye. We now face the challenge of moving onward without our Captain. While her absence will be deafening at times, remember that you can always find her in the sun-facing flowers, the 60s on 6, and in kindness toward others. To Chris' friends and family, until we have the opportunity to celebrate the life of this great lady, we would ask that you take a few moments in your next virtual gathering to share some of your memories and raise a glass of kindness in honour of our beloved Chris. Chris, thank you. Your handprints and the memory of your infectious laugh will stay always in our hearts. You were loved and appreciated by so many whose lives you touched. And, as we send you off with the deepest gratitude for all you have taught us, and armed with the love you so selflessly gave us, we wish that in heaven you are able to enjoy libraries filled with books, more chocolate than you can imagine, fields and fields of sunflowers, and closets filled with shoes.
Just as you imagined, and all that you deserve. For memorial donations to the SickKids Pediatric Advanced Care Team (PACT) and to leave a message of condolence, please visit www.cresmountfennellchapel.com
See more
See Less
Services
No services are scheduled at this time. Receive a notification when services are updated.
RECEIVE UPDATES
In Memory Of
Christine Jean Newman
Help tell the story of your loved one's unique life. Leave a memory or share a photo below to show your support.