OBITUARY
Dr. Elizabeth Carrow Woolfolk
September 18, 1927

–

March 29, 2022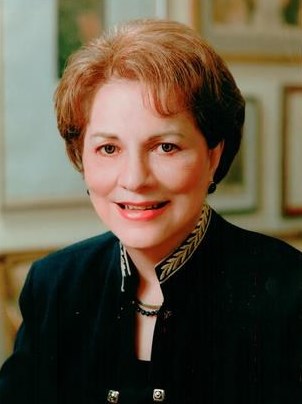 Dr. Elizabeth Carrow Woolfolk – otherwise known as "Betty," "Betty Jo," or "Sister Mary Arthur" – passed away peacefully at her home in Houston, Texas, on Tuesday, the 29th of March 2022. She was 94 years of age. Betty was born in Houston on the 18th of September 1927, to a Canadian-American father (Arthur Maurice Carrow, né Careaux) and a Mexican-American mother (María de la Concepción Ruiz Erdmann). Her childhood was characterized by quietly accompanying her father as he worked on his stamp and coin collections, playing outside with friends, and spending long periods of time with her mother and relatives in Mexico. These experiences, coupled with the primary education she received at St. Agnes Academy, instilled in Betty a deep love of Mexico, an early interest in language, and, perhaps most importantly in terms of laying the foundation for the woman she was destined to become, a baseline appreciation for the solitude, patience, and discipline which underlies both faith and complex research. Upon reaching her teenage years, Betty, in what marked the start of a lifelong relationship, enrolled at Our Lady of the Lake High School in San Antonio, Texas. The camaraderie, unqualified spiritual love, and welcoming sense of "home" Betty encountered at the Lake had a profound impact on her young heart and mind – so much so that, after graduating from Our Lady of the Lake High School in 1944, Betty made the transformative decision to dedicate her life to God and, in conjunction with her subsequent attendance at Our Lady of the Lake College, become a Sister of the Congregation of the Divine Providence. After completing a BA in Philosophy at Our Lady of the Lake College in 1949 and settling into full-time life at the convent, Congregation Mother Superior Angelique Ayres noted that Betty had a gift for working with children. That being the case, Betty was, between 1947 and 1949, tasked with the responsibility of providing primary-level education to 70 children at the St. Francis parochial school in San Diego, Texas. When a need to fill the head mistress position at a newly opened school for deaf children in San Antonio subsequently arose, Mother Superior Ayres immediately thought of Betty. In furtherance of this thought, the Congregation of the Divine Providence sent Betty to the University of Texas at Austin for a Master's in Educational Psychology (1950) and then to Northwestern University in Chicago for a PhD in Speech Correction and Audiology (1955). As the position for which she had been originally "recruited" was filled during her years in Austin and Chicago, Mother Superior Ayres asked Betty to start a speech and hearing program at Our Lady of the Lake College. Against this humble backdrop – operating out of the basement of Providence Hall with one student and no budget – Betty fearlessly embarked on what would ultimately become the professional, spiritual, and philanthropical journey of a lifetime. Betty's speech and hearing program quickly grew to the point that it was able to attract local- and state-level funding. In 1960, Betty founded and became the director of the Harry Jersig Speech and Hearing Center, the first free-standing speech and language clinic in the nation. By the mid-1960s the center was serving the stuttering, voice articulation, cleft palette, hearing loss, and communications disorders of thousands of children across south Texas and beyond. The hands-on experience Betty gained in this clinical setting became the first of several layers that would inform the theoretical, assessment, data repository, diagnostic, and treatment work she would go on to do. In 1968, after selflessly dedicating almost 20 years of her life to the Congregation of the Divine Providence, Betty, acting in reliance on her deeply held conviction that there is nothing to fear when one places his or her faith in the Lord, made the life-changing decision to leave the convent and embrace the lay vocation. Between 1968 and 1974, Betty entered into a period of extraordinary professional productivity and accomplishment. Moving between the administrative (Vice-President at Our Lady of the Lake College) and academic (Associate Professor of Otolaryngology, Baylor College of Medicine; Professor of Speech Pathology, University of Texas at Austin) realms of university life, Betty authored multiple college-level textbooks and book-chapters, edited various professional journals, published numerous peer-reviewed articles, competed for and won major teaching and programming grants, conducted education-related consultancies, and developed innovative language inventories, test protocols, and assessment instruments. Betty later leveraged the theoretical perspectives and assessment insights gained through these academic experiences when she agreed to take on the challenge of developing speech pathology services at various Houston area hospitals (Methodist Hospital, Texas Children's Hospital, and St. Luke's Episcopal Hospital). At a time when academic investigation, medical research, scientific publishing, and institutional administration was dominated by men, Betty was nothing short of a trailblazer in the movement towards equal rights for women in the workplace. Then, in 1974, yet another sea change occurred in Betty's life. The inevitable happened: she met, fell in love with, and married Robert M. Woolfolk ("Bob"), a charming, cosmopolitan petroleum engineer and widower from an old New Orleanian family. This was new and different insofar as it entailed not only becoming a wife, but also a mother pursuant to her adoption of Bob's young daughter, Amelie Robinson Woolfolk ("Robin"). Settling into a sprawling mid-century home under the towering conifers of Piney Point, this new reality injected a healthy counterbalance into what had, until this time, been a predominantly religious and professional life. True to form, Betty approached this new chapter in her life "con todo gusto." In this connection, Betty accompanied Bob to local dance clubs (Folderol, Colony, and Terpsichore) where they perfected their cha-cha, rumba, samba, tango, and salsa dance techniques; sang duets with Bob to the music he played on the piano; developed a respectable bridge game; indulged her interests in painting and gardening; undertook the realization of a massive genealogical project focused on the Woolfolk family; compiled and edited a recetario of her mother's favorite Mexican culinary traditions; introduced her daughter to society in Galveston and New Orleans; threw countless house parties for family members; entertained at the Forest Club; traveled the world; organized large-scale reunions with the Texas and Mexico lines of the family; wrote historical fiction inspired by the life experience of Mexican-Americans; and spearheaded numerous fundraising campaigns for the benefit of civic and educational causes. Becoming a wife, mother, and homemaker did not, in indirect testimony to her strong organizational skills and sense of self-discipline, slow Betty's professional trajectory. Indeed, if anything, Betty went on in the years following her marriage to reach even higher levels of professional achievement. After her early inventory and assessment work was picked up by major test publishers, Betty proceeded, with their support, to develop and publish an expanded set of assessment instruments, including the CELI, CAVAT, TRAM, TACL, OWLS, CASL, OPUS, and APLS. These assessment tools, either in whole or in part, continue to be revised and used today by speech and language practitioners the world over. The commercial success attained by these testing products opened the door to Betty becoming more involved in philanthropic endeavors. In an attempt to give back to those who had made her success possible and support those with whom she shared common cause, Betty generously provided the funds needed to build, develop, and/or support scholarships, lecture series, an endowed faculty chair and research initiatives. Betty's generosity reached its maximum expression when she donated the funds to establish the Woolfolk School of Communications Sciences and Disorders at Our Lady of the Lake University and the Woolfolk Endowed Excellence Fund for Research in Language Disorders at the University of Texas in Austin. Betty's contributions of money, wisdom, and time were widely recognized in the form of lifetime achievement awards (the Order of St. Lazarus, the Piper Foundation, the University of Texas, Our Lady of the Lake University, amongst others), board or director positions (Texas Children's Hospital, the Orton Society, United Cerebral Palsy of Texas, the Houston School for the Deaf, the Galveston Island Outdoor Theater, amongst others), trusteeships, advisory committee appointments, honorary listings (Who's Who in American Women, Who's Who in Texas, Women in Education, American Men in Science), and leadership roles in professional associations (Fellow of the American Speech and Hearing Association, President of the Texas Speech and Hearing Association). Betty's life was as long as it was full of faith and love. Faith that everything works out in the end, no matter what happens along the way, where you have opened your heart to God. And love of the Lord, the physical world he created, and all that is embodied in the mystery of life and death. Betty's long life of faith and love has come full circle, her journey on this earth is complete. But, even in this moment of loss and sadness, those of us who remain behind take comfort in knowing that, having, per John's gospel, kept Jesus' words, Betty's spirit now makes its abode in the light and love of the Lord. This remarkable woman will be missed. Betty was preceded in death by her husband, Robert Moore Woolfolk; mother, María de la Concepción Ruiz Erdmann; father, Arthur Maurice Carrow; sister, Alicia Carrow Stirton; and nephew Charles Stamey. She is survived by her daughter, Amelie Robinson Woolfolk; brother, Walter Carrow (Fran); nieces, Sherry Kossick O'Hearn and Mindy Benefield; nephews, Mark Stamey (Chrissie), Darrell Carrow, and Greg Carrow (Kathy); and numerous grandnephews, grandnieces, great-grandnieces, and great-grandnephews. The family would like to express their sincere gratitude for the love and care provided by Elizabeth Cisneros, Ivette Gamez, Pauline Tolliver, and Rose Okorocha. Also, Betty's family is deeply grateful for the spiritual guidance and medical care provided by Father Michael Grey, Dr. Albert Braden, Dr. John Seger, PT Wesley Thwing, and Vantage Hospice. Friends are cordially invited to a visitation with the family from half-past five o'clock in the afternoon until eight o'clock in the evening on Tuesday, the 5th of April, in the Grand Foyer of Geo. H. Lewis & Sons, 1010 Bering Drive in Houston, where a recitation of the Holy Rosary is to commence at five o'clock, led by Fr. Michael Grey, C.S.Sp. A Mass of Christian Burial is to be offered at ten o'clock in the morning on Wednesday, the 6th of April, at St. Michael the Archangel Catholic Church, 1801 Sage Road in Houston, where Frs. Wayne Wilkerson and Michael Grey, C.S.Sp, are to concelebrate. Those honored to serve as pallbearers during the services are Robert Kossick, Mark Kossick, Eric Stamey, Christopher Grinnan, Harris Stamey, Elliot Stamey, Jonathan Rao, Troy Kisner, Darrell Carrow, Greg Carrow, and Mike Swenson (in absentia). Immediately following, all are invited to greet the family during a reception in the nearby Parish Life Center. The Rite of Committal will follow, via escorted cortege, at Glenwood Cemetery in Houston. In lieu of customary remembrances, the family requests with gratitude that memorial contributions in her name be directed to the Woolfolk Legacy Fund, Our Lady of the Lake University, Office of Institutional Advancement, 411 SW 24th Street San Antonio, TX, 78207 and/or to the Woolfolk Excellence Fund, Attention: Gift and Estate Planning, University of Texas at Austin, PO Box 7458, Austin, TX 78713. We invite you to take a moment to share remembrances and words of comfort and condolence with her family by selecting the "Add A Memory" icon below.
See more
See Less
Past Services
Recitation of the Holy Rosary
Visitation with the Family
Wednesday,
April 06, 2022
Funeral Service
Wednesday,
April 06, 2022
Mass of Christian Burial
In Memory Of
Dr. Elizabeth Carrow Woolfolk
Help tell the story of your loved one's unique life. Leave a memory or share a photo or video below to show your support.