OBITUARY
Julian Mark Bott
January 23, 1963

–

January 3, 2021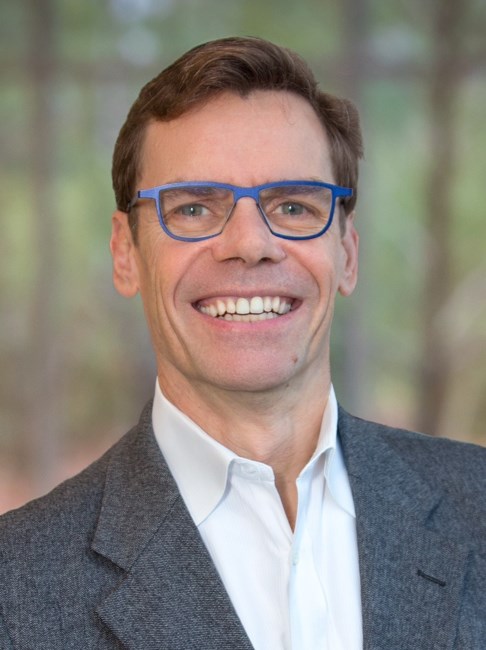 Our beloved Julian Bott passed away on Sunday, the 3rd of January 2021 in Houston. The family is heartbroken, although we are sustained by our undying love and devotion to Julian. He guided us in life, and we honor him in death. Julian was born on the 23rd of January 1963, in Cambridge, England. Julian is the son of Ronald Bott, (deceased), and Gillian (Jill) Bott, formerly of the United Kingdom and now a resident of Houston, Texas. Julian passed much of his happy childhood clambering the rocks of the Mumbles along the Gower Peninsula, where he learned to play, behave properly, and swim proficiently. After school days, Julian and his companions climbed down the steep rocks to meet the mothers who were waiting along the sandy shore. These daily outings were the joy and basis for Julian's happy and active disposition. He recounted these afternoons fondly, and the listener could not help but be impressed by the love and respect he felt for his capable and loving parents and sister Kate, who was born during their time in Swansea. Julian was an adorable, bashful, and clever child. It wasn't long until Jill, guided by Ron's desire for a boat, sought swimming lessons for Julian, an imperative for any boating fancies one might have. Spotted at a pool in Wales as someone with huge swimming potential, Julian competed in swimming events across England and Wales for the next decade. Julian enrolled at Millfield School, in the incomparably beautiful Somerset countryside. He spent the better part of each day studying and training alongside his formative companions. On weekends, Julian represented Her Majesty as the Captain of the English Swim Team and competed in many European countries, including those beyond the Iron Curtain. He would often remark: "Oh, I've been there. I only saw the pool, though." From Millfield, Julian departed from his beloved England and journeyed to Cambridge, Massachusetts, where he represented Harvard College in swimming and had the distinguished honor of captaining the 1983-1984 Harvard Team. At the time a British record holder, he qualified for the 1980 Olympics to represent Great Britain in backstroke. Alas, the 1980 boycott dashed his hopes of attending the games, and he made the difficult but correct decision to leave swimming and pursue a career in investment banking. So, upon graduating from Harvard College ('84) with a BA in Economics, Julian went to work in New York City for Bankers Trust as part of their Executive Training Program. Julian redoubled his ambition and enjoyed a long and successful career in oil and gas commercial banking, which took him to Houston, Texas. There, he was invited to a dinner and gathering for a vibrant group of Danish nannies and friends at Pappasito's on Westheimer. Although neither person has Danish roots, there he met Cecile. They fell deeply in love and married on the 2nd of January 1988. At that point, Julian balanced his full-time career while simultaneously obtaining an MBA at Rice University. Following his time at Rice, the Botts continued to live in the Southgate neighborhood close to the university. There, they met and formed lifelong friendships with amiable and caring neighbors, who continue to provide nurturing and sustaining friendship to the Bott family. They brought two amazing and wonderful sons into the world. A more loving father you will not find. Ian and James stand proud to call him father and will be guided by his example all the days of their lives. Soon, the family outgrew the darling, two-bedroom cottage on Watts St and moved to nearby West University. Their days on Robinhood are full of joyful memories of Julian playing with his two sons and coaching soccer. Now with TD Securities, Julian and his family followed his career to greater New York, where they lived and thrived in suburban Westport, Connecticut. Two years later, they ventured to London, England, where Julian realized his dream to return to his beloved homeland. Julian loved immersing himself in the culture of central London, taking walks through Hyde Park, visiting museums, reconnecting with friends, and attending sporting matches and school events of his sons. The family remained in London for many years. Julian returned to the United States in 2009 to Austin, Texas, where he delightfully worked as Chief Financial Officer of Texas American Resources. In 2012, he was appointed to the Board of EQT Midstream Partners (now Equitrans Midstream Corporation) and served in this role until 2018. In 2015, he took on the Executive Vice President and CFO role at Sandridge Energy in Oklahoma City, where he helped lead a restructuring of the company. After two years of hard work, Julian returned to Houston to be Executive Vice President and CFO of Southwestern Energy, where he continued his career until his passing. He was a much loved and admired businessman. The outpouring from his colleagues has been immense. He found much satisfaction in his career and those relationships. Julian had a gift for the big picture, which evolved into a talent for leadership and mentoring. To those who enjoyed his comradeship in business, he truly loved and admired you. He found joy in your success, and he would encourage you to live on pursuing excellence. He is preceded in death by his father, Ronald Bott. He is survived by his wife Cecile Bott, his mother, Gillian Bott, his two sons, Ian Bott and James Bott, and his sister, Kate Bott Hawkins and husband, Jason Hawkins. The family will gather for a private Funeral Mass. In lieu of customary remembrances, those wishing to make memorial contributions may be directed to the Dad's Club Aquatic Center at 1006 Voss Road, Houston, Texas 77055-6632, by telephone 713-461-8577, or by visiting dadsclubswimteam.org. He leaves his family with a shadow of his greatness, a sparkle of his positivity, a dash of his ambition, a measure of his intellect, and an enduring abundance of his love and devotion. we are truly and greatly blessed, we will miss him most sorely, and hold him in our hearts and minds to face the challenges of life. No sooner had he passed than I could see him clearly, I could see his shining light, his faithful glow, his unwavering love, his human soul, which had warmed and enlivened us, which has provided such a strong and focused beacon, we are compelled to follow. Dearest Julian, we will miss you with all our hearts, and love you eternally, we will follow you again, when the heavenly father, taps us on the shoulder, and we are transported, to the eternal Peace of Our Lord Jesus Christ.
See more
See Less
Services
No services are scheduled at this time. Receive a notification when services are updated.
RECEIVE UPDATES
In Memory Of
Julian Mark Bott
Help tell the story of your loved one's unique life. Leave a memory or share a photo or video below to show your support.