OBITUARY
Rex King
February 21, 1923

–

September 19, 2022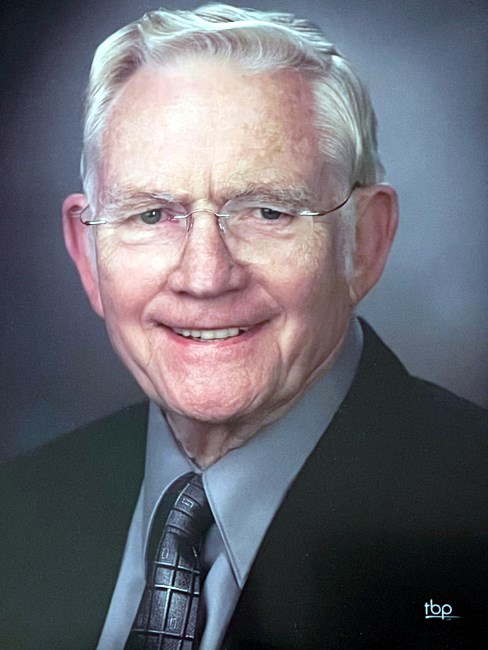 Rex King, of Hutchison, Kansas, passed away on Monday, the 19th of September 2022. He was born to Luther and Inez King and lived in Kansas and Texas. He was 99 years of age. Rex loved his country and felt his greatest duty was to serve. On the 30th of November 1942, at the age of 19, Rex enlisted in the U.S. Navy. After completing Basic and Fire Control Gunner's School, he reported to duty at the Boston Naval Yard aboard the USS ABBOT (DD629) on the 24th of April 1943, just one day after the vessel's commissioning. The Fletcher-Class destroyer served in the Caribbean and Pacific during World War II. The ship was awarded eight Battle Stars and was involved in every major engagement of the Pacific Campaign. Even after the ship was towed back to Pearl Harbor in reverse and dry-docked for repairs after having been run over by the aircraft carrier Cowpens while in radio silence, Rex stood watch and never went ashore – he never left the vessel for the entirety of the war. Rex was firing shells in Japan when the call came in to cease-fire, the war was finally over! Due to Rex's exceptional duration of on-board duty, the Captain ordered that Rex was to be the first person of any rank to disembark the ship when it arrived back to the US. After completing three years at sea, Rex purchased a car and immediately drove to Kansas. It is well known that Destroyer Duty is one of the most difficult and demanding duties in the Navy. To have survived three years in constant peril, his dedication to the Navy and ship, Rex King was a true war hero. After serving, Rex purchased a farm in Eastern Kansas and began working for Boeing in Wichita, Kansas - driving back and forth between Boeing and the farm daily. He left Boeing after 11 years to work for Continental Can Company in Coffeyville, Kansas, 50 miles south of the farm. Soon after, in 1962, Continental Can sold their defense division and offered Rex a job in packaging and shipping in Houston, Texas. Rex moved himself to Houston, leaving his family to tend to the farm in Kansas, however, soon thereafter, he decided that Houston and the booming economy provided the best opportunity for him and his family. In 1963, while in Houston, a colleague approached Rex about becoming partners in a trucking company. Rex and Marillyn decided it would be a good opportunity so they sold their farm in Kansas, liquidated their savings and college funds, and bought 33% of the business. Two years later, they increased their investment to 49%. Unfortunately, after five years of corporate maneuvering, the Kings were "frozen out" of the company. Losing everything, Rex was forced to take another job with Continental Can in Florida. Again, leaving the family behind so that he could provide financially, and Marillyn wanting to keep the family in Houston, Rex would travel back and forth from Houston to Florida. Rex and Marillyn knew this was a temporary arrangement and were determined to take advantage of the great trucking opportunities in Houston. In August of 1969, after returning to Houston from Florida and at the age of 45, Rex got a call to have palletized freight moved from one warehouse to another. Rex rented a truck and two 40ft trailers to do the job himself. Around the same time, he also heard that another trucking company needed trucks. The Kings negotiated with this trucking company, borrowed $5,000.00 against an insurance policy, and got a small loan from a friend to buy their first truck. Mr. Rose, from J.H. Rose Trucking, let them use one of their lots at no charge if they kept the lot clean and mowed. They parked at J.H. Rose and dispatched and billed out of their home. Palletized Trucking Inc. was born! Two years later, Rex and Marillyn purchased Palletized Trucking's first terminal, an acre lot that was an old filling station. Rex dispatched trucks from the un-air-conditioned station for a year until they could afford to remodel. By that time, there were three employees coming to work every day. Rex and Marillyn both spent long hours each day at the terminal. Rex marketed the company while dispatching trucks and continued driving when needed. Marillyn handled the billing, payroll, and accounting. In 1970, containerization had begun at the Port of Houston. Many of Palletized's customers started using containers instead of breakbulk and vans to move their cargo. This prompted Rex to start an intermodal division to continue servicing those customers. A year later, in 1971, Rex and Marillyn started the LTL division. Rex attributed their success to his wife, Marillyn, standing by him and making sure the business was running smoothly. Throughout the years, it became a family business with their children working alongside Rex and Marillyn to build it into a successful trucking and warehousing operation. Ron, Rex's oldest son, started working as a mechanic in the shop in 1972. Ron eventually went to pursue his love for farming in Kansas. Mike, his youngest son, started driving and then training drivers in 1976. Sally, Rex's daughter, started working with Marillyn in the office in 1977. Rex and Marillyn continued to grow the business, eventually purchasing 10 acres on Collingsworth and built a new terminal in 1979. After 10 years of being in business, Palletized had a new terminal and four divisions: vans, intermodal, LTL, and flatbed/heavy haul, and together as a family grew it to be one of Houston's first class trucking companies. Rex was proud to have worked with his children and grandchildren in the business to continue his legacy. Rex truly loved trucking and his ultimate love in the business was his drivers. He knew that the drivers were the most important part and that without them, there was no business. He treated his drivers as though they were family – always lending a helping hand and going out of his way to ensure the drivers were successful. While trucking was extremely important to Rex, he also was passionate about supporting the trucking industry through participation in the Texas Trucking Association (TXTA), attending and supporting their beloved church, First United Methodist – Downtown, and providing support to charities including but not limited to Helping a Hero, Kickstart Kids, Neighbors in Action, and many others in the Houston community. In the later part of his life, he spent time doing things he loved; most days were spent at the office with his drivers in the early hours of the morning. When he wasn't at the office, he was traveling the world with Marillyn and with great friends from his Adelphi Church Group, spending time at the farm and hunting lodge in Kansas, mowing the lawn at the lake where he and Marillyn loved entertaining family and friends. His love for farming and construction was evident through his years of helping his son Ron build his farming and hunting operation in Kansas. Rex was a loving husband to his wife of 72 years, Marillyn Lee King. He was also a proud father to Sally King and Michael King, and his two children who predeceased him, his daughter, Mary King and his son, Ron King. He is also survived by his grandchildren; Kolby King Rodriguez, Jessica King Price, and Brady King; his great-grandchildren, Callay, Pilar, and Marillyn Rodriguez, Margo and Ronald Shepherd Price; and his sister, Janet Long; as well as a large extended family in various locations around the US. The family would like to give special thanks to all those who helped care for Rex these last few years including his many caretakers and medical professionals. Friends are cordially invited to a visitation with the family from five o'clock in the afternoon until seven o'clock in the evening on Saturday, the 24th of September, in the library and grand foyer of Geo. H. Lewis & Sons, 1010 Bering Drive in Houston. A funeral service is to be conducted at half-past two o'clock in the afternoon on Sunday, the 25th of September, at First United Methodist Church - Downtown, 1320 Main Street in Houston. In lieu of customary remembrances, the family requests with gratitude that memorial contributions in Rex's name be directed to First United Methodist Church – Downtown, 1320 Main Street, Houston, TX 77002; to Texas Trucking Foundation (TXTA), 1103 Sabine Street., Austin, TX, 78701; to Helping a Hero, 12345 Jones Road, Ste. 222, Houston, TX 77070; to Neighbors in Action, 7921 Flaxman St, Houston, TX 77029; or to the charity of one's choice.
See more
See Less
Services
Sunday,
September 25, 2022
A funeral service
2:30 pm
First United Methodist Church - Downtown
Sunday,
September 25, 2022
Funeral Service
2:30 pm - 3:30 pm
First United Methodist Church
Past Services
Saturday,
September 24, 2022
Visitation with the Family
In Memory Of
Rex King
Help tell the story of your loved one's unique life. Leave a memory or share a photo or video below to show your support.