OBITUARY
Robert Griffith "Bob" Greer
May 22, 1934

–

October 1, 2021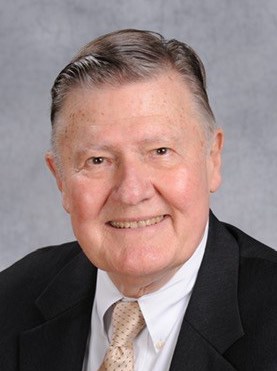 Robert Griffith Greer, beloved family man and lifelong banker, passed away on Friday, the 1st of October 2021, in Houston. He was 87.
Bob Greer was born in Galveston on the 22nd of May 1934 to Samuel Marcus and Margaret (Griffith) Greer. The family soon moved to Houston. Bob later attended Highland Park High School in Dallas, where just a week after his 17th birthday, he was one of 11 students to graduate with highest honors.
He entered The University of Texas at Austin in 1951 and went on to earn a Bachelor of Business Administration degree in finance and banking. About two decades later, he was named a Distinguished Alumnus of The University of Texas College of Business Administration.
While a student at UT, Bob belonged to the Beta Theta Pi social fraternity and the Texas Cowboys. Along the way, he tutored some Longhorn football players.
His foray into banking started modestly as a summer job for a Colorado bank when he was 16. Bob launched his Texas banking career in 1955, when he cut his teeth as an examiner for the Texas Department of Banking. As a 23-year-old, he earned a promotion to Senior Examiner in charge of the 32-bank Amarillo district. He forever treasured meeting bankers at the community banks he examined.
Bob moved back to Houston in early 1959 to join South Main Bank. Soon he began dating schoolteacher Joan Philen. True love struck. They were wed in October of 1959.
His marriage and his Houston banking career both stretched uninterrupted for 62 years. As recently as June of this year, even at 87, he continued to go into the office at Texas Gulf Bank.
Bob enjoyed spending time around other people anywhere, whether in bank lobbies, at frequent lunches, or when making fast friends. He brought enthusiasm to countless family gatherings. The many people who knew him will remember his quick smile, ready laugh and dry sense of humor. He often used homespun quips and sports analogies honed from a lifetime of watching football and years of coaching little league baseball.
He enjoyed watching his grandchildren participate in all sorts of plays, in theater or sports.
Forever loyal to family and friends, Bob also devoted himself to banking.
At the age of 28 in 1962, Bob was named president of South Main Bank. Seven years later, Bob was founding president of Cullen Center Bank & Trust - one of a few different banks he helped organize throughout his career. In 1969, Cullen Bank set a national record for opening day deposits.
For the next 16 years, he helmed Cullen Bank (later Cullen/Frost). Bob returned to community banking as chairman of Tanglewood Bank from 1985 to 1995. The next six years, he served as chairman of unrelated Bank of Tanglewood. From 2002 to 2010, Bob was vice chairman of Bank of Texas and a director of its publicly traded parent company, BOK Financial. Then Bob joined Texas Gulf Bank as chairman. His decade at Texas Gulf Bank capped off a robust retirement-age run in community banking.
His unofficial title at each stop - chief extrovert. "He's so personable," a bank co-worker said in a 1994 newspaper story. "He talks with everybody."
One of his favorite conversation topics was Chautauqua, a longstanding community in Boulder, Colorado. In early July of 2021, Bob continued a Greer family tradition of summer vacations to his Chautauqua haven, which he began visiting annually in 1944. In July, he tested positive for Covid-19, the first in a string of serious illnesses that he battled.
A banking career that spanned 71 years since his start as a teenage banker hardly kept high-energy Bob from devoting time to various organizations inside and outside the industry.
In the early 1980s, he was president of the Texas Bankers Association, which represented more than 1400 banks. Later that decade, Bob was on the board of directors of the Federal Reserve Bank of Dallas. He also served on the American Bankers Association Government Relations Council administrative committee.
In the mid-1970s, he became a director of New York Stock Exchange-listed insurance company Jefferson Pilot Corp., and he also served as chairman of the Young Presidents' Organization Houston chapter.
A lifetime director of the Texas Medical Center, he was chairman of its finance committee. He also served as president of the development board of the University of Texas Health Science Center in Houston.
Bob was a member of the University of Texas system's Chancellor's Council. Plus, he was president of the UT Dads'/Parents' Association.
A longtime member of Houston Country Club, which he once served as president, Bob counted tennis as a favorite pastime.
In 2008 he was named a lifetime member of the Chapelwood United Methodist Church Board of Stewards. He also was on the steering committee of the Brookwood Community.
A onetime PTA president of Hunters Creek Elementary and fixture as a manager of his sons' Spring Branch Memorial Sports Association baseball teams, Bob served the community he loved.
Various customers from his early decades of Houston banking would go on to earn fame as household names in the city and beyond. One of his most prized relationships took root in the Houston Oilers Luv Ya Blue era: For a long stretch Bob served as a primary financial advisor to football legend Earl Campbell.
Bob is survived by his devoted wife, Joan. They made a habit of traveling together on vacations and business trips. They never spent time apart for more than a couple of days at a time up until his recent illnesses.
Also surviving Bob are his daughter, Carol Dodds and her husband Stuart, and their children Rachel Dodds, Jared Dodds, and Michelle Sloan and her husband Austin Sloan; Bob's son Jim Greer and his wife Jenny, and their sons Patrick Greer, Robby Greer and Michael Greer; Bob's son Mac Greer and his wife Ellen, and their sons Willie Greer and Eli Greer; and Bob's daughter Margaret Sanders and her husband Jeremy, and their children Brittany Sanders, Blake Sanders, Joanie Sanders and Mary Sanders.
In addition to his wife, four children and 12 grandchildren, he is survived by his sister Margie Camp. He is predeceased by his daughter Lois Greer, who died as an infant; his brother John Greer; and his parents Marcus and Margaret Greer
A memorial service is to be conducted at eleven o'clock in the morning on Saturday, the 6th of November, at Chapelwood United Methodist Church, 11140 Greenbay Street in Houston, where the Rev. Jim Jackson will officiate. Those unable to attend my attend virtually by selecting the "Join Livestream" icon in the service information section below.
Following the service, all are invited to greet the family and share remembrances of Bob during a reception in the nearby Fellowship Hall.
In lieu of customary remembrances, the family requests with gratitude that memorial contributions in Bob's name be directed to the Brookwood Community, 1752 FM 1489, Brookshire, TX, 77423; or to The Bob and Joan Greer Scholarship, Chapelwood Foundation, 11140 Greenbay St., Houston, TX 77024, which awards college scholarships to low-income students.
Please visit Mr. Greer's online memorial tribute at GeoHLewis.com where memories and words of comfort and condolence may be shared electronically with his family.
See more
See Less
Past Services
Saturday,
November 06, 2021
Memorial Service
In Memory Of
Robert Griffith "Bob" Greer
Help tell the story of your loved one's unique life. Leave a memory or share a photo below to show your support.